Iceline Trail Part 1: Takakkaw Falls
⠀⠀⠀⠀⠀⠀
All the hikes in this area start with this view right at the trailhead. It's wild because this is the type of jaw-dropping beauty that I would happily walk for days to see, but here you can just drive right up to it.
⠀⠀⠀⠀⠀⠀⠀⠀
So we parked in the lot and walked down the wide paved path to the viewpoint along with all the families that had made the drive. We were the only ones with overnight bags. I snapped some pictures and took it all in as the mist from the falls sunk a chill into our bodies. Even in the sun, it wasn't long before we were freezing and needed to tear our eyes from the view and get away from the spray.

Anyway, it definitely felt like time to hit the trail. I don't know why, but I never feel comfortable hanging out in the touristy parts of parks. Whatever it was, it made me feel like it was time to get walkin'.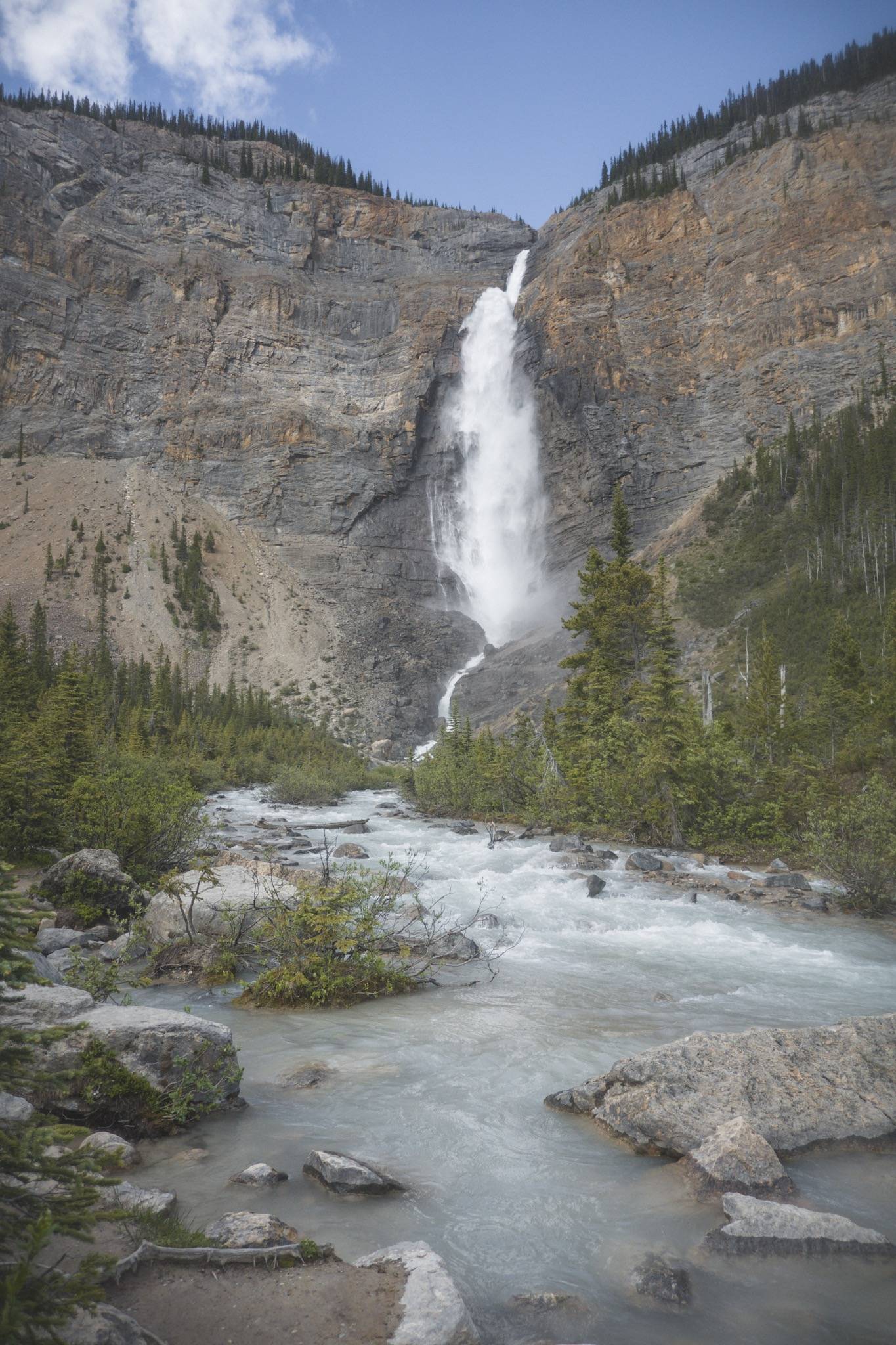 Iceline Trail Part 2: Point Lace Falls
⠀⠀⠀⠀⠀⠀⠀⠀⠀
We set off from the trailhead and were pleased to find ourselves on what was probably the easiest and most well-maintained backcountry trail we've ever been on. The views-to-effort ratio was so unexpectedly high that it almost felt wrong.
⠀⠀⠀⠀⠀⠀⠀⠀⠀
But after spending all spring feeling disappointed in BC (Provincial) Parks for their lack of resources, especially in the recovery from COVID, it was a real pleasure to just be on some trails that had clearly benefited from some funding over the years.

So I had a great time walking on the easy trail and we indulged in a couple of short side trips to Angel's Staircase Falls and Point Lace Falls. It was late enough that we were just about the only ones still out hiking, but we were relaxed in knowing that we had plenty of time to make it to camp before dark.
Iceline Trail Part 3: Laughing Falls
⠀⠀⠀⠀⠀⠀⠀⠀⠀
Because we had such a late start to the day, the sun was getting low before we made it to camp. We even seemed to disturb some other hikers we met when we told them how far we still planned to walk that evening.
⠀⠀⠀⠀⠀⠀⠀⠀⠀
Personally, I've never been a fan of the conventional backpacking practice of setting up camp early in the afternoon and then lounging around all evening. I love the peace and quiet you can only find on trails in the few hours before dusk. I love walking in the comfort of the cool evening air and watching the alpenglow light up the mountains around me.
⠀⠀⠀⠀⠀⠀⠀⠀⠀
So we took our time and enjoyed the view of Laughing Falls, which almost unbelievably wouldn't end up being the most spectacular falls we saw that evening.
Iceline Trail Part 4: Twin Falls at Night
⠀⠀⠀⠀⠀⠀⠀⠀⠀
After making it to camp and enjoying some hot couscous at the unexpected and awesome backcountry picnic tables, we found ourselves with a weather window to go for a nice evening stroll. Because our chances for clear skies were looking dubious for the rest of the trip, I couldn't pass up an opportunity to go check out some nice views. This was even though it was way past hiker bedtime and tempting to just snuggle into our sleeping bags for the night.
⠀⠀⠀⠀⠀⠀⠀⠀⠀
So we set off a few miles past camp to see Twin Falls, making it there just as the sun was setting. Being there at that time meant that we were lucky enough to have the area to ourselves, watching and listening to the double cascade crash down ahead of us into spray and a roaring creek.
⠀⠀⠀⠀⠀⠀⠀⠀⠀
We stayed to soak it all in for a while, then eventually made our way back to camp by headlamp, having used up every single minute of daylight. Couldn't really ask for a better day on trail.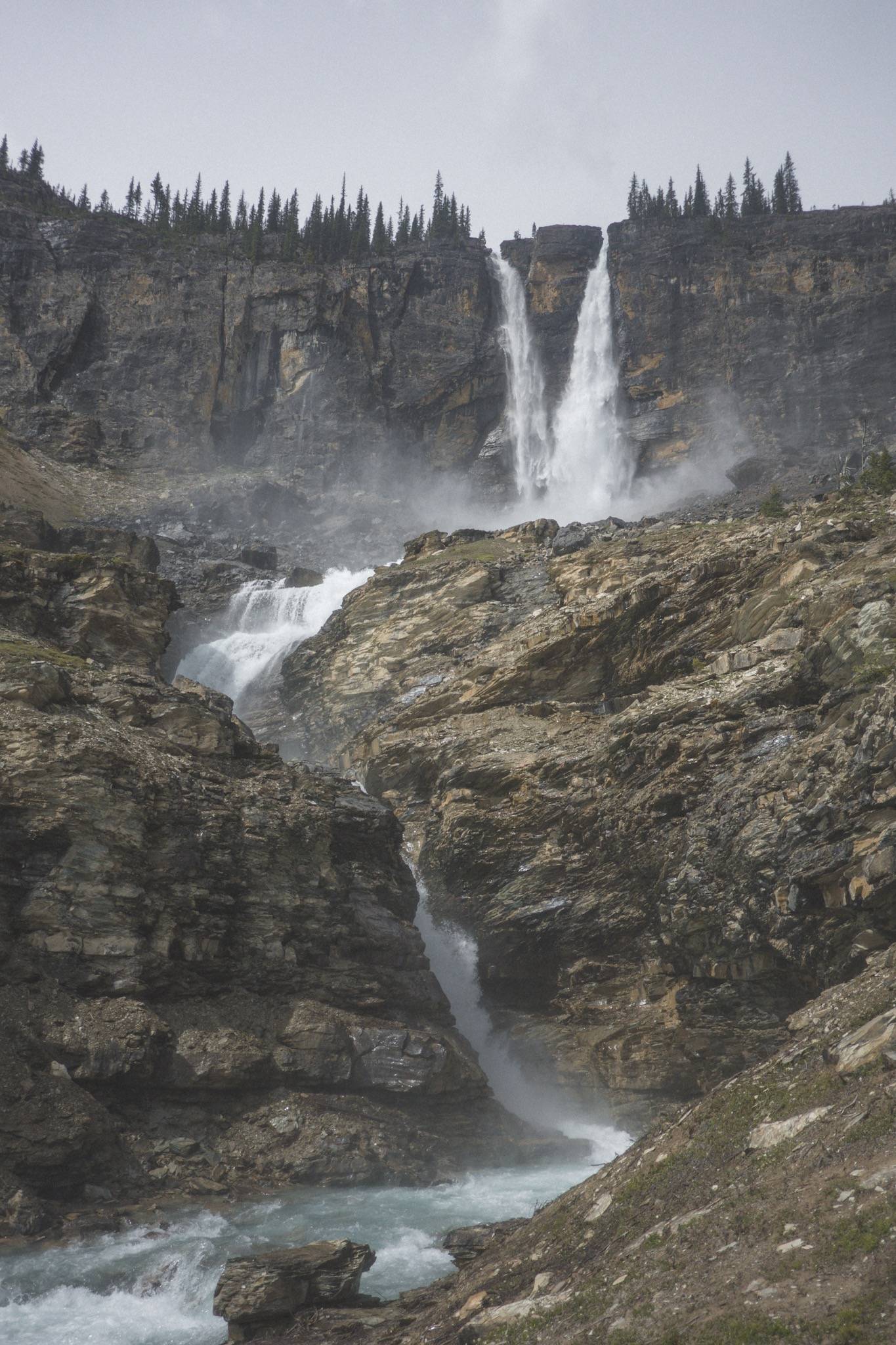 Iceline Trail Part 5: Stanley Mitchell Hut
⠀⠀⠀⠀⠀⠀⠀⠀⠀
The hiking on our second day in Yoho took us to the campsite in Little Yoho valley, which we found to be half snow-covered and totally empty when we showed up. One other group would eventually set up a tent not too far from us, but we eerily didn't end up seeing them at all.
⠀⠀⠀⠀⠀⠀⠀⠀⠀
Shortly after we set up, some nasty rain set in and we abandoned our plans to head up to the pass to check out the view. Instead, we just kinda waited out the weather.
⠀⠀⠀⠀⠀⠀⠀⠀⠀
Luckily, this cozy hut was nearby and nobody was using it. The door was locked but we were still able to hang out on the covered porch to stay dry. And so we cooked and ate and enjoyed the view of the valley out of the rain and off the wet ground and life was good.
Iceline Trail Part 6: Twin Falls in the Morning.
⠀⠀⠀⠀⠀⠀⠀⠀⠀
We slept in at our campsite below Twin Falls and woke up to blue skies, seeing that most of the other hikers had already packed up and moved on for the day. Still, we got ready slowly and had our coffee and oatmeal sitting beside the creek. We eventually got going and made our way up to the falls to check it out in the morning light.
⠀⠀⠀⠀⠀⠀⠀⠀⠀
Even though we had been to the falls the evening before, they were even more spectacular with the sun shining on the water and surrounding cliffs. We took our time enjoying the view all to ourselves, and then poked around the historic tea house nearby (closed for the season, unfortunately).
⠀⠀⠀⠀⠀⠀⠀⠀⠀
It was a great morning. Even better in hindsight when I realized it was the last decent weather we would get for a while.
Iceline Trail Part 7: Laughing Falls Shortcut (The End)
⠀⠀⠀⠀⠀⠀⠀⠀⠀
On our final day in Yoho National Park, we were set for a big day of hiking over Yoho Pass to visit Yoho and Emerald Lakes on our way out to the car, but the weather had other plans for us.
⠀⠀⠀⠀⠀⠀⠀⠀⠀
It ended up raining hard the entire night. And a mistake in setting up our rainfly meant that the water slowly dripped in while we slept. Some of you have been there before, and know the feeling of being woken up by the puddle that has slowly formed under your sleeping bag, soaking through.
⠀⠀⠀⠀⠀⠀⠀⠀⠀
We got the rainfly situation fixed, but the damage was done and it was a restless night. When we woke up and broke camp, the rain still hadn't cleared, and we saw our trail in the distance climbing even higher into the dense, dark clouds. The trail became snow-covered above our camp, too.
⠀⠀⠀⠀⠀⠀⠀⠀⠀
We didn't have to discuss all that long before deciding to bail on our plan and head out the way we came, via the nice flat route through Laughing Falls at lower elevation. Even though we would miss out on a nice section of trail, there were no regrets as we got to the trailhead and walked past families trying to salvage a miserable-looking Canada Day picnic in the downpour. We hopped in the car, cranked the heat up, and forgot about the troubles of the night before as we drove off to the next chapter of our vacation.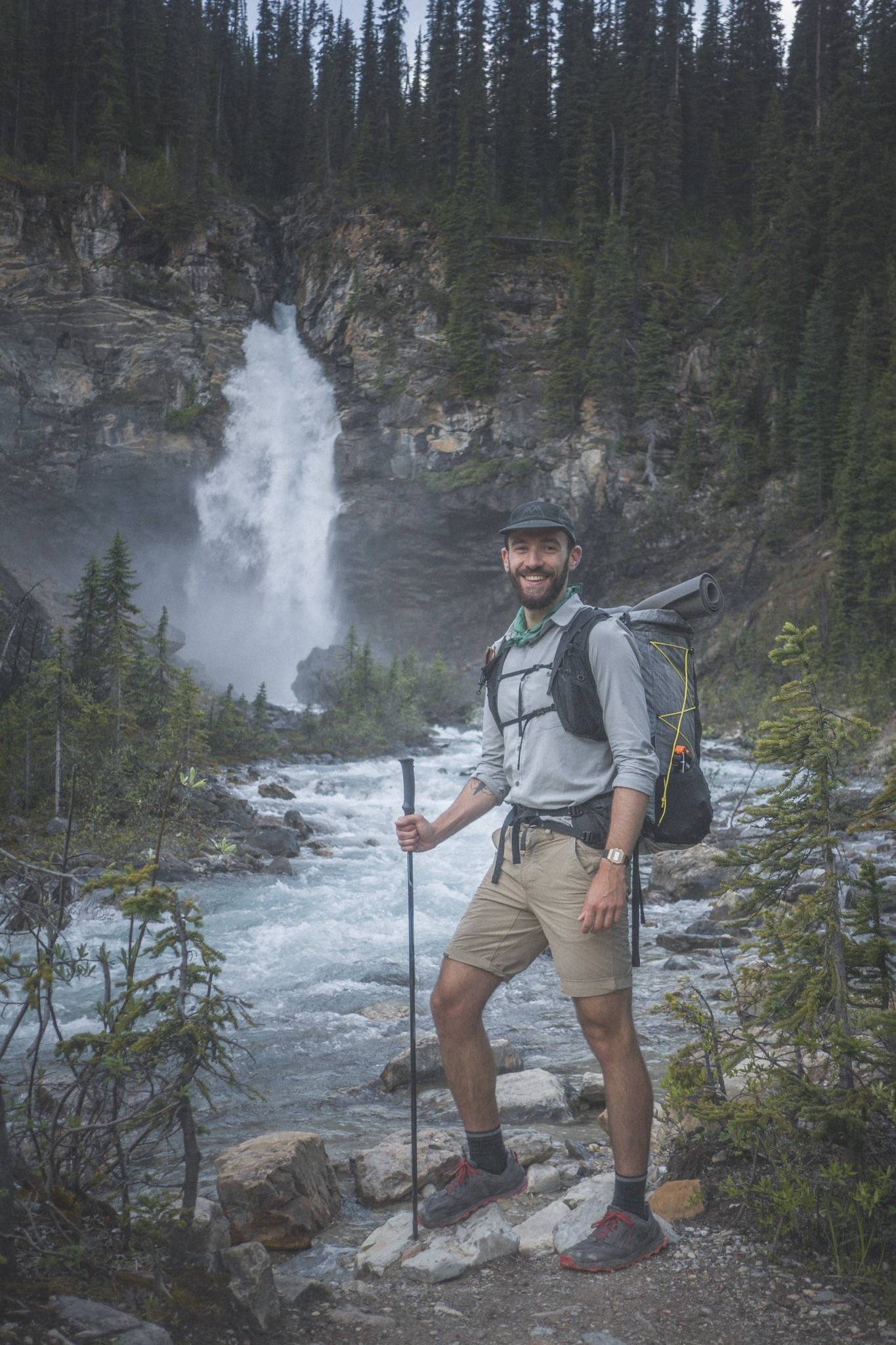 Photos and words by James Lamers originally posted on his Instagram which can be viewed here.