Ultimate Guide to Ultralight Shelters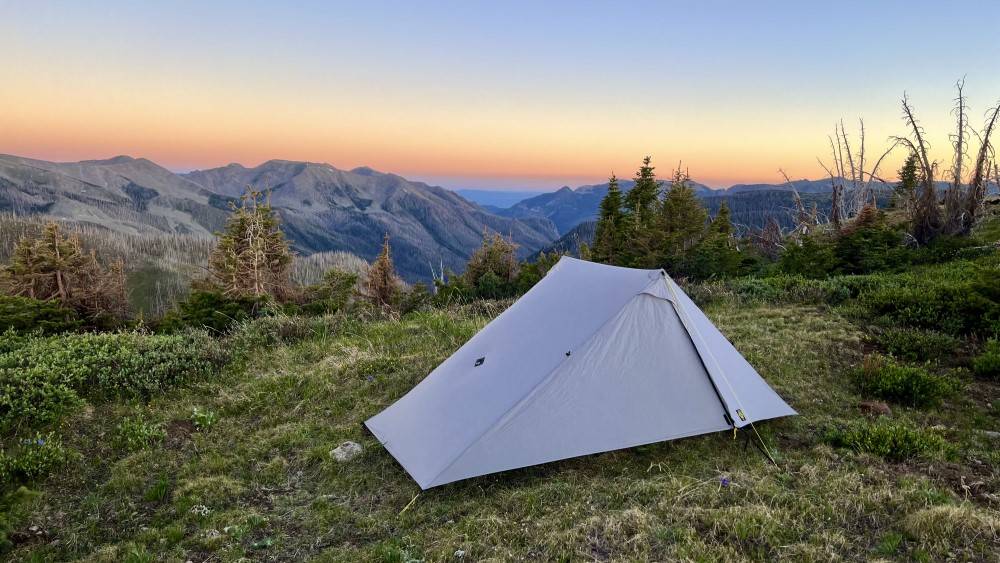 An ultralight tent (Haven Bundle) along the CDT. Photo by Mandy "Veggie" Redpath
What is an ultralight tent?
Ultralight tents and tarps are a popular option for outdoor recreationists looking to save weight while not sacrificing comfort and protection from the elements. These tents are generally defined as shelters that weigh less than 2lbs per person, so a one-person shelter would be 2lbs or less and a two-person shelter would be 4lbs or less.
Ultralight tents are often further classified by their design, either as a freestanding or a non-freestanding tent. Most modern ultralight tents fall into the non-freestanding tent category and will generally incorporate the ultralight philosophy of multi-use gear. In this case, the non-freestanding tent will have the user employ their trekking poles as the tent poles, allowing the user to save the additional weight of carrying a separate set of poles for their tent.
Ultralight tents are generally made using lightweight fabrics, hardware, and other components helping to save weight. These shelters are generally designed for 3 season use and occasional use in light snow. They tend to be more compact than traditional tents, making them ideal for backpackers, bikepackers, bike touring, canoeing, kayaking, or any other outdoor pursuit where weight and storage space are of paramount concern.
History of Ultralight Tents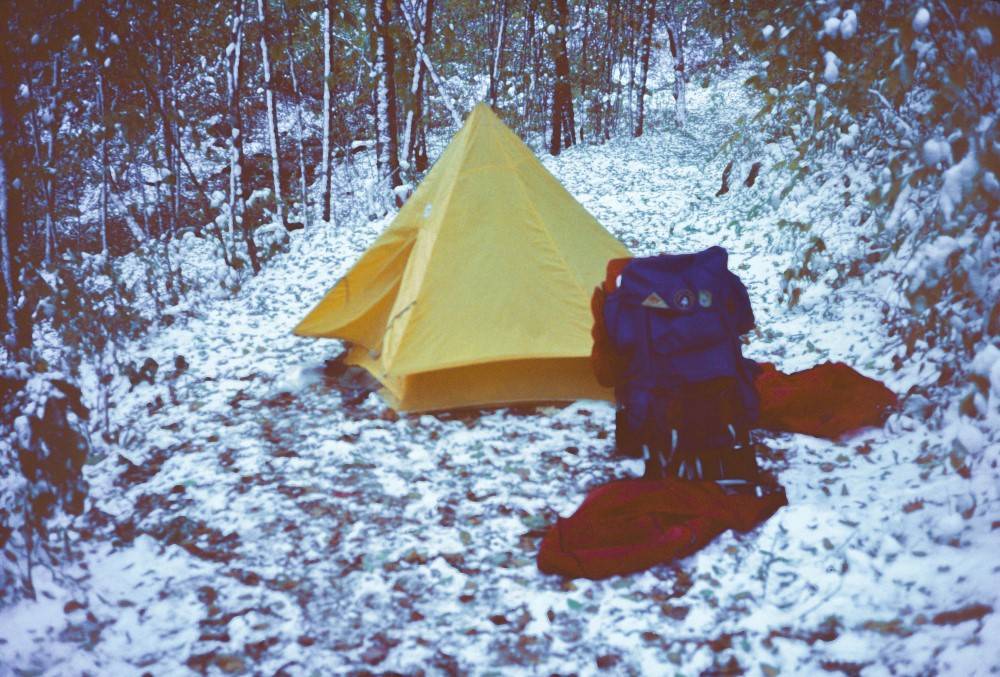 Ron & Linda Moak's ultralight tent along the Appalachian Trail durong their 1977 Southbound thru-hike. Photo by Ron Moak
Ultralight tents have a long history going all the way back to an 1888's book Woodcraft, by George Sears. The author talks about ways to save weight with a lightweight shelter, and encourages users to go lighter for better enjoyment of their time outdoors. Sometime after the later part of the 19th century, tents, along with all outdoor gear, took a swing to the heavy side and focused more on durability than lightweight.
In the mid-1970s, thru-hiking had its first big boom. This was partly due to Eric Ryback's two books, The High Adventure of Eric Ryback, about his thru-hike of the Pacific Crest Trail, and The Ultimate Journey, about his thru-hike of the Continental Divide Trail. In The Ultimate Journey, Ryback speaks at length about using a tarp in place of the tent and other ways he modified his hiking gear to save weight. A few years back, we shared a beer with Eric Ryback at the Summer Outdoor Retailer Show in Salt Lake City, and he shared his thoughts about how much better backpacking is, now that ultralight gear was commercially available. He said, "I only wish that gear was available when I was thru-hiking, as it would have made my hikes much more enjoyable." The 1970s did have a few ultralight tarp options and even a few lightweight tents, but they were few and far between what the main consumer was looking was a bigger, more robust tent that focused on durability over lightweight.
Ultralight tents and tarps did not really gain popularity in the backpacking world until the early 2000s. Even with Ray Jardine's PCT Hikers Handbook coming out in 1992, most hikers did not start to adopt these "ultralight" ways until around 2000. In the mid-1990s the Sierra Designs Clip Flashlight was by far the most popular lightweight tent among thru-hikers, but, weighing over 3+lbs, it was still not ultralight. With the launch of the brand GoLite in 1998, ultralight gear finally had a commercially available ultralight brand. Shortly after the new millennium started, other ultralight brands emerged. For shelters, in particular, those would be Six Moon Designs, Tarptent by Henry Shires, and Gossamer Gear. (Watch an interview with SMD Founder and President Ron Moak about the history of Ultralight).
Over the past 20 plus years, ultralight tents and tarps rose in popularity as outdoor users realized how much more enjoyable their time pursuing their passions could be without being weighed down with heavy gear. There has never been a better time to shop for an ultralight shelter. Today's outdoor gear marketplace is filled with a wide variety of designs, brands, price points, and material options in both ultralight tents and ultralight tarps.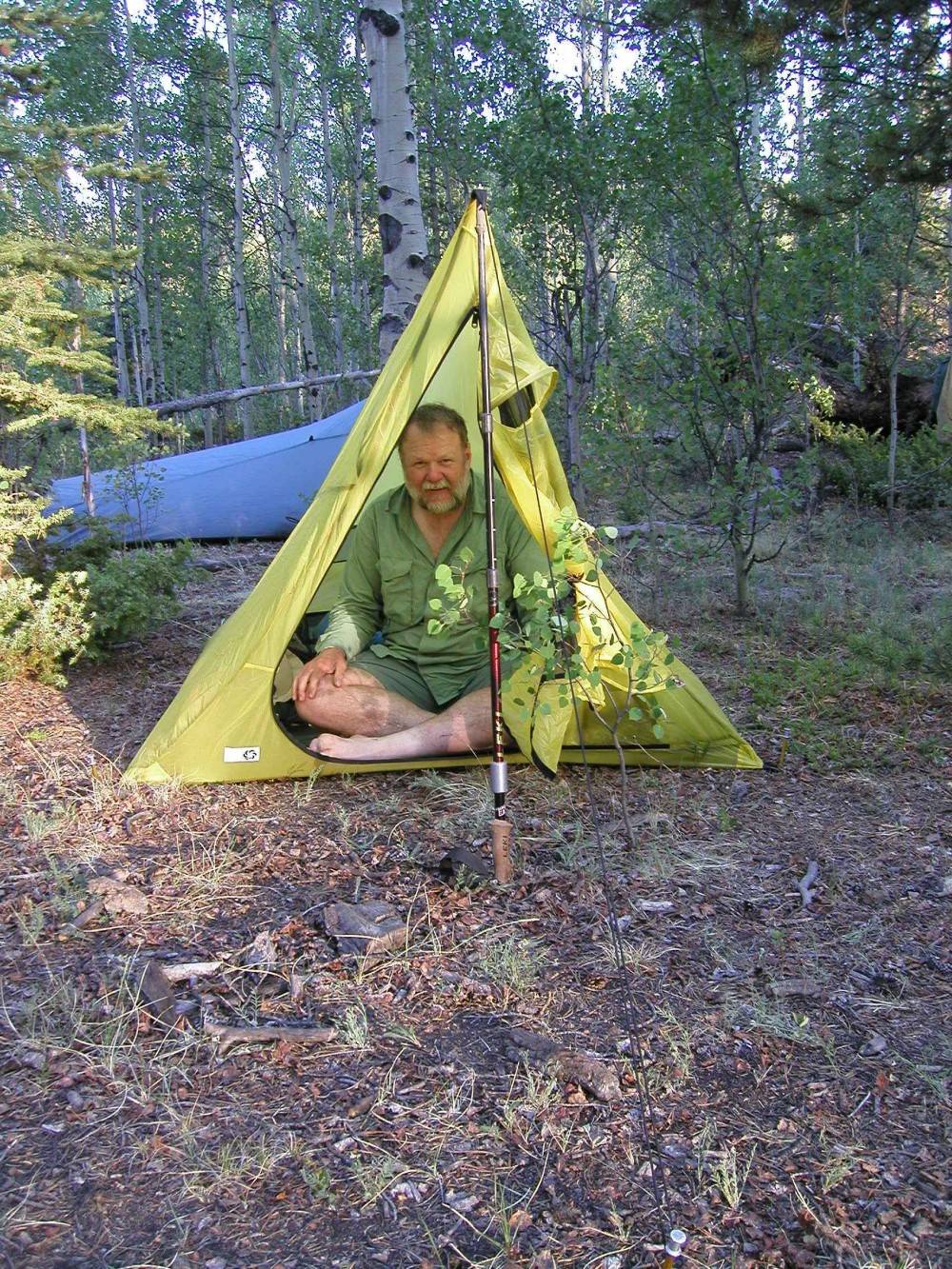 Ron Moak in a Europa Tent, circa 2002, the first tent sold by Six Moon Designs-Photographer unknown

A variety of Six Moon Designs Ultralight Tents
Ultralight tents come in a variety of designs: single-wall shelters, double-wall shelters, pyramid (or sometimes just mid), A-frames, hoop style, and many others. All of these designs have a place in the ultralight world, and they all tend to share a similar concept of protecting the user from the elements while staying as light as possible.
Styles
Pyramid/Mid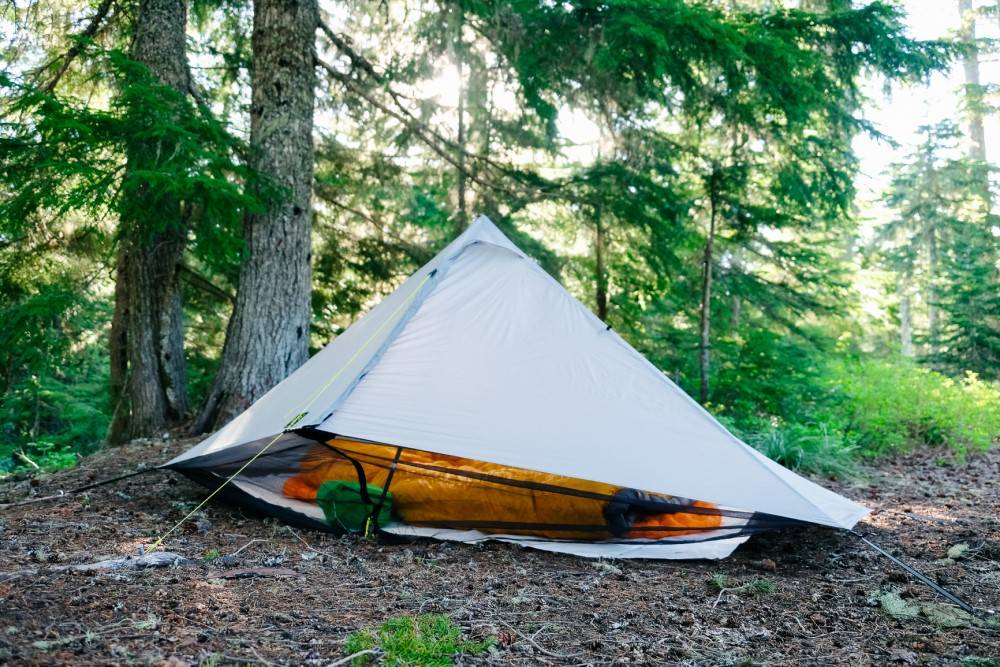 Six Moon Designs Deschutes Tarp a pyramid style shelter Photo by Six Moon Designs
The Pyramid style ultralight tent is a very popular design among ultralight tent designers. Some manufacturers refer to their pyramid-style tents as mid's, so be aware of that when doing your research. These tents are great for inclement weather as their steep walls will shed wind, rain, and even light snow loads with ease. Many users love a pyramid-style shelter because they generally only require a single trekking pole to set up. Pyramid-style tents pitch quickly, have ample headroom, and have great airflow to help reduce condensation.
Six Moon Designs Pyramid Style shelters: Lunar Solo, Deschutes, Deschutes Plus, and the Gatewood Cape.
Ridge or A-Frame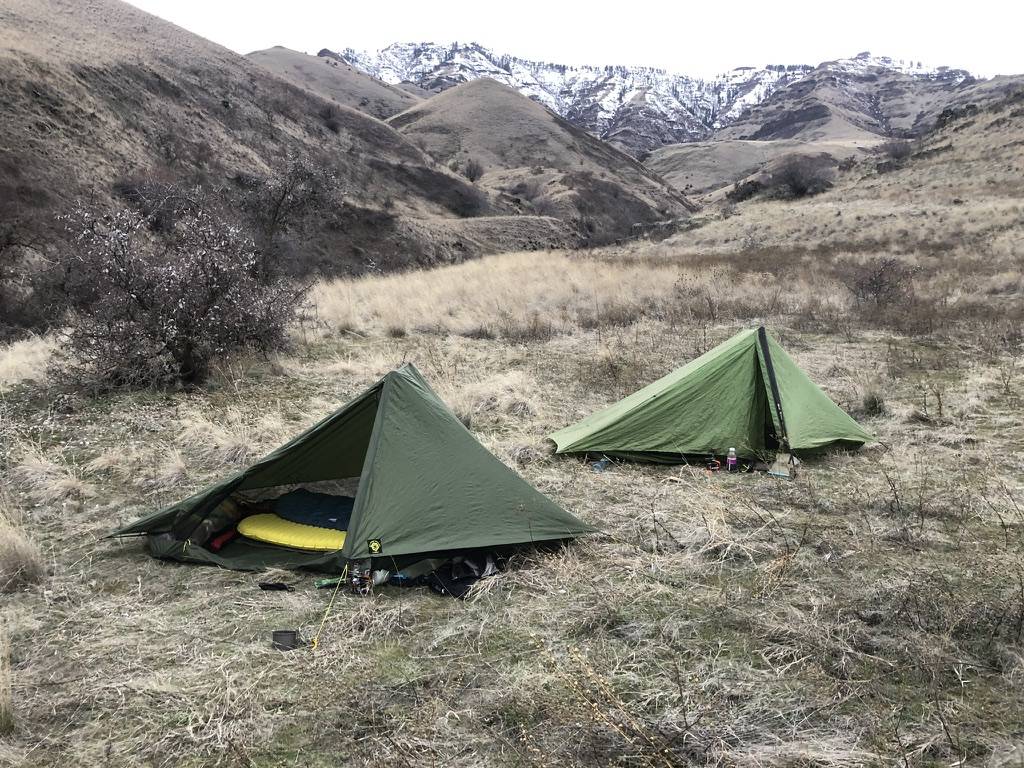 A pair of Skyscape Trekkers in Hells Canyon, OR Photo by Whitney LaRuffa

The Ridge or A-Frame tent is a modern twist on traditional tent designs. By employing an angular design, these shelters provide a great deal of headroom for sitting up inside. Due to their steep walls and sharp angles, these shelters are great in withstanding wind, rain, and even snow. Generally, Ridge or A-Frame tents will use 2 trekking poles, providing an easy-to-pitch and stable structure for the user.
Ridge style tents by Six Moon Designs: Haven, Owyhee, Skyscape Trekker and Skyscape Scout.

The Lunar Duo Explorer and Lunar Duo Outfitter are the two tunnels style tents made by Six Moon Designs
Ultralight tunnel tents generally use 2-3 arched poles and need to be staked to stand upright. Tunnel tents provide a great deal of usable internal space because of their curved walls and large, flattish roof. The internal space is a big benefit when using a 2-person version of a tunnel tent, and the added space is welcome when hiding from inclement weather or trying to change clothes inside the tent. These shelters, when pitched properly, withstand wind and rain with ease.
Six Moon Designs Tunnel Style Tents: Lunar Duo Explorer and Lunar Duo Outfitter. These two tents are a hybrid version of a tunnel tent that saves weight by using trekking poles combined with shorter arch poles.
Transverse Hoop

Rainbow one person hoop tent by TarpTent
The Transverse Hoop ultralight tent design is where a single hoop pole transverses the center of the tent in either the long or short direction. These style tents provide a great amount of space to weight ratio and are compact when packed since they only have a single pole. These style shelters are great in most weather conditions, but they must be pitched correctly to provide the stability one will need in inclement weather.
Six Moon Designs does not currently produce any transverse hoop style shelters.
Dome (Geodesic and Semi-Geodesic)

A classic style dome tent in the field photo by Whitney LaRuffa
Dome Tents are the standard free-standing tent design that most people think of when you say the word "Tent". These tents achieve their shape with a minimum of two poles but may have as many as eight poles depending on the size and design. Dome tents are very stable in all types of weather thanks to their design and multiple poles, however, all those tent poles do add up in weight. Dome tents tend to be the heaviest design of ultralight shelters best used for base camp or areas where you must set up your tent on a wooden platform.
Six Moon Designs does not currently produce any dome-style tents.
Ultralight Tent Materials & Weight
Ultralight tents achieve their light weight through their design and the material(s) from which they are constructed. Since tents use a fair amount of fabric in their construction, lighter-weight materials can greatly affect the tent's overall weight. Most ultralight tent fabrics used today got their start as materials used in the sail-making world. Racing sailboats and ultralight hikers both benefit by shaving every ounce they can in their gear, while not sacrificing strength and durability for the job at hand.
Ultralight tent fabrics need to have good tear strength, a low amount of sag and warpage under tension, waterproof coatings, and good packability and compression when being carried on one's back. The most common fabrics used in ultralight tents currently are Taffeta Polyester, Siliconized Ripstop Nylon (Sil-Nylon), Siliconized and Polyurethane coated Nylon (Sil-PU), Siliconized Ripstop Polyester (Sil-Poly), and Dyneema Composite Fabric (DCF).

Ultralight fabrics on the roll waiting to be made into gear - Photo by Six Moon Designs
Denier (D)
Denier (D or d) is a technical specification of a material. It is a unit of measurement for the weight or thickness of that material. It expresses fiber thickness of individual threads or filaments in fabric or textiles. For example, one single strand of silk would be 9000m of it would equal one gram. Generally, a higher denier value will also mean more long-term durability and/or strength.

Hydrostatic Head testing a piece of silnylon - Photo by Six Moon Designs
Hydrostatic head (HH or hh) is a way of measuring a material's waterproofness rating. This is measured by using water pressure until the material starts to leak. HH falls on a scale of 0 mm to 10,000 mm where anything above 1,400 mm is generally considered "waterproof." All Six Moon Designs shelters feature a hydrostatic head rating of 3,000 mm which is considered very watertight.
Taffeta Polyester
This fabric is a budget-friendly material used for decades in hundreds of thousands of tents from major manufacturers like Eureka to cottage brands like Six Moon Designs. Generally, Taffeta Polyester will be coated with either silicone or another type of waterproofing on the outside of the fabric and the inside will be coated with polyurethane. The polyurethane has good waterproof properties and allows for seams to be taped if they are not too complex.
Taffeta Polyester has the great advantage of being a great value for the consumer as often tents made out of this material will cost less. In addition to cost savings, the fabric is also extremely durable and a great option for people new to ultralight backpacking or that happen to be particularly hard on the gear.
Taffeta Polyester does have some cons. Tents made out of this material tend to be heavier than the same design made out of lighter-weight fabrics. The material is also somewhat bulky when packed and does not compress as well as sil-nylon or sil-poly. If not stored completely dry after a trip, moisture can get trapped under the polyurethane coating causing some mildew or mold to grow under the coating. Over many years polyurethane will break down naturally and will get tacky to the feel and then eventually delaminate or flake off from the fabric.
Six Moon Designs uses 190 weight Taffeta Polyester for the Skyscape Scout and Lunar Duo Outfitter.
Siliconized Ripstop Nylon (Sil-Nylon)
Sil-Nylon (or Silnylon) has been a favorite material of ultralight shelters for nearly 3 decades and was the first widely used fabric by the cottage gear industry for shelters. The fabric is a ripstop nylon that is coated on 2 sides with silicone waterproofing. During the coating process the fibers are completely penetrated with the waterproof coating, making it 100% waterproof.
Sil-nylon is known for having great waterproof qualities without sacrificing additional weight. In addition to its superior waterproofing, sil-nylon also has great strength-to-weight properties when it comes to tear strength. Sil-nylon is highly compressible when packed up, making it a cinch to stash in a backpack, under the seat of your bike while bikepacking, and inside your pack raft tube.
Sil-nylon does have its cons, though. One reason some people do not like sil-nylon is that the ultralight tent made from it will need to be seam-sealed to ensure its waterproofness. Every time a needle pokes through the fabric to sew a seam, it creates a small hole where water could come in. This is why the shelters need to be seam-sealed. Due to the slick surface from the siliconized coating, there is no way to seam tape sil-nylon at this time. Seam sealing an ultralight tent takes about 30-60 minutes depending on the size and design. Most manufacturers offer an in-house seam sealing service for an additional charge, and a good seam sealing job should last the lifetime of the tent. One other complaint some users have with sil-nylon is that it does tend to have some sag in the fabric overnight. One way to reduce this is to re-tension the tent after it has been set up for about 30 minutes.
Six Moon Designs currently uses Sil-nylon in various weights (15d-40d) in the following shelters: Gatewood Cape, Deschutes, Deschutes Plus, Haven Tarp, Owyhee Tarp, and the Lunar Duo Explorer.
Siliconized and Polyurethane coated Nylon (Sil-PU)
Sil-PU (or Sil/PU) is sometimes also called sil-poly, but this is an incorrect use of the nomenclature. Sil-PU is generally ripstop nylon that has a siliconized coating on the outside surface and a polyurethane coating on the inside surface. This fabric comes in a variety of weights and the lightest used so far in a shelter has been 7 denier.
One major benefit of this fabric is that the polyurethane coating allows for the seams to be seam taped. Seam taping is attractive to some users as it allows the shelter to be used immediately in the field without the added step of seam sealing. Over time though Sil-Pu can have the same issues as the Taffeta Polyester treated with poly-urethane: Moisture can get trapped behind the coating causing mold and mildew, over time the poly-urethane will break down causing peeling of the coating and stickiness, and finally the seam tape will eventually wear out and peel away from the seams, requiring them to be reattached with seam sealer.
Six Moon Designs does not use any Sil-PU fabrics in their shelter line
Siliconized Ripstop Polyester (Sil-Poly)

The award winning Lunar Solo was the first shelter by Six Moon Designs to use Sil-poly - photo by Six Moon Designs
Sil-Poly (or Silpoly) is a lightweight fabric that utilizes a ripstop polyester fabric that is then coated on both sides with silicone to achieve its waterproof rating. Similar to sil-nylon, the way the waterproof coating is applied allows for the complete impregnation of the silicone coating into the fibers, making it 100% waterproof. Sil-Poly has two major advantages over Sil-Nylon. It has a very low stretch and deflection of the material when under tension. This creates less sag overnight, helping keep that perfect pitch until wake up in the morning. Sil-Poly is also highly compressible making it great for space savings in a backpack, bike or packraft. The only con towards Sil-Poly is that it has less tear strength than Sil-Nylon, but, with proper design and reinforcement in key stress points, this is greatly minimized and provides a great shelter material.
Six Moon Designs uses Sil-Poly in the Lunar Solo and Skyscape Trekker
Dyneema Composite Fabric (DCF)
Dyneema Composite Fabric (DCF), formerly Cuben Fiber, is an extremely popular fabric for ultralight shelters. DCF is constructed of a 3-layer laminate. The outer and inner layers are generally a mylar fabric, and the center layers are a proprietary DSM Dyneema Fiber. DCF has become very popular over the years because of its weight to strength ratio. DSM is 15 times stronger than steel, comes in a variety of fabric weights, is 100% waterproof and will not absorb water, and has no stretch, resulting in a taught pitch that will not sag.
While many ultralight backpackers view Dyneema as the pinnacle of shelter fabrics, it does have some cons. Dyneema is an extremely expensive material, resulting in ultralight tents costing between $400-$1000+. For the average user, this may be way outside of their gear budget. Dyneema is also very bulky and not compressible, which results in the ultralight shelter taking up significant space in a backpack. Lastly, Dyneema fabric shrinks over time from sun exposure and being scrunched up into a stuff sack. Per the manufacturer, Dyneema tents should be folded and rolled, not stuffed.
Six Moon Designs was the first company to offer commercially-made, Dyneema Composite Fabric shelters. Six Moon Designs uses Dyneema in the Zero-G Line of shelters (Deschutes, Wild Oasis, Wild Owyhee, and Haven Tarp).
Ultralight tent sizes, capacity & typical use cases
Ultralight tents come in a variety of sizes. Typically, these range from a 1-person shelter up to a 3-person shelter. Just because these shelters are ultralight, doesn't mean they have to be small in size. Some manufacturers do achieve their weight by reducing the size, however, that is not an ideal way to design and produce an ultralight tent.
Six Moon Designs uses the 18-hour rule for every shelter we design. The rule is a basic concept: "any shelter we design has to be comfortable for the user to spend, at minimum, 18 hours inside of." The reality is, the longer one spends in the backcountry, sooner or later the weather will have you pinned down for a day. Then, the only safe option will be to stay put in your tent. This rule has led us to design spacious shelters and often people comment on our shelters being very roomy and bigger than most.

Plenty of room to spend 18 hours in our Deschutes tarp if the weather is bad - Photo by Naomi Hudetz
When looking at an ultralight 1-person shelter, you will want a shelter big enough to comfortably fit yourself and some gear without touching the walls and leaving room to move around inside. Another thing to consider is how much headroom the shelter provides when you sit up. Always lying down might be fine for a night or two, but being able to comfortably sit up in your shelter will really aid in your enjoyment of the trip.
If looking at a 2 or 3-person shelter, you will want to consider the size of the floor and make sure there is enough width to accommodate each user's sleeping pad comfortably, and enough length to make sure no one is touching the walls. With a 2-3 person shelter, you will want to make sure it will allow for 2-3 people and gear. In addition to the room inside, outdoor vestibules may be utilized for extra gear, wet shoes, etc.
Some ultra-lighters will choose to use a 2 person shelter even if going solo. Why? A 1-person shelter will save space in the pack and maybe some weight off your back, but the luxury of having a palatial shelter is hard to beat. In addition to the extra space to spread out your gear, other reasons to carry a 2 person shelter as a solo ultralight include: expectation to be spending extra time in your shelter due to lack of daylight or weather; the user is very tall and wants more space; hiking with a dog; or maybe the person just likes a big shelter.
Which ultralight shelter to take on a trip generally depends on the conditions you expect to encounter, the number of people you will travel with, the terrain and types of places you may be camping in, and personal preferences.
Scenario #1
If you are planning a solo hike on the Appalachian Trail in prime season, you can expect to deal with rain, bugs, and potentially high winds. Knowing that you will be camping along a popular trail and mostly in the woods, you would most likely want a 1-person shelter. While the allure of saving weight with a tarp on this trip might sound like a good idea, the presence of bugs makes choosing a shelter with either an inner net tent or a single wall shelter with full netting the best option. Six Moon Designs Lunar Solo, Skyscape Trekker, Deschutes Bundle and Gatewood Cape Bundle would all be great choices for this trip.

A Skyscape Trekker in the woods - Photo by Jared Nelson
Scenario #2
You and your partner are planning an extended long-distance hike in the Rockies. The first part of your hike will be in the spring and then roll into the summer. Knowing that your first month on the trail will not have any bugs, as it is too early in the season, and that the second half of the hike will be in prime Mosquito season when the snow melts, you are torn on the best shelter option. In this case, a 2-person tarp with a removable inner tent would be a great option or a tarp with full bug protection. The Haven Bundle or the Owyhee Tarp would both be great choices for this type of trip.

A Haven Bundle perched along the Continental Divide - Photo by Mandy Redpath
Scenario #3
You are a hiker who loves to spread out at night even though you hike solo. The cost of gear is a minimal concern for you and you value comfort above all else at night. You are wanting a shelter for weekend jaunts on your local trails and that can also be used for your 2 weeks off a year when you spend time traveling to various areas to go backpacking. In this scenario, a 2-person shelter is your preferred choice. The Six Moon Designs Owyhee or Wild Owyhee would be a great choice for this person. A close second might be the Haven Bundle

The Owyhee Tarp is a luxurious shelter for 1 person and weighs just 33oz - Photo by Whitney La Ruffa
Packing an Ultralight Tent

Carrying a Shelter in an external pocket is another option for packing your ultralight shelter - Photo by Whitney La Ruffa
Ultralight tents have a huge advantage for the user besides saving weight— they have great packability. As stated above, certain fabrics tend to compress better than others. Depending on your backpack's volume, users may opt for a sil-nylon or sil-poly shelter as these fabrics tend to be the most compressible. With today's modern ultralight designs, most shelters, when packed, can compress down to about the size of a 32 oz wide mouth water bottle.
Where to carry your shelter in your pack or on your bike is a matter of personal preference. However, Six Moon Designs staff have found what works best for them when backpacking is to carry the tent at the very top of their backpack inside the pack. This allows the tent to stay protected while hiking, and also makes it the first thing you can easily get to at the end of the day when it is time to set up camp. We do not suggest carrying your shelter on the outside of your pack unless it is extremely wet. The reason for this is because branches and other plants could potentially tear a hole in the shelter as you walk along the trail. Another reason is, if not properly secured, you could lose your tent while walking and not notice until you are miles down the trail.
When bikepacking, the two preferred spots for carrying our shelters are typically under our seat or strapped to our handlebars. Both spots offer a great, out-of-the-way place to carry your shelter. Many bikepackers love how compressible the Lunar Solo is and they tend to compress it down so small that it fits neatly under the seat. If attaching your shelter to your handlebars, a set of straps can work great. This is also a fantastic spot to lash on your tent pole.
Seasonality
The season you are planning to venture out in can greatly impact your decision on what type of shelter to take with you. Most ultralight tents are designed for 3 season use (spring, summer and fall) and a few are designed for 4 season use (winter). The designs of the shelter will really dictate if it is an appropriate design for winter use. While some people will always prefer a tent over a tarp (because of creepy crawlies and all at night), shoulder seasons can be an ideal time for a tarp to be used to save weight.
SpringSpring is generally the kick-off of hiking season for most people in the US. Even in the Western US, there are plenty of low elevation hikes to be taken in the spring while waiting for the snow to melt in the high country. Springtime weather can often be chaotic; one day may be warm and sunny and the next day you are trudging through snow. With variable conditions and a lack of bugs, a single wall shelter or a tarp would be a great option. As any snow will be minimum, most designs will work in this weather.
SummerThe height of outdoor recreation generally coincides with summer and its long daylight and warm temps. Mosquitos, black flies, horse flies and a variety of other insects tend to be out and about and take a bite of hikers whenever they can. In addition to bugs, the weather tends to be warm to hot and can even be humid. Rain or afternoon thunderstorms may also be encountered during this season. For summer conditions, it's hard to beat a good tent with ample ventilation. While a single wall shelter is a great choice for any season, you may consider a double wall system like the Haven Bundle, Gatewood Cape Bundle or Deschutes Bundle. This type of shelter provides versatility, allowing for the user to use the net tent on dry evenings and helping to stay cool and comfortable without being eaten alive by the bugs.

Haven Net Tent being used in the summer for bug protection during warm summer nights - Photo by Naomi Hudetz
Fall
As the days get a little shorter and the air starts to get cooler, for many, fall is the outdoor enthusiast's ideal condition. Fall weather, like spring weather, can vary greatly from day to day and often, when the weather does finally turn cool, it is like someone flipped a switch. The fall season is a great time, though. Generally, the biting bugs are done for the season and the weather tends to be warm during the day and brisk at night. This time of year is an ideal time for a tarp or single-wall tent.
Winter
If going out in winter, expect cold temperatures and depending on the location, snow. If venturing into snow, make sure your shelter can handle a heavy snow load. If the snow is continuing during the night, you should plan to wake up a few times to clear it off your tent. In winter, a double-wall shelter will generally be the best option. It will be warmer inside the shelter and the added wall will help greatly with condensation management. As for the shape of the tent, the best ultralight designs for winter use are Pyramid Tents, Tunnel Tents, and Geodesic Dome Tents.
Single Wall vs. Double Wall
Single Wall shelters are shelters that have just one wall (layer) of fabric between the user inside and the outer elements. Tarps and Single Wall Tents are both contained in this category. Single wall shelters are a favorite design of ultralight tent makers because the lack of a fully separate inner tent saves a tremendous amount of weight. Single wall shelters are generally the lightest designs available, have a great weight to space ratio, and tend to pack up very small. One major disadvantage of a single wall shelter is that all tents get some level of condensation at night. By not having a second layer of fabric, the user is exposed to any condensation that has formed on the inside of the tent.

The Lunar Solo is a Single wall Shelter - Photo by Jason Huckeba
Double Wall tents are tents that have two layers. Generally, a double-wall tent will have an inner net tent and a separate outer tent. The outer tent may be called a rain fly or a tarp depending on the design and manufacturer. Most double-wall tents will allow the user to use either the inner tent or outer tent independent of each other if conditions allow. Double-wall tents do tend to be slightly heavier than their single-wall counterparts, however, they do have some advantages. Double-wall tents are warmer during cold temperatures as the space between the inner and outer tent will trap warm air and act as an insulator. In addition, double-wall tents have superior condensation management. The users will create condensation inside the tent, but the condensation will pass through the net tent and get trapped on the inside of the outer tent where it will stay. This condensation management will allow the user to stay dry and warm inside their tent.

The Haven Bundle is a double wall shelter - Photo by Six Moon Designs
Tarps vs. Tents
A long-standing debate between ultra-lighters is which is better: a tarp or a tent? Each camp feels they hold the best way to go about sheltering on a hike. Another way to look at it, though, is both shelters are a great choice based on the conditions and the users own personal preference.
TarpsTarps come in many styles, shapes, and sizes. When most people hear the word "tarp" they think of a simple square or rectangular piece of material with guy out points along the edges and corners. However, over the years, many companies have made a variety of tarp designs. These include the flat tarp, flat tarp with a catenary cut on the ridge and edges to help prevent sag, pyramid style tarps, beaked tarps, wedge tarps, and many other designs.

A flat tarp set up on the CDT to camp under for the night - Photo by Whitney LaRuffa
Tarps have the advantage of offering the maximum coverage to weight ratio. The tarp provides a large amount of coverage without having to carry a large, burly, and heavier tent. Their simple design does require some skill to become proficient in setting them up and learning the best way to use them.
There are many objections most people have about tarps.Will it keep me dry during heavy rain and blowing wind? What about creepy crawlies and snakes coming underneath at night? How does one deal with biting flies and mosquitos?
All of these objections are valid concerns, but they can be mitigated with some know-how. For rain and wind, a beaked tarp or shaped tarp (like a pyramid tarp) will help prevent water from blowing in. With a square tarp, staking it low to the ground and squaring it into the wind will allow one to stay dry and warm during a storm. If insects are a concern, they use an inner net tent or an ultra-light bivy.
Tents
The vast majority of hikers and outdoor enthusiasts feel more comfortable using a tent over a tarp. Tents have the advantage of providing a relatively easy to set up shelter that provides one with full weather protection and guard against biting flies and other wildlife from coming in for a visit (the classic "I'm afraid of snakes in my sleeping bag" argument).
Tents are a great option if you plan to be hiking during peak bug season or during the colder and, often, wetter shoulder season. With so many options of tent styles that we have discussed already, there is sure to be an available option that suits your needs. Tents do tend to be warmer than tarps because of how they retain heat inside, but that extra comfort does come at the weight costs of a heavier shelter.

The Lunar Solo among the mountains of AZ keeping the user safe from snakes and spiders at night. - Photo by Jada Lippincott
One other option for a shelter is to use what is around you or with you on a trip. For example in the Empire Strikes Back, Han Solo uses Luke Skywalker's light lightsaber to slice open the abdomen of his Tuantaun to provide a warm safe place for Luke to stay out of the weather and avoid hypothermia. Han did this to create a bivvy sack for Luke so he could take the time to properly pitch their 2 person 4 season tent, until a rescue flight could be sent in the morning. Its hiker ingenuity and adaptability like this, that can be credited for saving Luke Skywalker's life that day.
Floors
The floor of a shelter can vary depending on the style of the shelter. In a tarp, there is no floor. The user must carry a ground sheet to act as floor and protect their gear from dirt and ground moisture. Most tarp users will carry either a piece of Tyvek or Polyolefin plastic. These two popular ground sheets act as flat floor for the user.

A piece of Tyvek makes a great floor in the Deschutes Tarp - Photo by Whitney LaRuffa
Tent floors are often referred to as a bathtub floor. A bathtub floor is a floor that, instead of having its edges end at the ground, extends up the interior wall of the tent forming a 'bathtub.' Bathtub floors provide additional protection from splashing water during a rainstorm. Bathtub floors typically range in height from 4"-8" with 6" being the most popular height of the bathtub wall.
Tent floors can be made out of a variety of fabrics. Typically, they are made from the same type of material as the rest of the shelter but in a heavier weight. Most shelters use a 30d-50d nylon for the floor. With a heavier weight fabric that has the same waterproof properties as the rest of the tent, one can avoid using a ground sheet and still stay dry. The additional ground sheet, often called a footprint, really acts as an additional layer of protection of the shelter floor to help extend its life.
Ultralight Shelter Setup
Each ultralight shelter will have its own unique way and steps for setting it up and achieving the perfect pitch of the shelter. We, at Six Moon Designs, highly suggest taking time at home before going out on a hike to practice setting up and taking down your shelter. The last thing you will want to do is be at the end of a day out hiking in bad weather, and then try to figure out how to set up your shelter.
While we can't explain the steps to set up your shelter, we can talk about what to look for when it comes time to do so. A good night's sleep starts by selecting a good campsite. The old Leave No Trace (LNT) adage rings true here, "good campsites are found not made." To help limit one's impact on the natural world, try to find a spot that has clearly been camped in by others. This will concentrate the use to one spot and help preserve the natural beauty of the entire ecosystem.
A good campsite should help also avoid the dreaded condensation one typically encounters inside their shelter at night. Start by looking for a site that is well away from a natural water source. The reason for this is two-fold. First, it will help with reducing condensation and, second, wildlife often come to water sources at night to drink. By camping next to a water source you may very well be endangering the life of an animal who is relying on getting a drink at night for its survival.
Next, try to find a spot that is level or level enough that you will not be slipping and sliding inside your shelter all night long. Make sure the site is large enough for your shelter's footprint (including space for the guy lines). Look for an area among the trees. This overstory will help keep you warmer and drier at night and act as a natural buffer for condensation. Make sure to look up, and inspect the overstory for any potential widowmakers in the form of large dead branches or trees that could come crashing down at night.
You may also want to look around and see if there is any sign of mice or other critter activity in the site. One time on the CDT, we were kept up all night by very aggressive rabbits who came into camp to munch our straps and other gear coated in salt from our sweat.

This Haven is in an ideal campsite, a bed of soft pine needles, flat ground and a tree above it to help prevent condensation - Photo by Naomi Hudetz
Lastly, consider the type of ground you are setting up on. The softer the ground, the better night sleep you will probably have, but this is not always the best move. Sleeping on sand can seem like a great idea, but getting a tent stake to hold will be difficult. In addition, sand generally has a high amount of moisture that will transfer up into your shelter in the form of condensation at night. Moss is another ground cover to avoid. While its soft, lush surface seems ideal, this damp ground cover is sure to soak you through and through by the morning. Generally, I look for a ground that has a nice layer of duff which consists of leaf litter and pine needles to set up on.
If camping on very rocky ground, like granite in the Sierra, and using a non-free standing tent, you will need to get creative to set up your shelter. Most users will find some big rocks to place on top of their guy lines. This works well, but to make this system even better and more secure, do the following. Start by gathering a large rock for each guy line. Then, place your tent stake through the loop at the end of the guy line as if you were going to stake out your tent. Next, place the rock on the guy line and pull it taught until the stake hits the rock. This will prevent the line from slipping out from under the rock at night.
Tent Poles vs Trekking Poles
One key to keeping shelters ultralights is to use your trekking poles that you carry in your hands all day as the poles for your shelter at night. The benefit of this system is that you are effectively using your tent poles all day instead of just carrying the weight on your back while you hike. Trekking poles tend to be very sturdy and a bombproof pole for your shelter. The only downside of this technique is if you happen to break your pole while hiking. In this case you will need to get creative and find a stick that can work in its place. One other downside is some pyramid style shelters require a pole height longer than the maximum length of a trekking pole. This will cause the user to either carry a pole extender (pole jack) or stack rocks to achieve a higher height.

A Leki Trekking Pole being used to hold up a Deschutes Tarp in NM - Photo by Whitney LaRuffa
If you are a user who doesn't use poles, or are in the bike touring and bike packing world, you will want to carry tent poles for your shelters. Ultralight tents often have options on tent poles that will work with your shelter and are based on your specific needs. The two most common materials are aluminum and carbon fiber. Both materials are lightweight and have a good weight to strength ratio. In the past few years, most companies, like Six Moon Designs, have started to offer these poles in both 3 section and 5 section configurations. This allows a user to select a pole that will best fit into their kit.
When to use an Ultralight Shelter
Ask any avid ultralighter and they will tell you every time you go out in the field is the right time to use an ultralight shelter. With the wide variety of ultralight shelters designs and options available on the market today, this statement rings true. While, traditionally, a heavier shelter would be the preference for mountaineering, brands that focus on that sport now offer ultralight shelters so that mountaineers can go light and fast.
Non-ultralight shelters are best used for car camping trips, basecamps, and time spent outside where you will be doing more camping than moving. These larger tents provide a great deal of comfort and convenience for those situations, but in today's modern gear world, there is really no reason to carry a heavy shelter on your back all day, unless you just like to do so.
How to Choose the Correct Ultralight Shelter
As we have discussed in-depth, the variety of shelters available seems endless and selecting the correct shelter for you may seem like a daunting task. While it can be overwhelming, there are steps one can take to help make the selection process easier. To begin,you must decide what style of shelter you want: a tarp or a tent. Next, decide on the style of tent you want: non-freestanding or freestanding, pyramid, tunnel, a-frame etc. Once you have these answers, you can begin to narrow things down.
Next, decide on a budget you are comfortable spending on a shelter. Price is a huge factor when buying gear. You may want to evaluate how often you will use the item and see how that cost-per-day may affect your decision. Once a budget is set, you can see which shelters fall within your parameters. Try to narrow it down to 5 or 6 choices. Once you do that, read reviews and watch videos online of others who have tested the tent. Be aware, though, of where you get your information. Some reviewers worry more about getting an affiliate sale on an item more than giving it an honest review, so I would suggest looking at multiple sources here.
Some local outfitters in your area may even have a demo or rental program for ultralight gear. This allows a user to test out some options before they buy. If they do not have a system like this, a good knowledgeable employee at an outfitter may really help you decide on the correct shelter for you. If you have friends who are into ultralight gear, you may ask them their opinion or even borrow some of their gear to try on weekend trips to see what you may want to buy.
One Person or Two Person Shelter
The next question you may want to ask is, "Should I get a 1-person or 2-person shelter?" If you are hiking with a partner or a dog, the recommendation would be to pay the weight penalty and carry a 2 person shelter. The additional space will provide a greater level of comfort for all. A good night's sleep is paramount for good recovery after a long day of exertion. If you are planning to hike in an area with small spaces to set up, a 1-person shelter would be a better option as the small footprint will be easier to squeeze into these places at night.
It is important to remember that not all 1 and 2-person shelters are created equal when it comes to interior space. What some manufacturers call a 1-person shelter may provide more floor space than a competitor's 2-person shelter. For example, the Lunar Solo is a 1-person shelter with an interior floor space of 26.25 sq. ft, while the Nemo Dragon Fly 2, a very popular 2-person tent, only has an interior floor space of 20.3 sq. ft. Make sure to review the specifications of the tent before you purchase it and make sure that your sleeping pad(s) and gear will fit inside of the shelter.
With ultralight shelters, the case can be made that most solo hikers may still want to carry a 2 person shelter. For just a slight weight penalty, the user can achieve a much higher comfort level with the additional space found inside a 2 person shelter. While this may seem opulent to some users, if you are going to be stuck inside your shelter during inclement weather, that extra space will certainly be appreciated. Oftentimes, very tall hikers will also opt for a 2 person shelter so that they may lay inside and avoid touching the sides of the shelter at night while they sleep.
Conclusion

Two Six Moon Designs tarps along the BC coast. - Photo by James Lamers
There has never been a better time in the world to be an ultralight hiker looking to buy a new shelter. What was a fringe idea 20 years ago with small offerings from a handful of cottage brands, ultralight gear and shelters are now the norm and offered by a large variety of brands, from small cottage companies, to large multinational brands. No matter what you decide is the best brand and style shelter for you, you are sure to be happier carrying less weight all day long.
Today's offerings come in a multitude of different fabrics, weights, and designs. With options for non-freestanding and freestanding tents, there is certainly a shelter out there for everyone. The user should take the time to do their research on what shelter may be right for them based on: the intended use, seasons of use, expected conditions, and budget. While the variety of options may seem overwhelming, with some time, research, and hopefully a chance to "try before you buy," the decision making process can be much easier to navigate.
Thanks for taking the time to read our extensive ultimate guide to ultralight shelters. From all of us here at Six Moon Designs, happy hiking and remember to "Go Wild, Live Young!"