---
Zippers
A zipper can appear to be broken and will not stay zipped shut*. This is a result of the zipper slider or pull wearing down. The solution would be to replace the pull. Replacing a zipper pull is not overly complicated and is a repair you can attempt yourself.

If you don't feel completely comfortable attempting the repair yourself, you can contact us about sending it in and we will replace them for $5 a zipper pull plus shipping.
*Sometimes the zipper coil is the cause of the zipper not working. If your zipper coil is damaged, repairs can be a lot more involved. If a section of zipper coil is missing zipper coil teeth, ripped, shredded, etc... we may not be able to help with the repair as we are not equipped to replace a full zipper coil on a shelter. These are usually determined case by case and we will do our best to help resolve any zipper coil issues as they come up.
There are instances of zipping something and the zipper pull slides right off the end of the zipper coil. This usually happens when the terminating end comes undone or is not tucked far enough into the seam. The follow zipper pull replacement technique will fix that, but be sure to sew a few loops into the zipper coil end to create a stopper or terminating end that prevents the zipper pull from coming off the end again.
How to Replace a Zipper Pull
1. Determine what size zipper pull you need. Most of our shelters use a YKK #3 Double Sided Pull for the vestibule and mesh doorways. The Skyscape Scout and Lunar Duo Outfitter uses a YKK #5 Zipper pull. (RC stands for reverse coil.)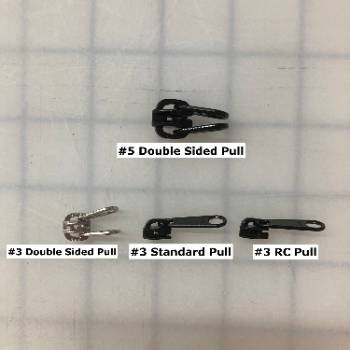 A note about zipper coils, pulls, and which side they go on
A zipper coil typically has a side where the zipper teeth are visible and an underside where the teeth \ are not visible. For example, if a Lunar Solo is pitched and you are looking at the vestibule, the zipper side facing you will be the side where the you are unable to see the coil (Example A). The under side will look like Example B. The zipper pull will need to be threaded so that the slot visible on the side of the pull is facing in direction with the material on either side of the zipper pull to be threaded on properly (see Example C).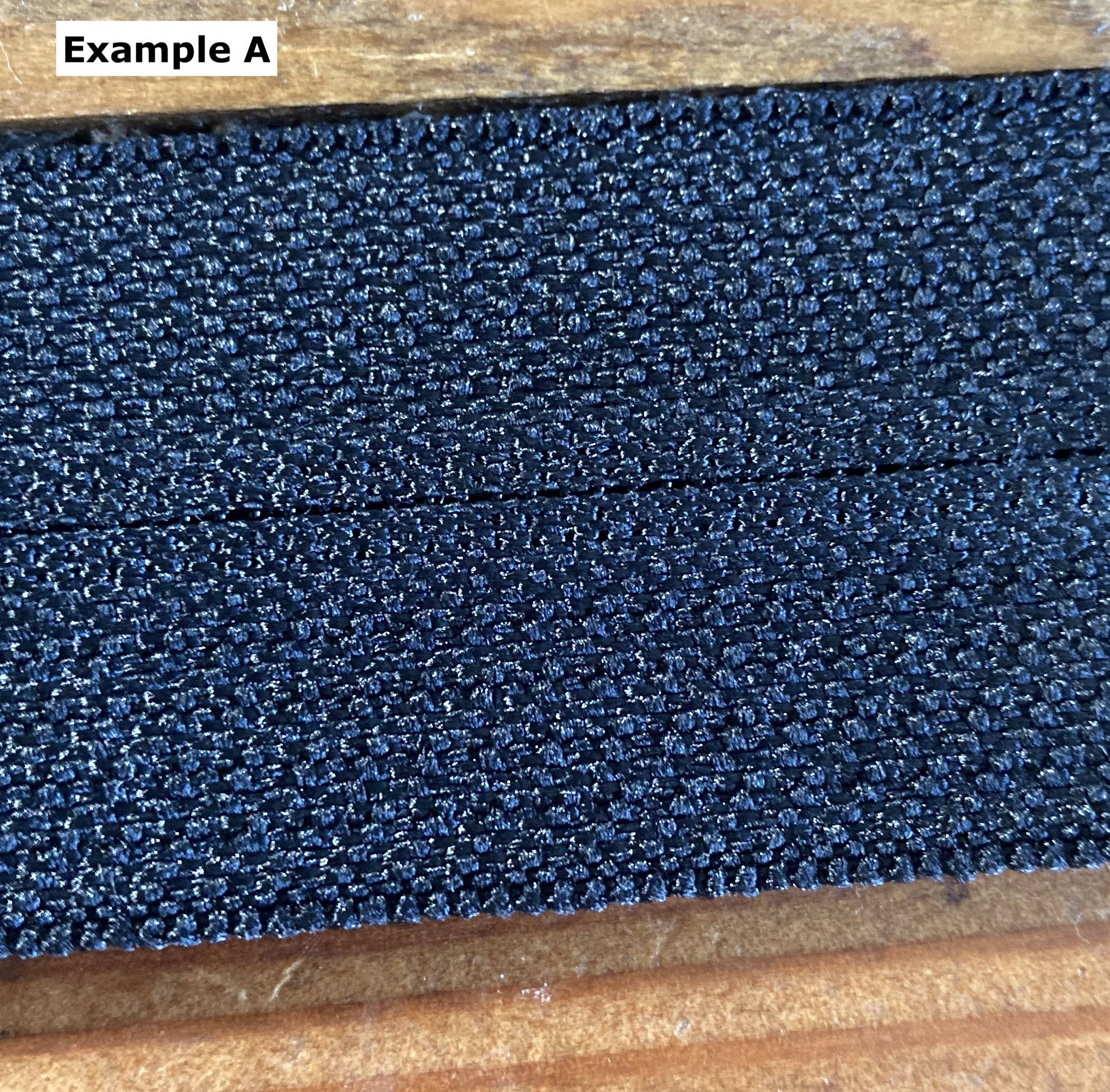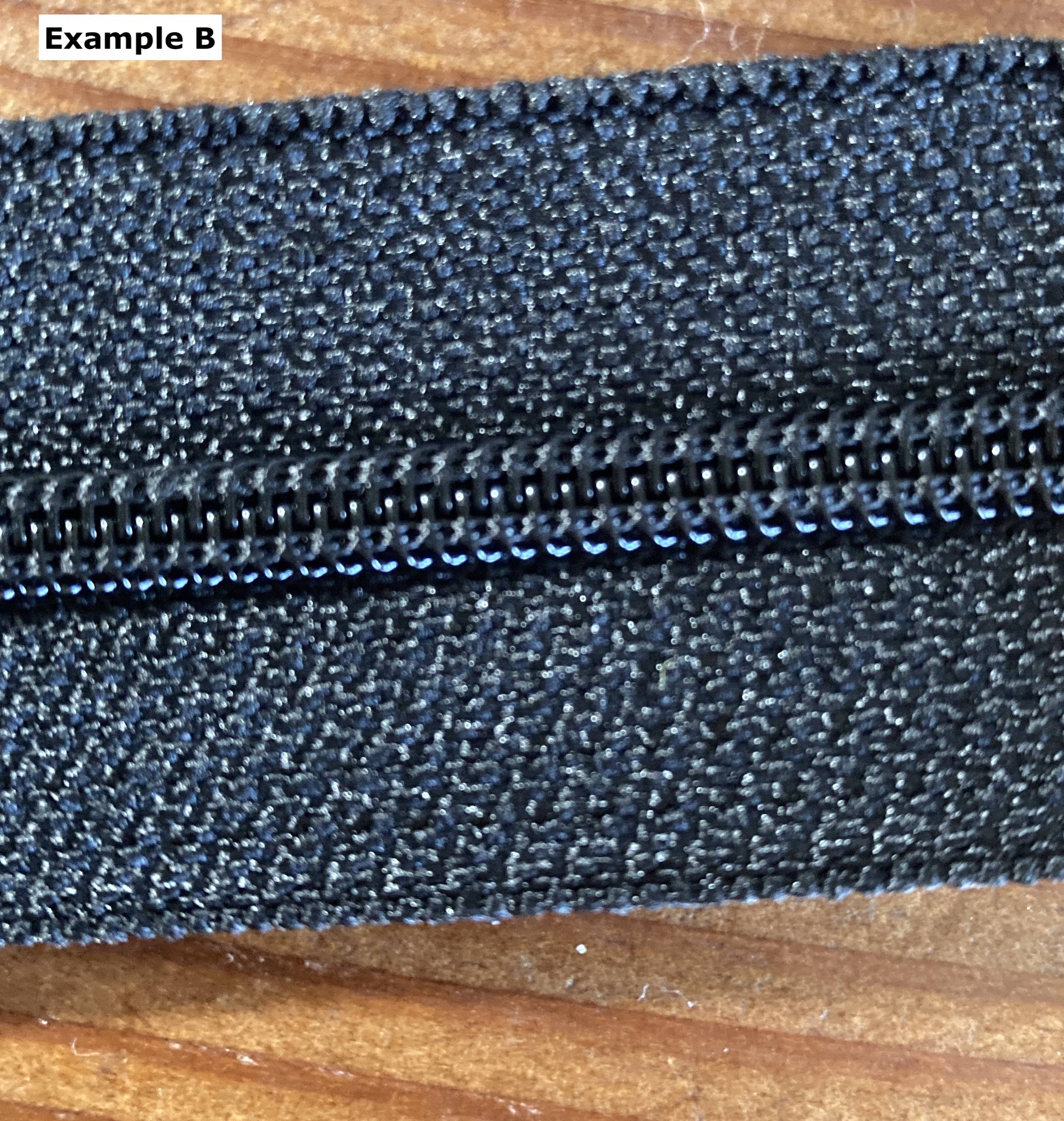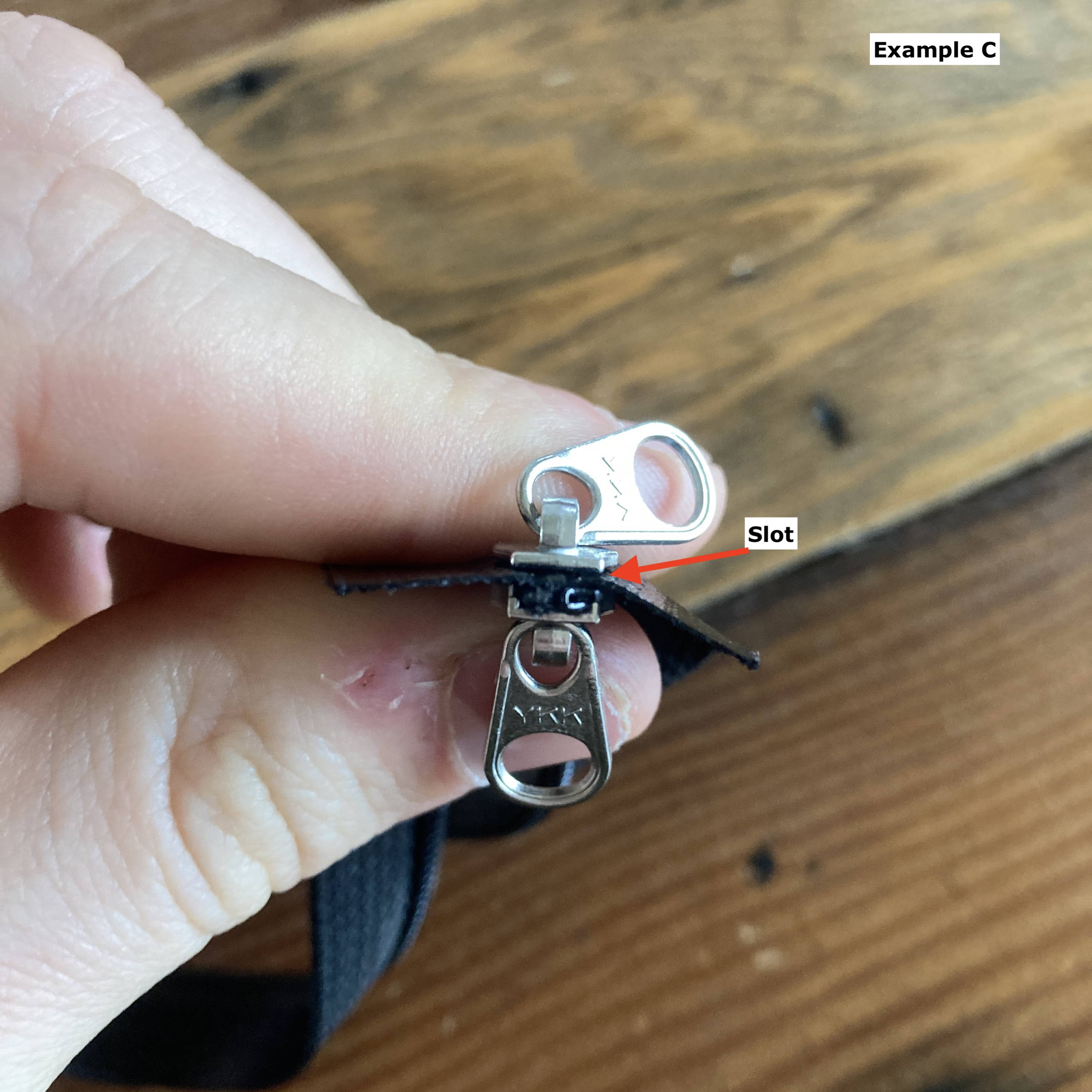 2. Find the base of your zipper coil. Not the end where the zipper zips to (example: the bottom of the vestibule), but rather the end where the zipper pull would be if you had unzipped the zipper coil. Once you find the zipper end you will need to use a sharp knife, exacto knife, or the easiest tool would be a seam ripper to undo the stitching around it. Sometimes the zipper end is stitched into the binding. It is still easy to get to using the same method of carefully cutting the stitching. Be careful not to cut the fabric of your shelter there though!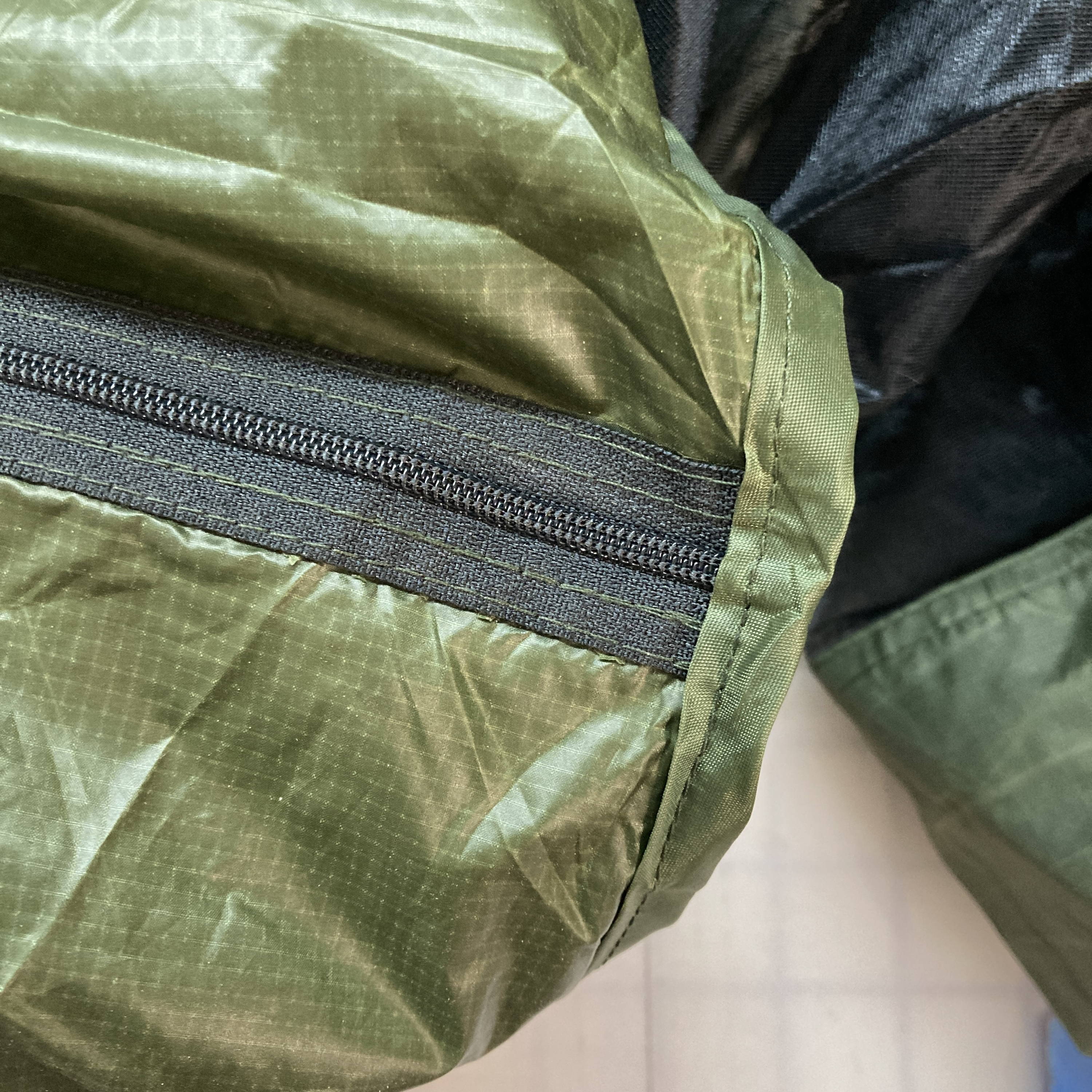 The base of a Lunar Solo Vestibule Zipper Coil
Using a seam ripper to undo the stitches on the binding
3. Once you have the zipper end open you can slide off the old zipper pull and slide on the new pull. It can be a bit tricky threading them on. Make sure you have the right pull (some are reversed and standard) and have it aligned properly to the coils.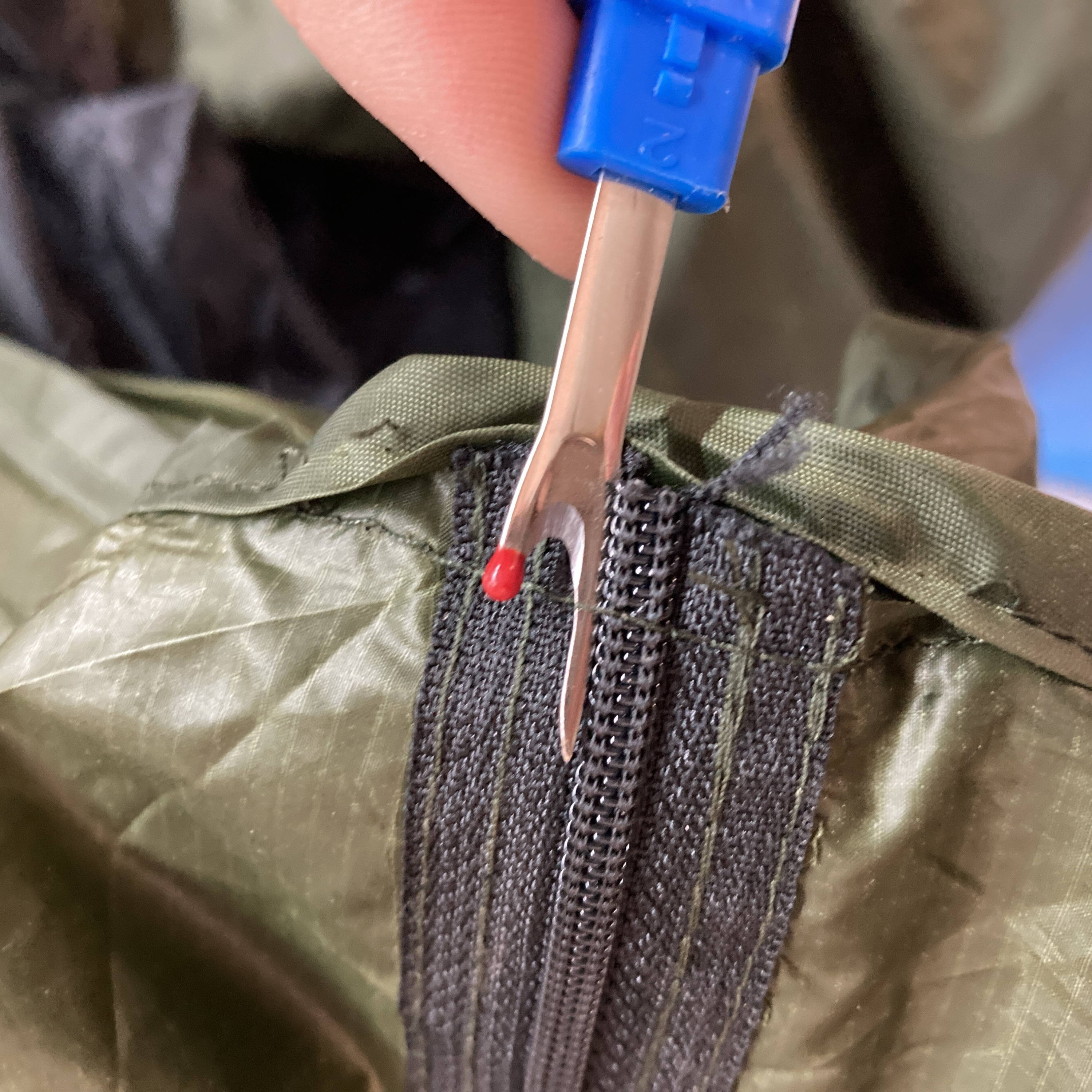 Be sure to rip the seam on the zipper coil once you have the binding pulled away. You should be able to slide off the old zipper pull at this point.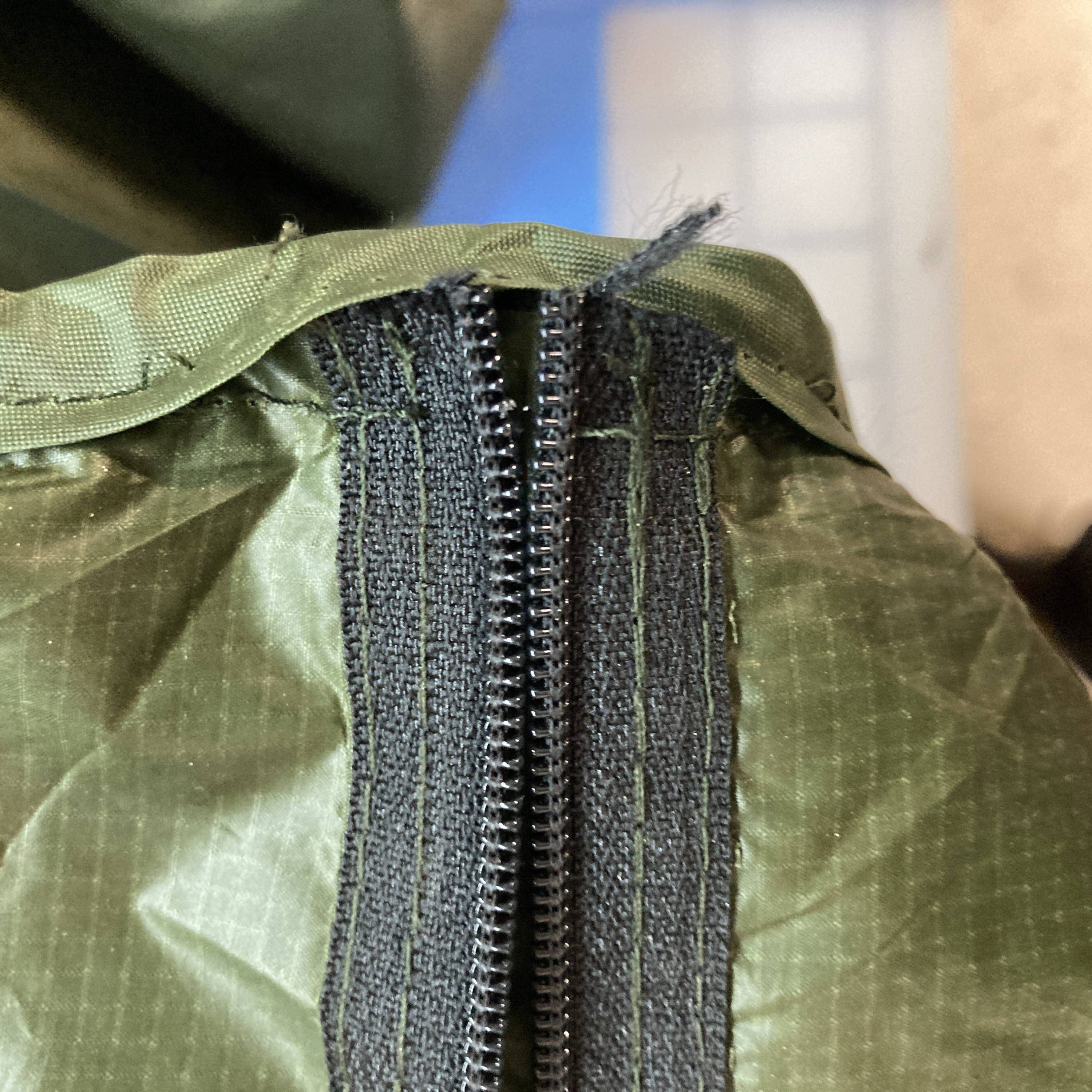 Both zipper coil ends lined up and ready to thread a new zipper pull on
4. Once you have the new zipper pull on, zip it a few times to make sure it works, but be sure to not zip it off either of the ends if they are not sewn shut.
5. You can now stitch back the zipper coil end. If the end has binding, you can fold the binding back over the end and stitch through that along with the zipper coil end.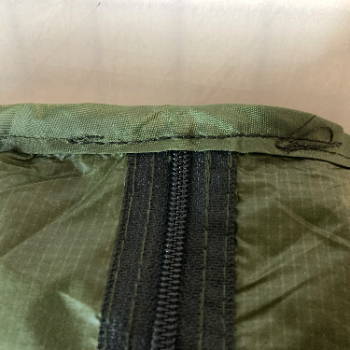 This whole process takes 5 minutes or less with a sewing machine, and shouldn't take more than 30 minutes if you are doing it by hand. Regardless of those time frames, take your time and practice patience with this. After years of sewing and repairs, we've found that going slow is the key to a cleaner and more effective repair. Rushing typically ends in seam ripping stitches and cursing.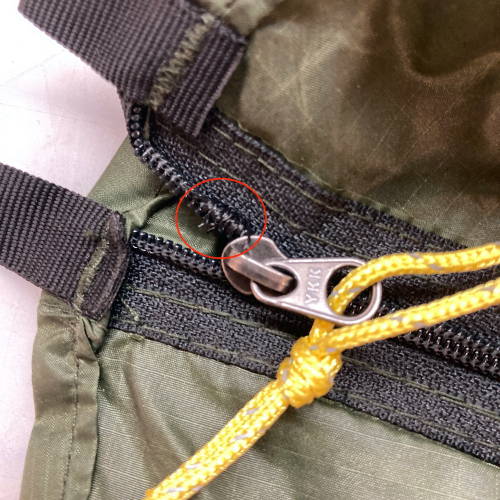 A stopper knot sewn into the zipper coil to prevent the zipper from sliding off the end of a coil.
Zipper Pulls on the Gatewood Cape
Almost all of our shelters have a 1 way zipper for the vestibule door with the exception of the Gatewood Cape which uses two zippers facing in opposite directions. We do this so the topmost zipper can be unzipped for ventilation when the cape is being worn. Because the zippers face opposing directions, you must slide the first pull on in the normal direction facing towards the terminating end of the zipper coil (in the case of the Gatewood Cape, this would be the end of the vestibule zipper coil). The second zipper must be threaded on backwards. This process is tricky, but with some patience and proper aligning of the zipper coils, can be done!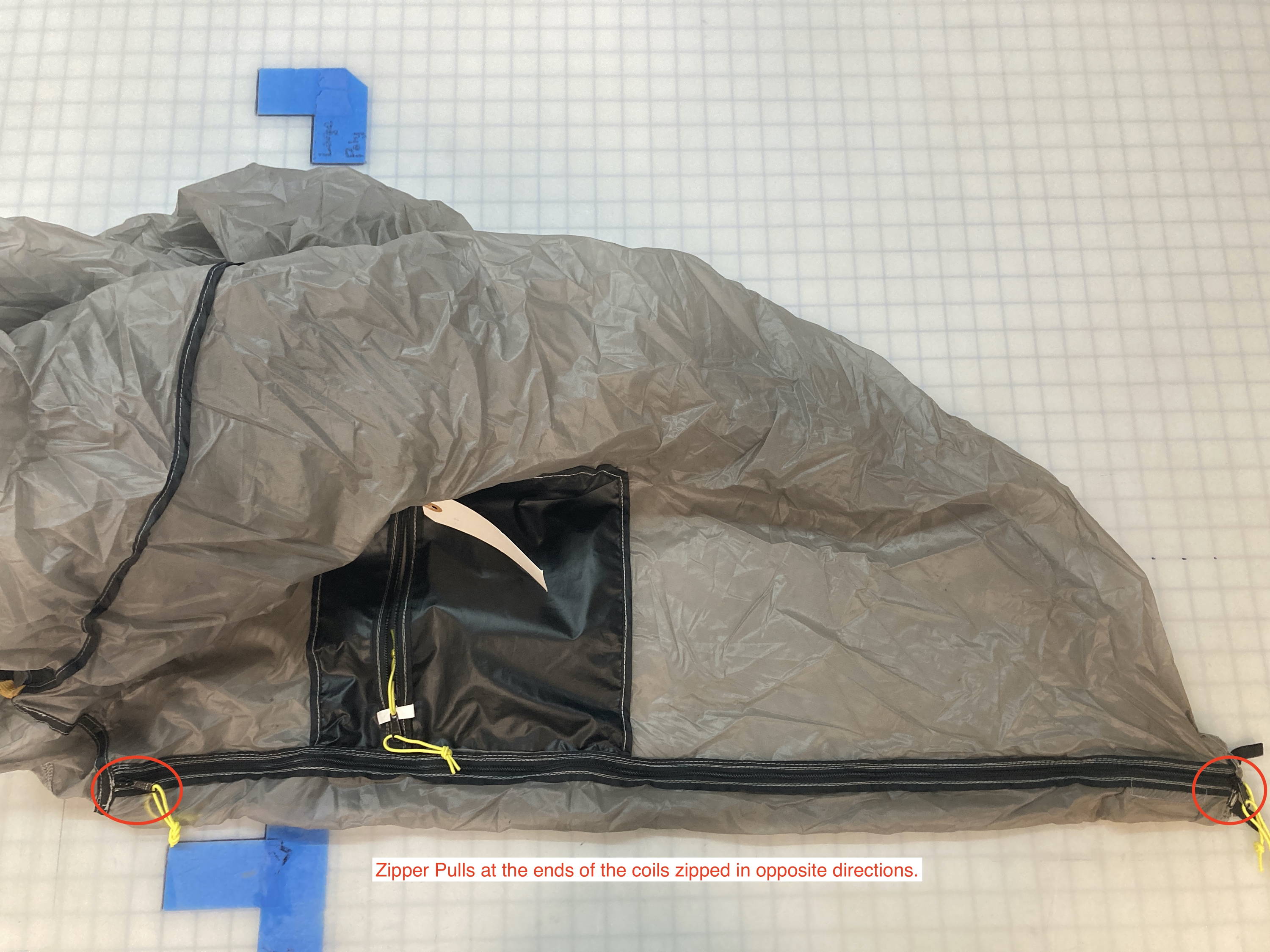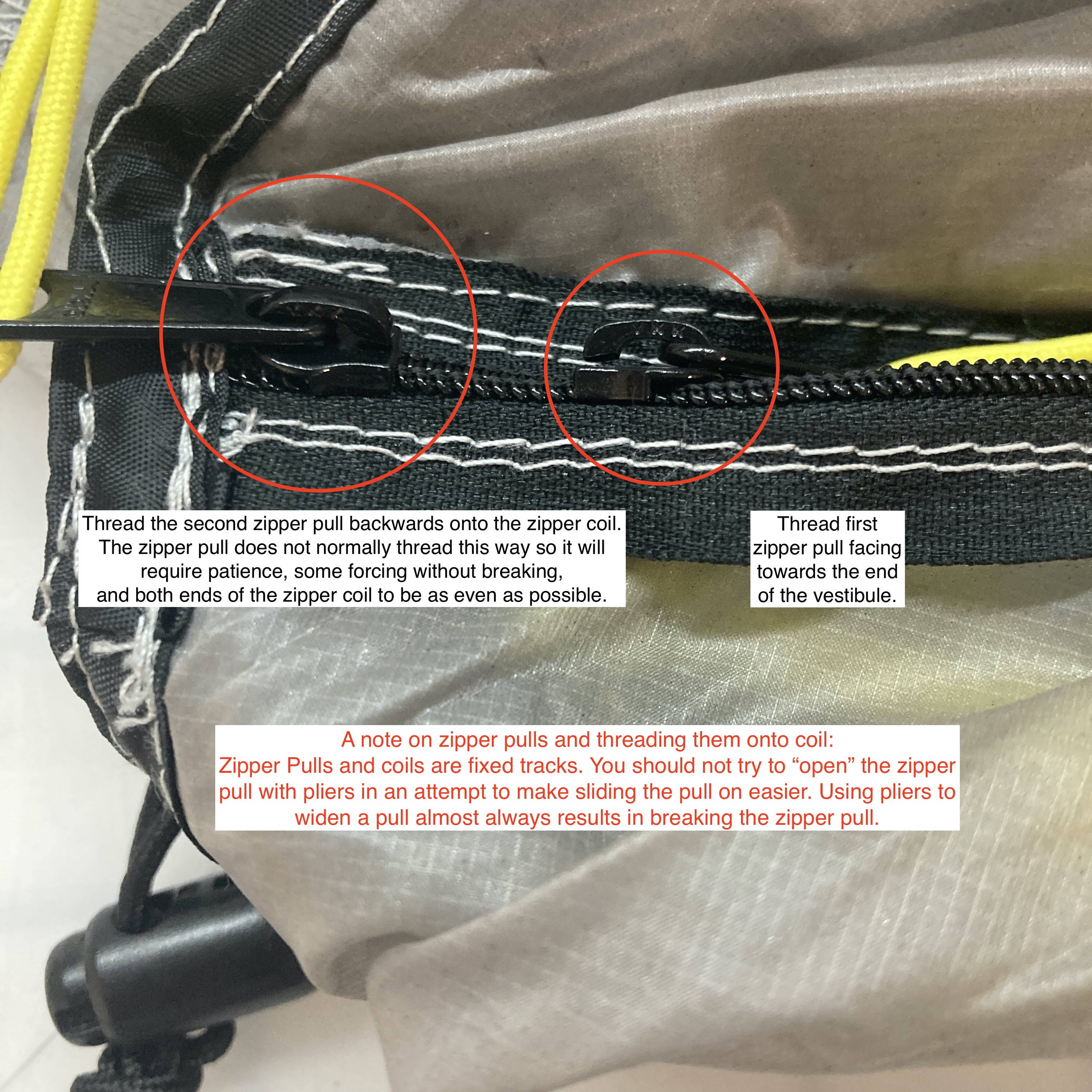 Applying a Patch
As careful as we all try to be, stuff happens and that includes punctures and holes in your shelter. Thankfully companies such as Gear Aid have made fixing mistakes so easy these days. If you have a hole in your shelter, the first step is make sure you have the proper adhesive material to ensure your patch proper adheres to the fabric. A general rule of thumb is as follows:
Silicone Coated Shelters (SilNylon or SilyPoly as they are sometimes called) require a silicone based sealant. This can be a small tube of Seam Grip + Sil, or maybe you're able to find a mini tube of 100% Silicone Caulk. Either work.
PU Coated shelters can use a wider variety of adhesives. Standard Tenacious Tape is often the easiest material to use, but if you are using a piece of fabric as your patch that does not have adhesive already applied you can use a sealant such as Seam Grip + FC.
Dyneema shelters can be patched with Tenacious Tape if you do not already have a unique Dyneema patch.  
Steps
1. Clean the area around the area you are wanting to patch. This will help your patch adhere to the material. For particularly dirty or sweaty residue areas (sometimes on packs) we will use a slightly diluted mixture of distilled white vinegar and water. Make sure the area is completely dry of your cleaning solution.
2. Cut your patch into the necessary shape and round off the edges. Rounded edges can help the patch remain on longer without getting pulled up over time.
3. Some patches in high tensioned areas require some stitching. Most of the time this can be done by hand. You can use a backstitch or slip stitch. If you stitch your patch, be sure to seam seal it so there are no leaks and your stitching it reinforced!
Repair Kit Items
It's good to have a repair kit. We typically recommend having one for your home that may include a full spool of thread, different patches, different adhesives, buttons, toggles, buckles, cord, laces, etc... and then a separate field repair kit that's minimal and lightweight. Don't feel like you have to go all in and order a tons of hardware and sewing supplies to start. A good way to build your home kit is to just order and extra of something if you need a specific item for a repair that you're attempting at home and not on trail.
A simple, lightweight field repair kit can include the following:
- Nylon Thread
- Sewing Needle
- Tenacious Tape (Good for packs, pads, jackets, etc...)
- SilNylon Tenacious Tape (If you hike with a silicone coated shelter such as the Lunar Solo or any of our other lightweight shelters)
- Dyneema Tape (If you hike with Dyneema shelters)
- Air Pad Patch Kit (Most pads come with a patch kit and can likely be replaced/replenished by pad manufacturer)
- Few rolls of gorilla tape wrapped around a lighter can be handy.
Optional Repair Items
- Small Scissors
- Cord (Likely 1.8 mm diameter)
- Small Seam Ripper
Maintaining Gear
To really get the most out of your gear, it is important to keep things clean. Did you know you can wash your tent, tarp, and even your pack? We recommend using NikWax Gear Wash or a very basic soap such as Ivory Snow Soap Flakes. You can hand wash your shelter in a tub or wash on gentle cycle in a machine (preferably a washing machine without an agitator.
Zippers can be occasionally lubed to help prevent the zipper pull from wearing out quickly.