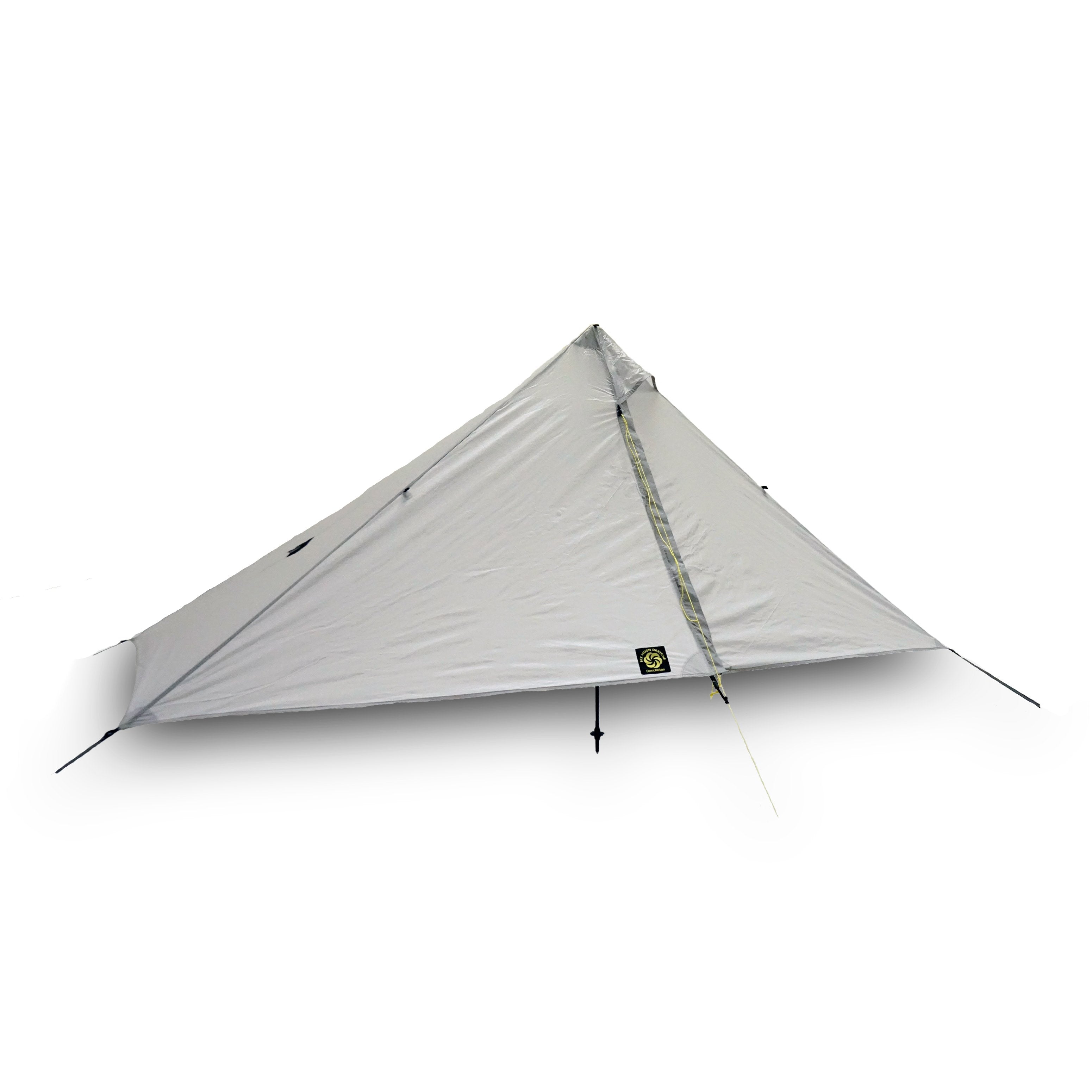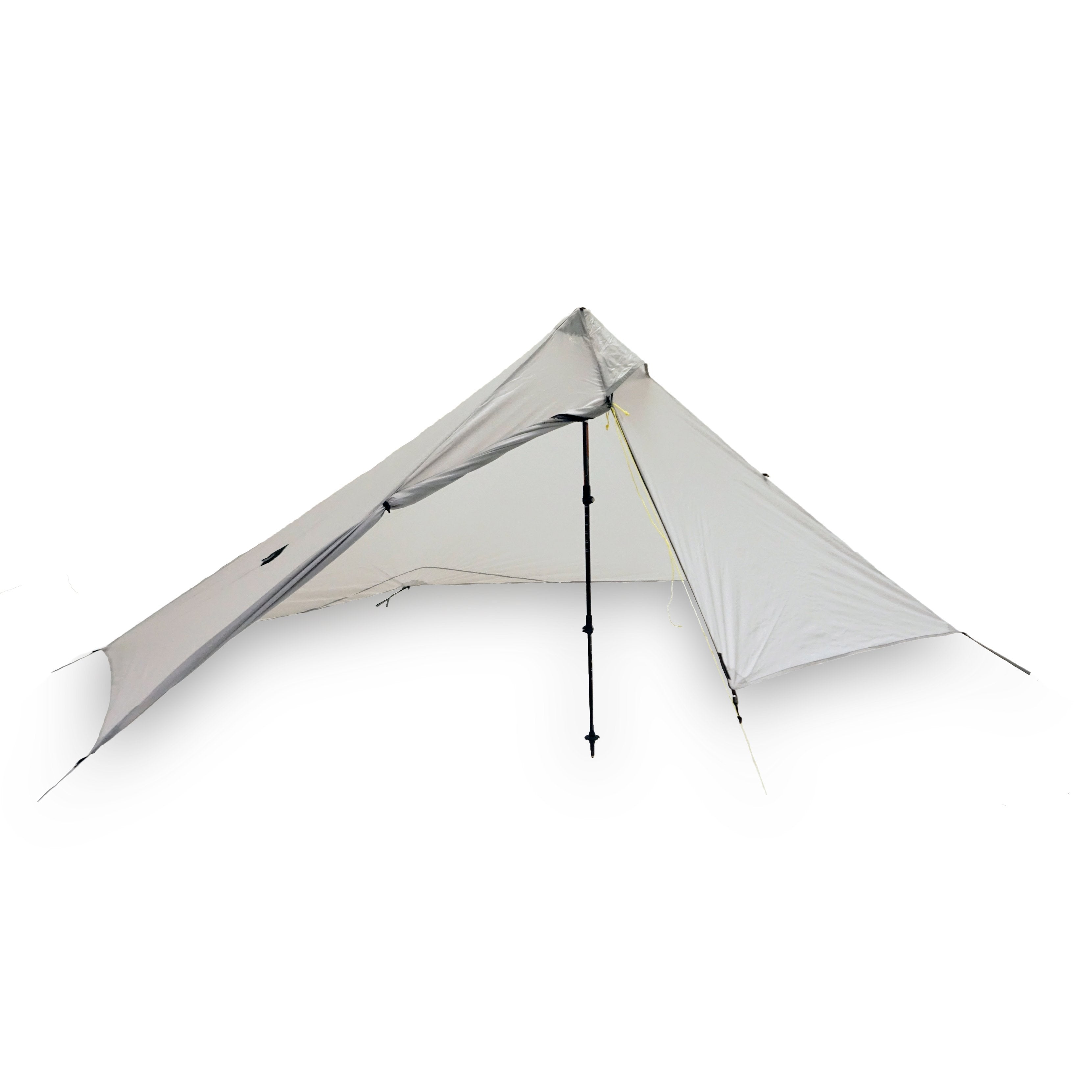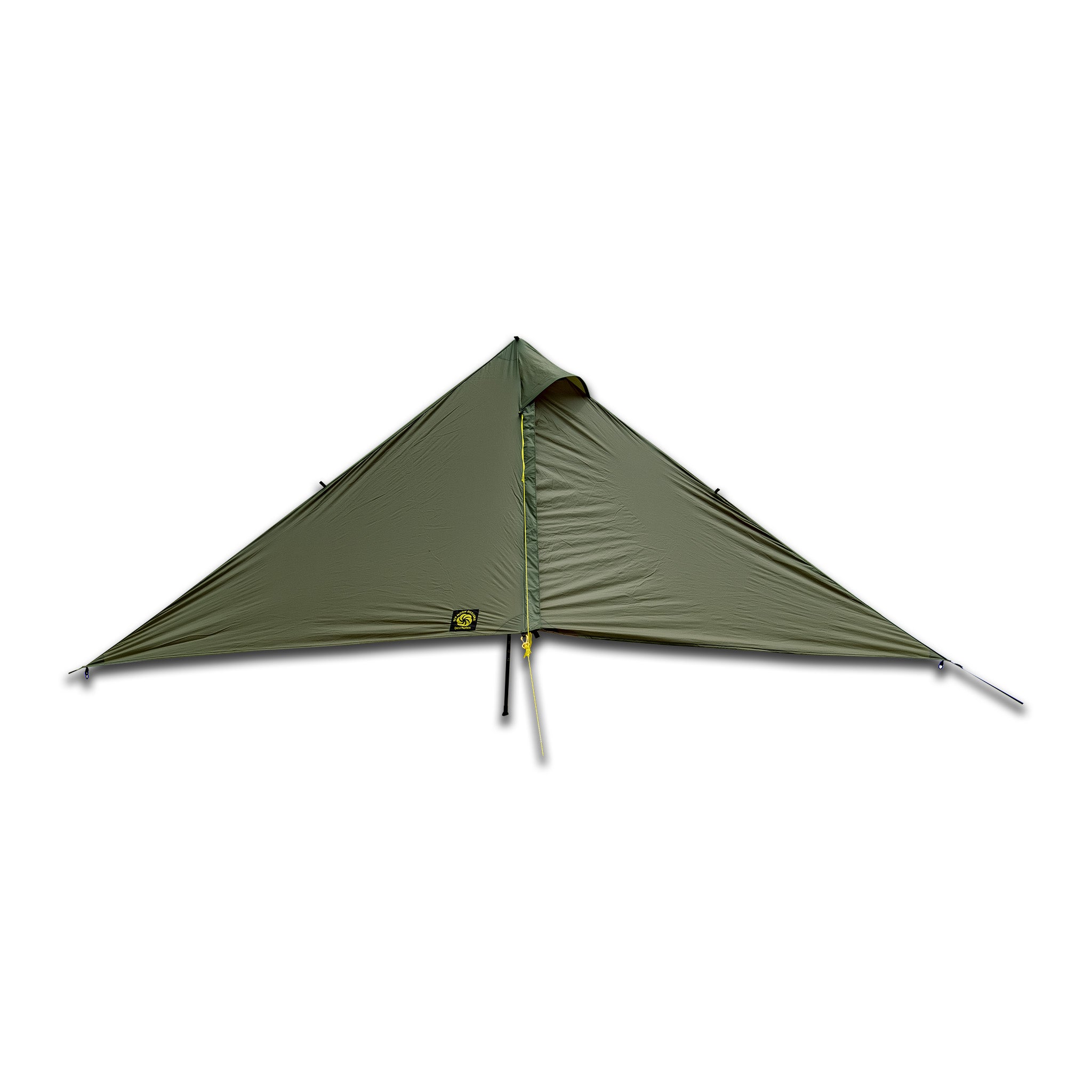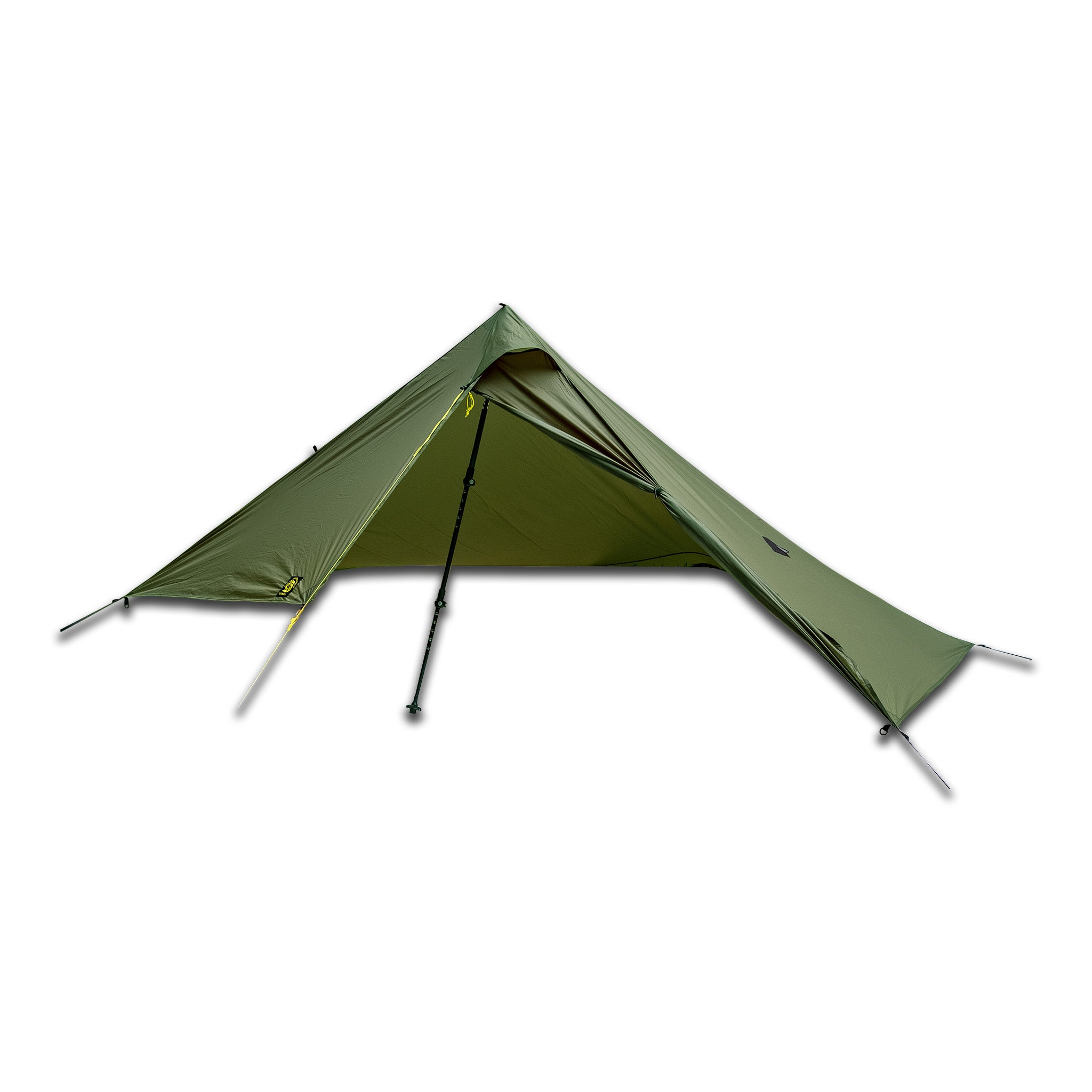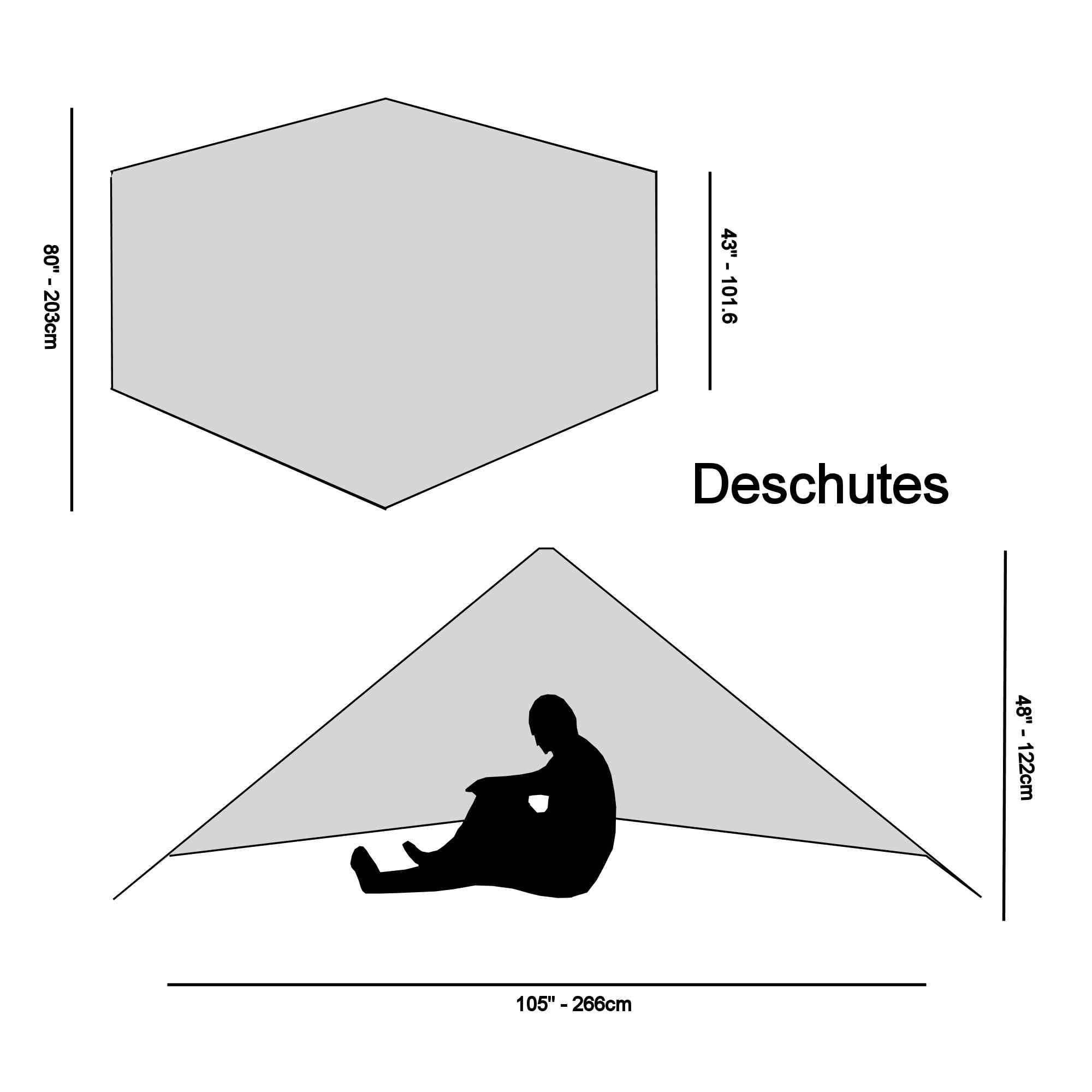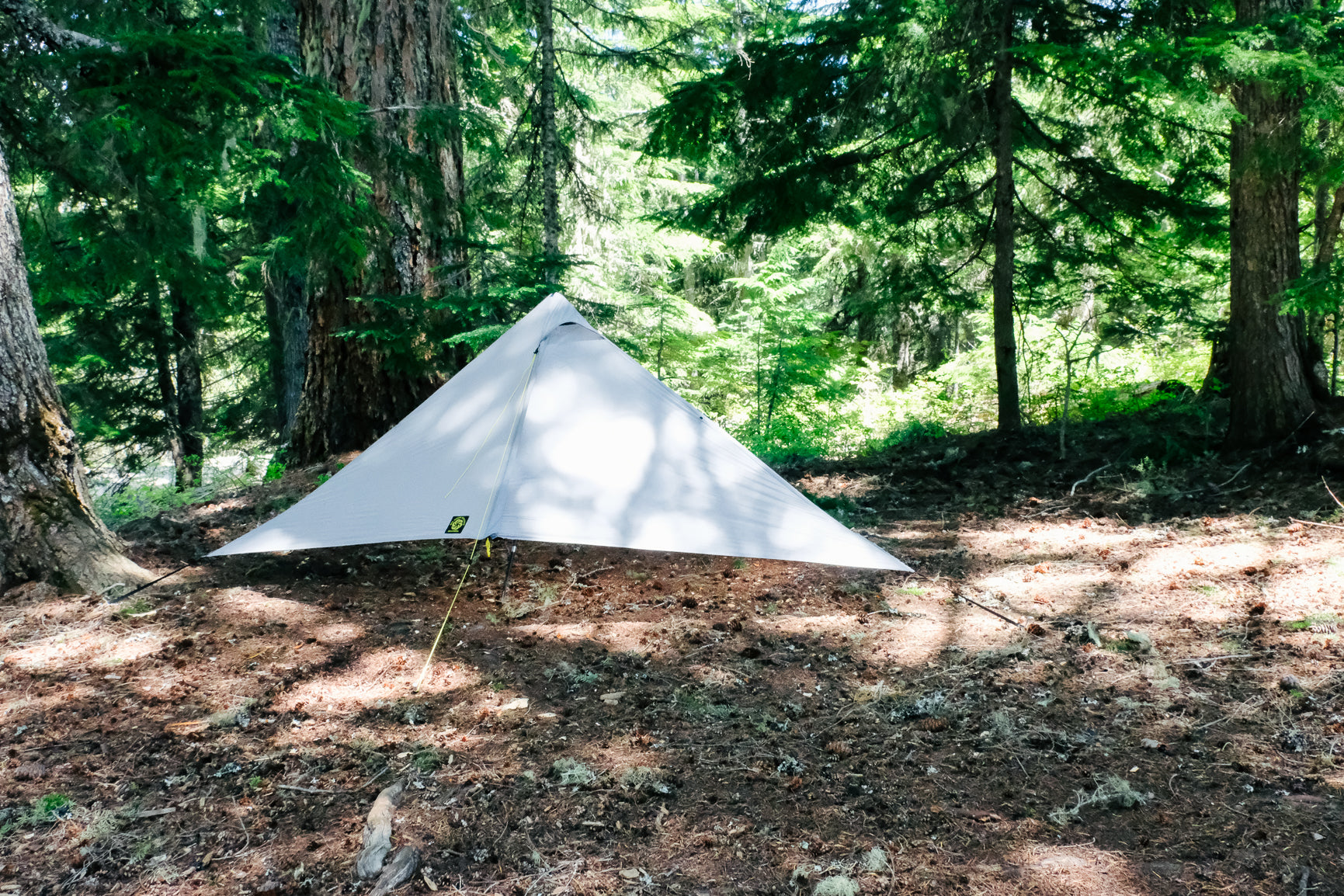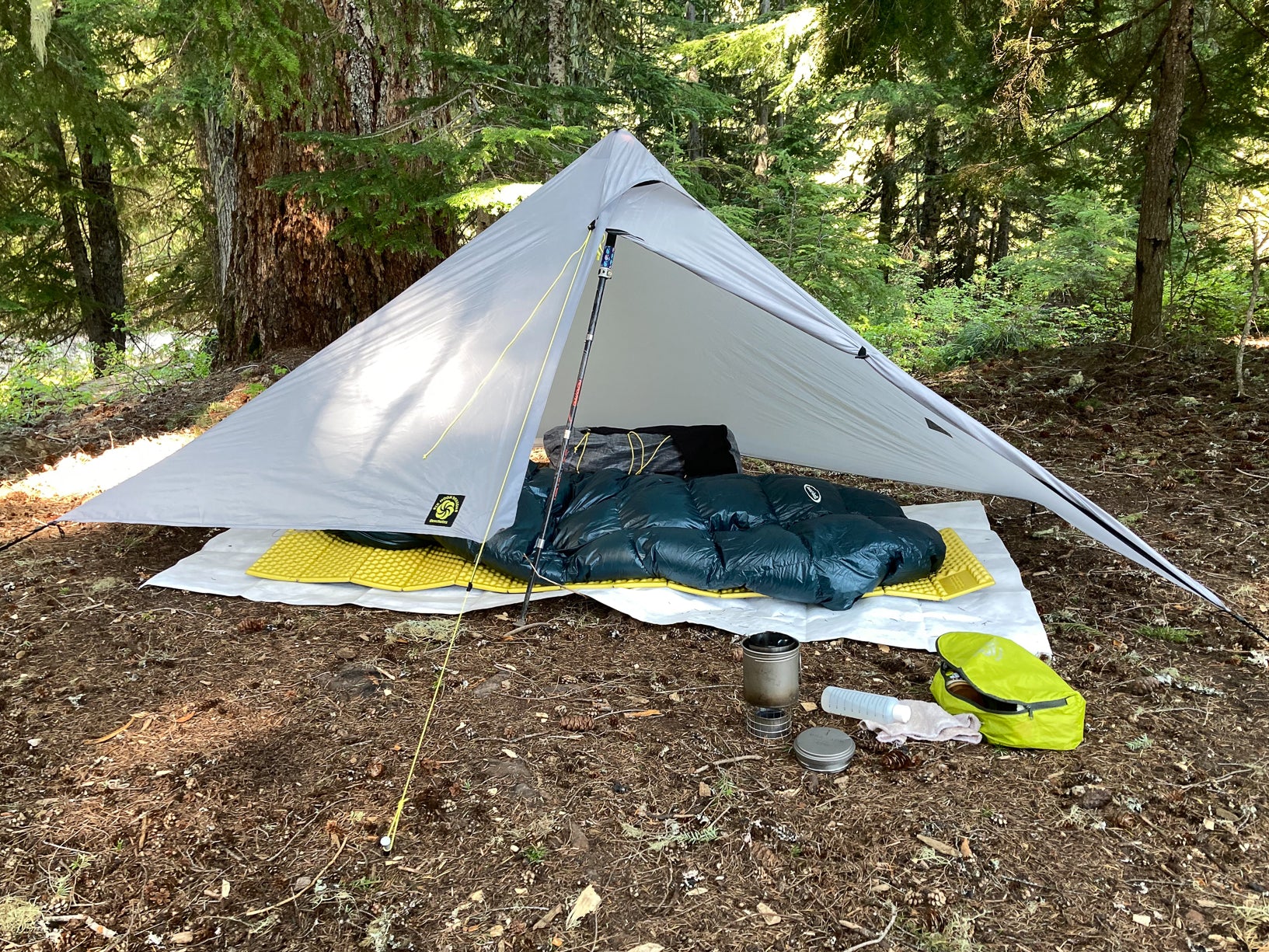 Deschutes Ultralight Backpacking Tarp
A no frills ultralight tarp that provides full weather protection.
1 Person Tent | Best for:
3-Season Backpacking
Wet & Humid Conditions
Bikepacking
---
Pickup available at 8250 Southwest Nimbus Avenue
Usually ready in 24 hours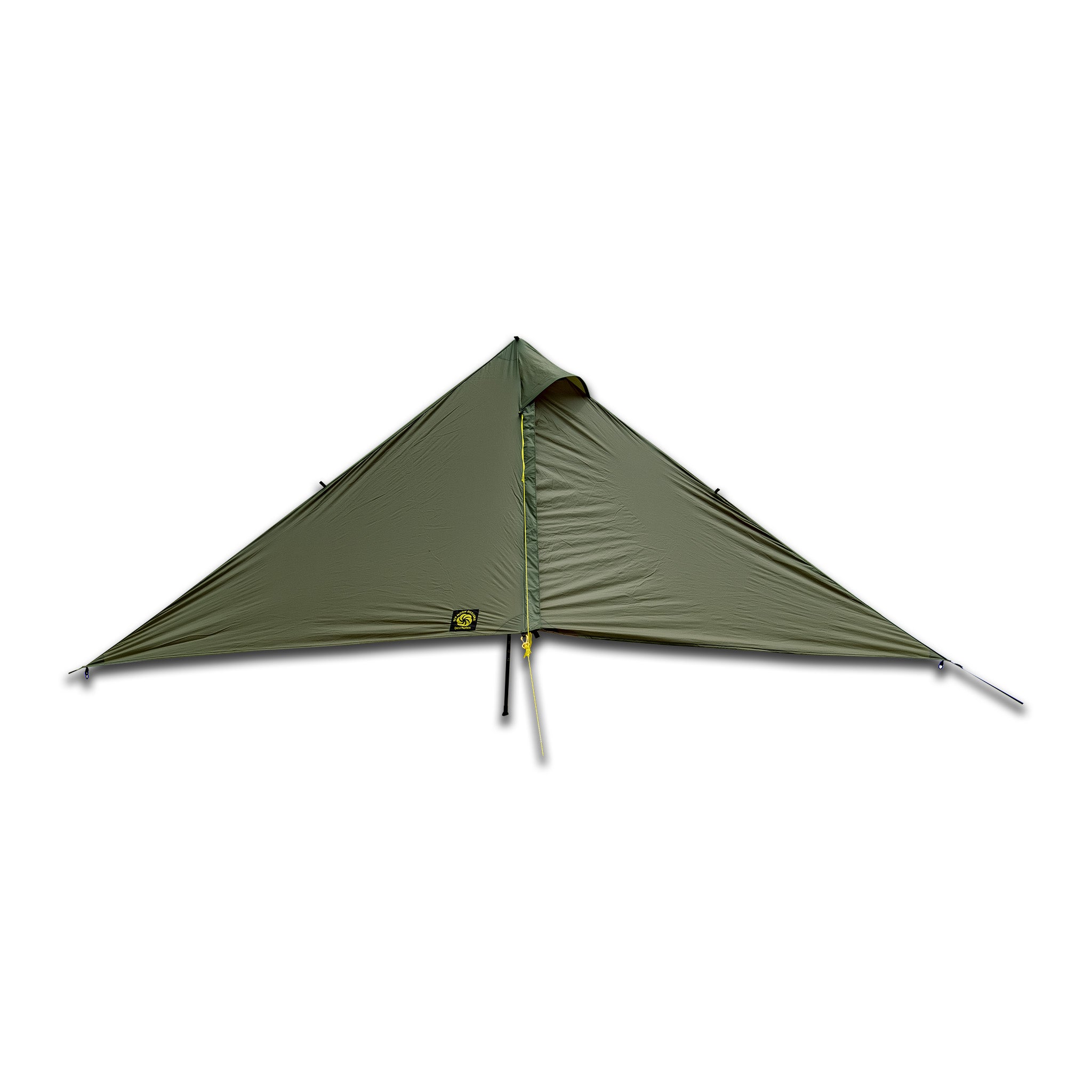 Deschutes Ultralight Backpacking Tarp
Green / Tarp Only
8250 Southwest Nimbus Avenue
8250 Southwest Nimbus Avenue
Beaverton OR 97008
United States
5034302303
⭐⭐⭐⭐⭐ Excellent little shelter
After some time backpacking with this shelter in a myriad of conditions I have came to the conclusion that I very much enjoy the Deschutes Plus. The shelter provided more than adequate rain protection in heavy storms and excellent bug protection. Ventilation isn't amazing, probably because of the netting but I generally have at least one of the doors wide open unless I am in a buggy, dewy, or rainy area. I have found that using the guyline attachments provide much more headroom and I prefer to always use them. Also when it is buggy, I generally set items on top of the netting as the a breeze can blow the netting up and allow a swath of mosquitos in. Overall I am happy with my purchase and it is my go-to shelter for going solo. -EC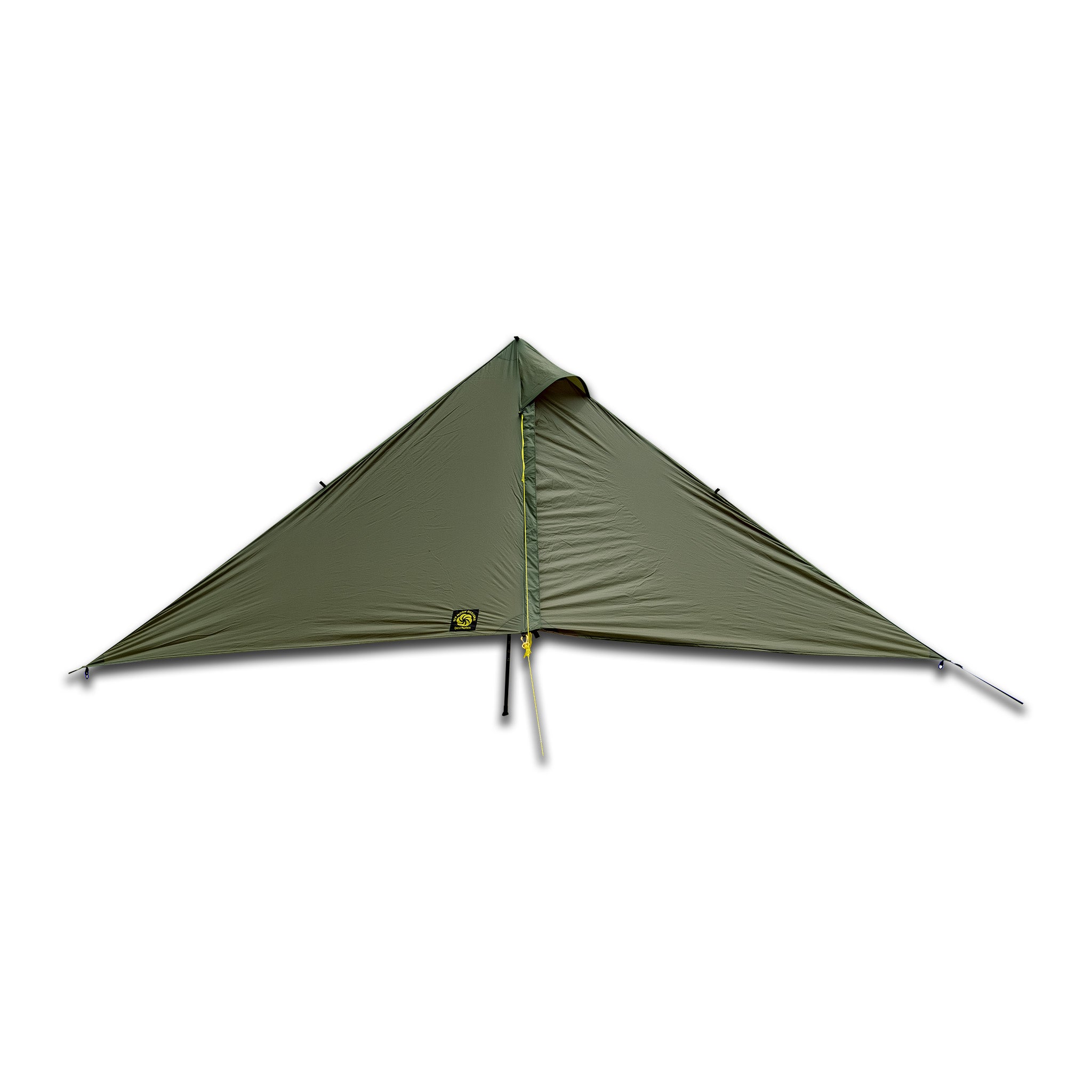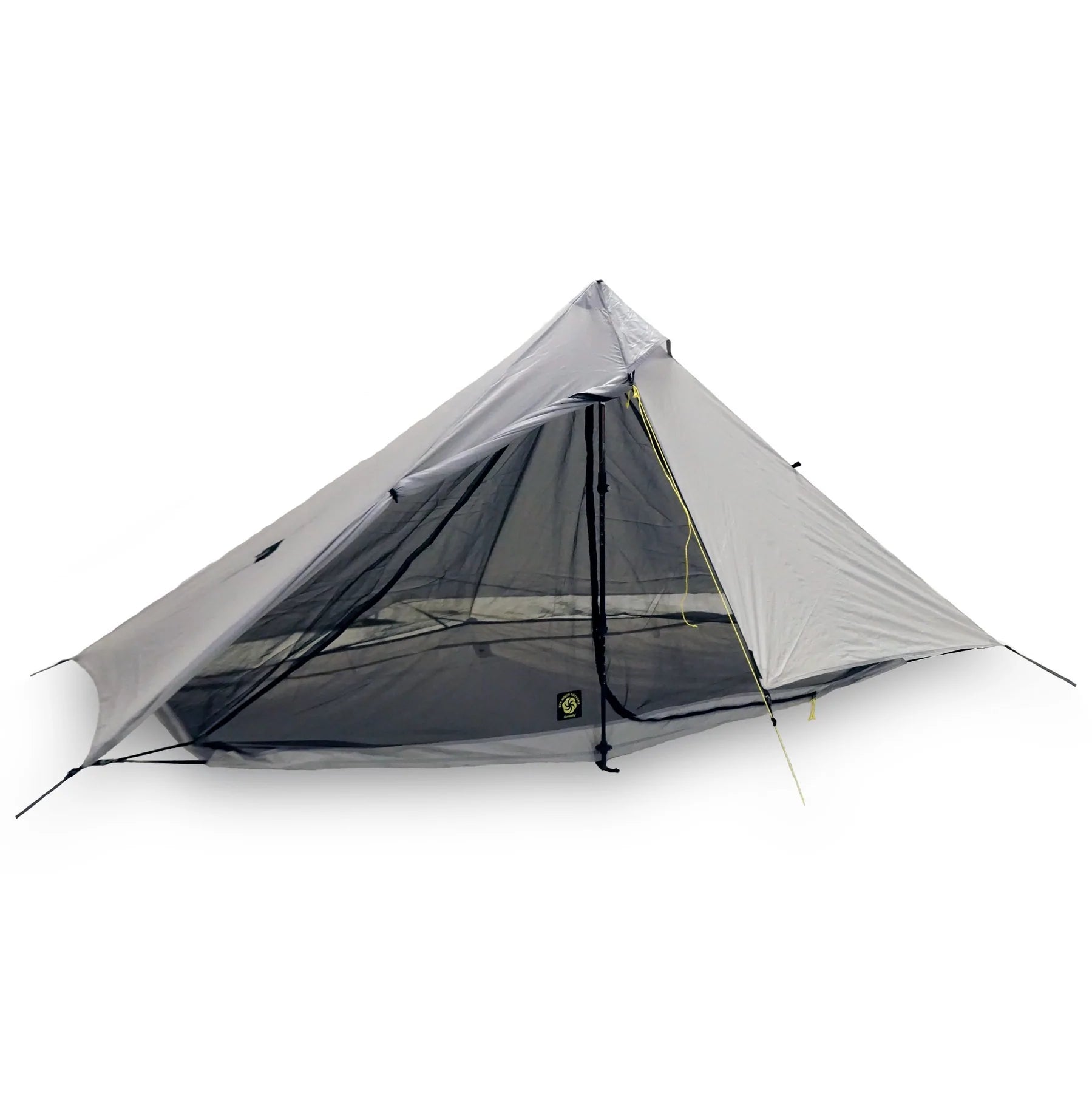 Good, Better, Best
Bundles
Tarp Only: Exactly what it sounds like. The Deschutes Tarp with no frills.
Plus: Make your Deschutes Tarp a little less buggy with a no-see-um skirt. Only adds 3oz.
Bundle: The pinnacle of versatility. Set it up as a tent, tarp, or a net tent, with the included Serenity NetTent.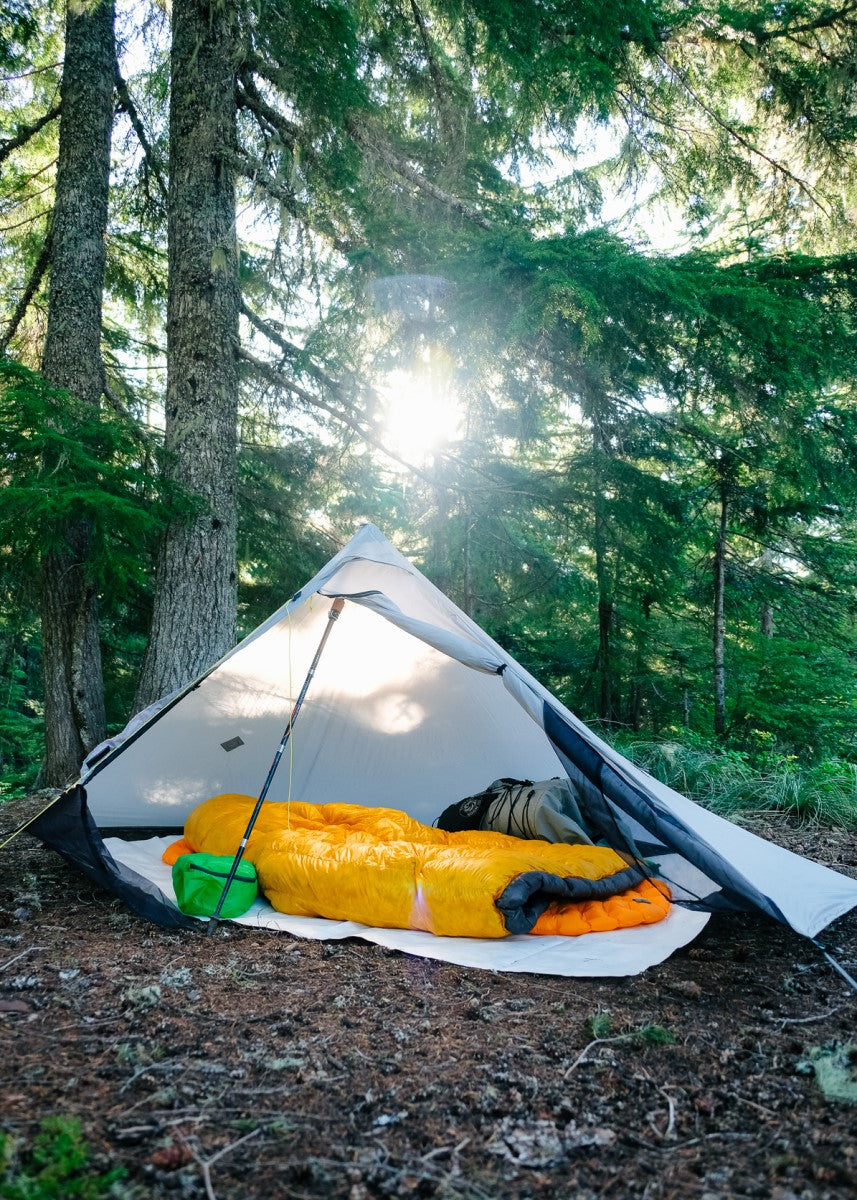 USES ONE 49" POLE
13 OZ – 370 G SOLO TARP
The Deschutes is a no-frills tarp shelter, everything you need and nothing you don't, providing the ultimate freedom.
No floor. No pockets. Nothing but the essentials, the Deschutes gets the job done at an affordable price. At a mere 13 ounces, this pyramid-style design is incredibly stable providing 360° protection is some of the most extreme conditions. The Deschutes gives any hiker the freedom to move fast and light without sacrifice.
The Deschutes can be paired with the Serenity NetTent to form a fully enclosed, one-person, double-walled shelter with a bathtub floor. 
*To completely repel water, shelters need to have sealer applied to the seams before use.
*Shelters including a seam sealing service may not ship immediately.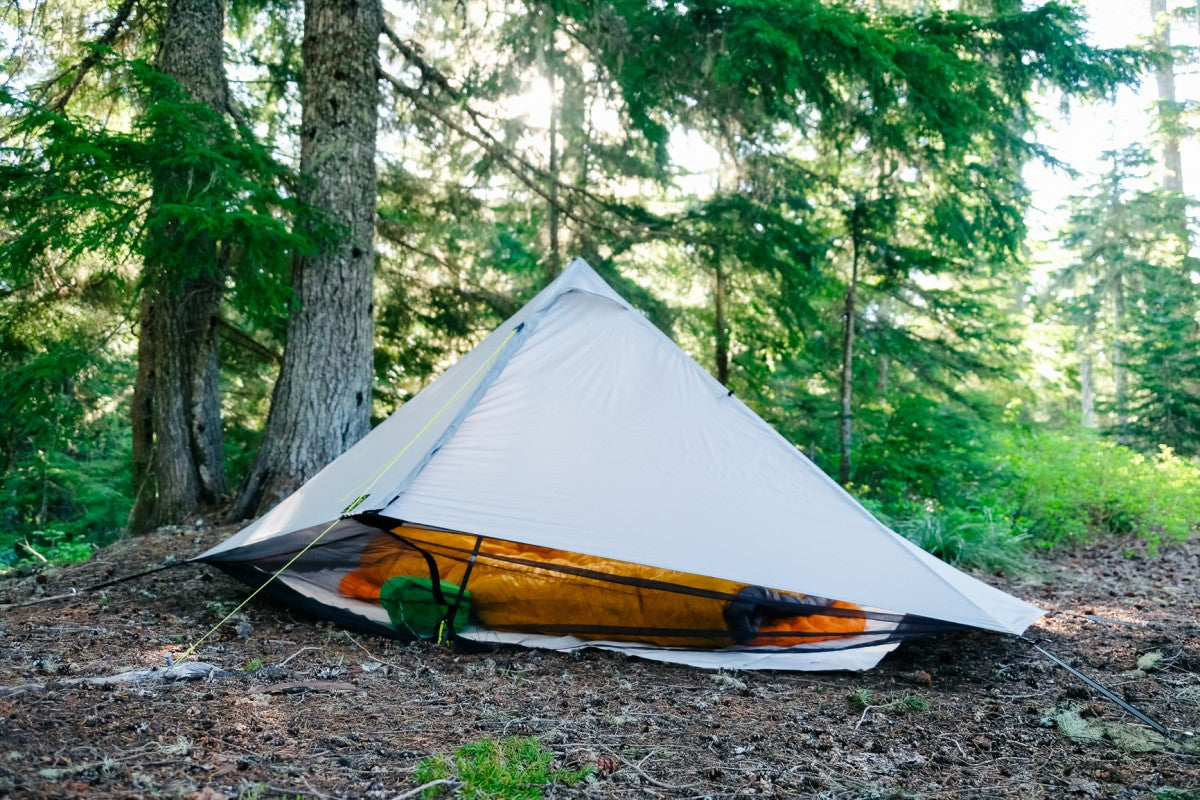 Construction
The Deschutes shelter provides 44 sq. ft. of protection and is easily set up with one trekking pole to a maximum height of 49 inches. This allows plenty of room to sit up without feeling tight.**
✓ The tiny footprint allows you to pitch this tarp in even the most precarious spots. That means you can tuck yourself away in locations others would scoff at.
✓ Constructed from tough but light Silicone Nylon.
✓ Pyramid design is extremely effective at shedding wind from all directions
✓ When paired with the Serenity NetTent, it creates a double-walled, ultralight, solo tent that weighs a mere 24 ounces.
✓ One trekking pole setup allows you to vary the height depending on weather conditions.Side entry for convenience.
✓ 44 sq. ft. of living space with a peak height of 49 inches – a surprising amount of space-to-weight ratio.
Easy to pitch with just one adjustable trekking pole and six stakes*.
Features
Long Zippered Entry for easier entry and exit
High Vent removes excess moisture build up.
360° Weather Protection
Single Pole Pyramid Design with hexagonal shape provides maximum protection at minimum weight.
Pairs Easily with the Serenity NetTent to keep the bugs at bay.
Floating Floor reduces floor stress and helps to minimize punctures from sharp objects.
Optimized Sleeping Area is oriented to maximize usable space, ventilation, and view. A peak height of 49 inches gives you plenty of headroom.
FAQ
I'm over 6'. Will I fit? The answer is: it depends. There are many factors that determine if you'll be comfortable using the Deschutes. It depends upon the height of the setup, the depth of your sleeping pad and your sleeping style. Take a look at the picture of the Deschutes Tarp with the Serenity NetTent, the Serenity is 84" or 7' long and has vertical end walls of 9". Without the Serenity, the height is 13" between ground and canopy at the point where the Serenity would end.These days many people like using thick 2" to 4" deep sleeping mats. While they are comfortable, they will significantly compromise internal space and reduce headroom. Setting up the Deschutes low to the ground will do the same. However, when properly set up, most people will find the Deschutes has both plenty of room and weather protection.
What is the recommended Pole Height? The Deschutes Tarp can be set up at different heights. At 40"the Deschutes hugs the ground providing maximum protection. The Deschutes can accommodate a variable height of between 45" to 49" depending upon conditions and your personal preferences. For maximum interior space or when using the Serenity NetTent, set your pole to 49". In most cases, you'll want to angle your pole, so the bottom of it is inside the vestibule area. This helps to maximize the sleeping area.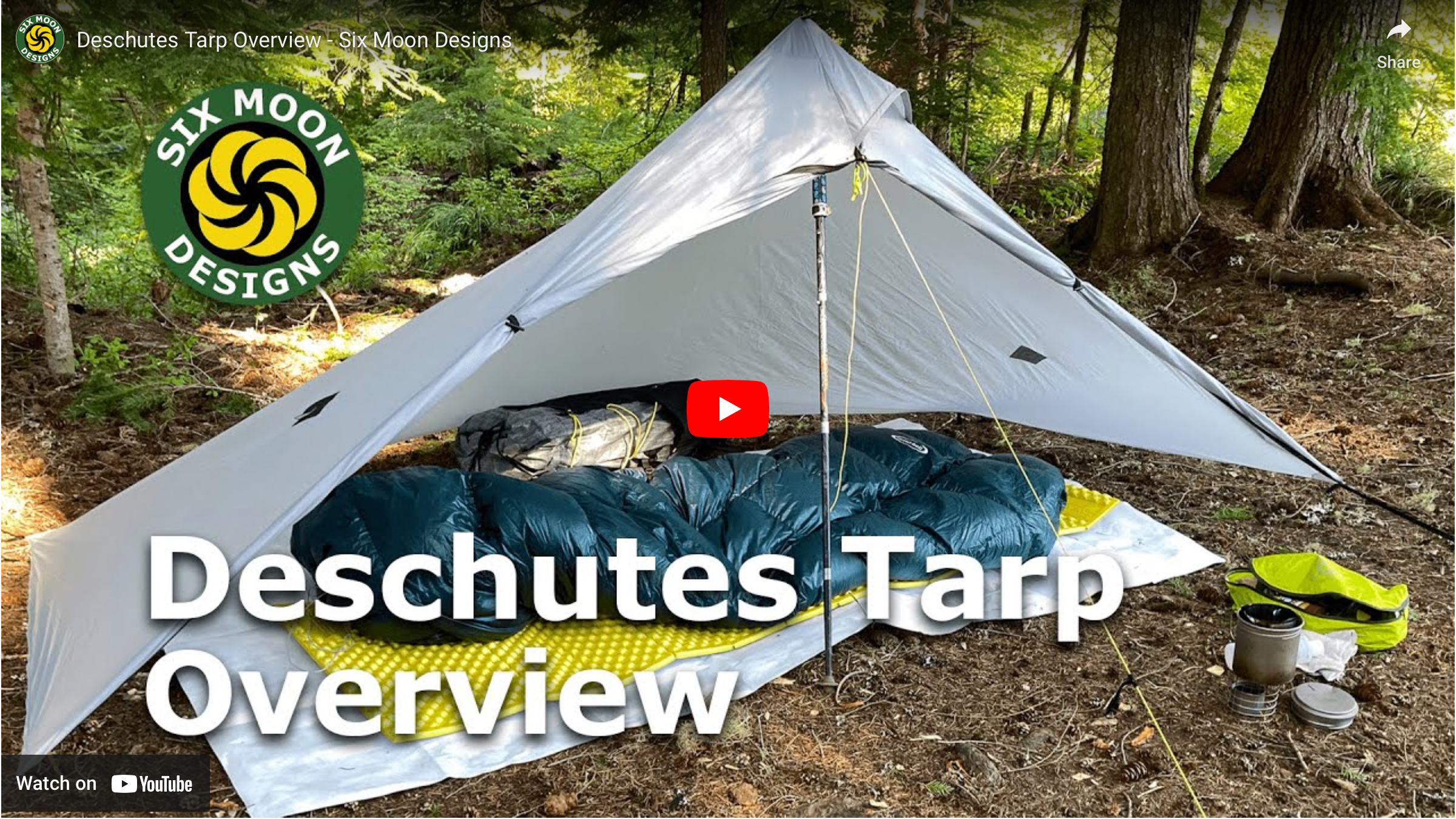 Ships With
Tent, Stuff Sacks, Guy Lines
Packed Size Tarp
12" x 4.5" | 30 cm x 11 cm
Packed Size NetTent
12" x 4.5" | 30 cm x 11 cm
Canopy
20D Silicone Coated Nylon
Frame
Single 49" | 124 cm Pole (Not Included)
Notes
1 Weight does not include stakes or pole. 
*Support poles and stakes sold separately.
**Individuals over 6' may have limited headroom depending on sleeping pad height and other factors. Review dimensions to determine whether this shelter meets your height needs.
Lost your set-up instructions? Additional instructions can be downloaded here.
This product is rated 4.9 of 5.0 stars.
It has received 13 reviews.
Deschutes Plus (gray)
I've taken the Deschutes Plus on a couple of section hikes of the Washington PCT this summer and really enjoyed it. It's quickly earning its place as my go-to shelter for most backpacking scenarios.
This was my first foray into tarps (I've happily used a Tarptent Notch for years), so the selling point for the Deschutes (besides weight savings) was the attached netting offered on the Plus version. I imagined it would hang loosely down to the ground, so I was pleasantly surprised that it's tailored to curve inward and (depending on your pitch) sit taught and nearly horizontal just above/along the ground. This allowed me to set stuff on the netting on any side, which provided just a bit of protection to more fragile gear like dry bags (versus sitting directly on the ground). The netting is more rugged than I thought and I expect it will hold up through years of normal use and even a bit of abuse.
I was pleased with the ease of setup. After a single practice, I was able to have the Deschutes setup in a couple of minutes on the trail. It's very flexible on where you pitch it. My trekking pole tents (which have a bathtub floor) pull out the stakes if I pitch on an incline. Not so with this tarp, which allows me to adjust and optimize my sleeping position beneath it.
I wondered if bugs would be an issue, but they haven't been. A few skeeters usually enter with me, but they all make their way to the point of the pyramid where they're easy to spot against the light gray tarp and liquidate. I did have a tiny mouse make its way in one night. When I woke up, it was trying desperately to get out, and I was kind enough to help it before it started gnawing its way out.
My biggest concern with this (or any) tarp was ensuring that my sleep surface was clean of debris so as to not puncture my sleeping pad. I've opted for a slightly heavier/bulkier tyvek sheet, rather than Polychyro, for the sole reason that tyvek is white, which makes it super easy to spot rocks, needles and anything else that might relieve my pad of its air. I may switch to polychyro in the future as I hone my ability to keep a clean sleep surface.
I'm 5'9" and it has plenty of length and headroom for me. I do guy-out one end of the tarp to give myself a little extra headroom. If I were over 6', I'd want to guy-out both ends. I had one balmy night where humidity gathered on the inner wall of the tent, but giving it a little higher pitch fixed that issue.
Overall, the Deschutes Plus is a great tarp. No complaints. After a few weeks on the trail, I feel like I've owned it for years and am very comfortable with the setup.
Used this tarp tent on the Appalachian Trail for seven days. Worked out great even in heavy rain. Easy to set up and extremely light.
Passed the front country test! So, back country! Here we come!
Set it up during a rainy day just to get the first test out of the way and we stayed dry. No problem. Fits my 80 pound dog and myself (150 lbs & 5' 6"). Love the bug net around the bottom. A nice baby step for me coming from a double wall fully inclosed tent and taking this step in order to reduce my pack weight and bulk. Looking forward to taking this into the back country!
Deschutes tarp & Serenity Net Tent
Received from Six Moon Designs. Lite weight and compact. Like the packaging. Like the versatility of using either, or both together. Haven't used them yet but looking forward putting them to the test.
My new toy
I wanted a tent similar to the Gatewood Cape, but with more room. The Deschutes fills the bill, and with the seams sealed, weighs just under 12 ounces. I recently set mine up behind my house, on a cold night. I guyed it out at each end and used 2 trekking poles, joined at the handles by a plastic pipe elbow, to support the tent. Using 2 poles gives me more room than using one pole.
I used an Exped air mattress with a foam pad on top, and slept in a 30F rated quilt with a 40F quilt spread out over top of the 30F quilt. I wore 2 hats, including a down filled balaclava.
I'm about 6 feet tall and 180 pounds and the tent was long enough, even though I had pitched the tent really low. The temp dropped below 15F for a while, but I slept warm. The tent has enough headroom, but just barely. The loops for the tent pins are a nice touch, having an easy adjustment arrangement and reflective tape.
Considering that I pitched the tent for the first time in the dark, it was quick and easy. Now I'm planning to just use my Gatewood Cape as a poncho.