Al, Kyle and I had loosely planned a bikepacking trip as soon as the Scottish Government gave the official go ahead for wild camping in the hills and glens. After a wait of nearly four months the exact location was not important. What was important was a route we could ride straight from home without any faff and have a good chance of being breezy at night to keep the midges away. We had all ridden some of the loop before, in the dark or daylight with one another, or solo, with other friends or whilst leading a group. I took a gamble on a Rights of Way guidebook description, some satellite imagery and the knowledge that none of us were strangers to pushing a loaded bike!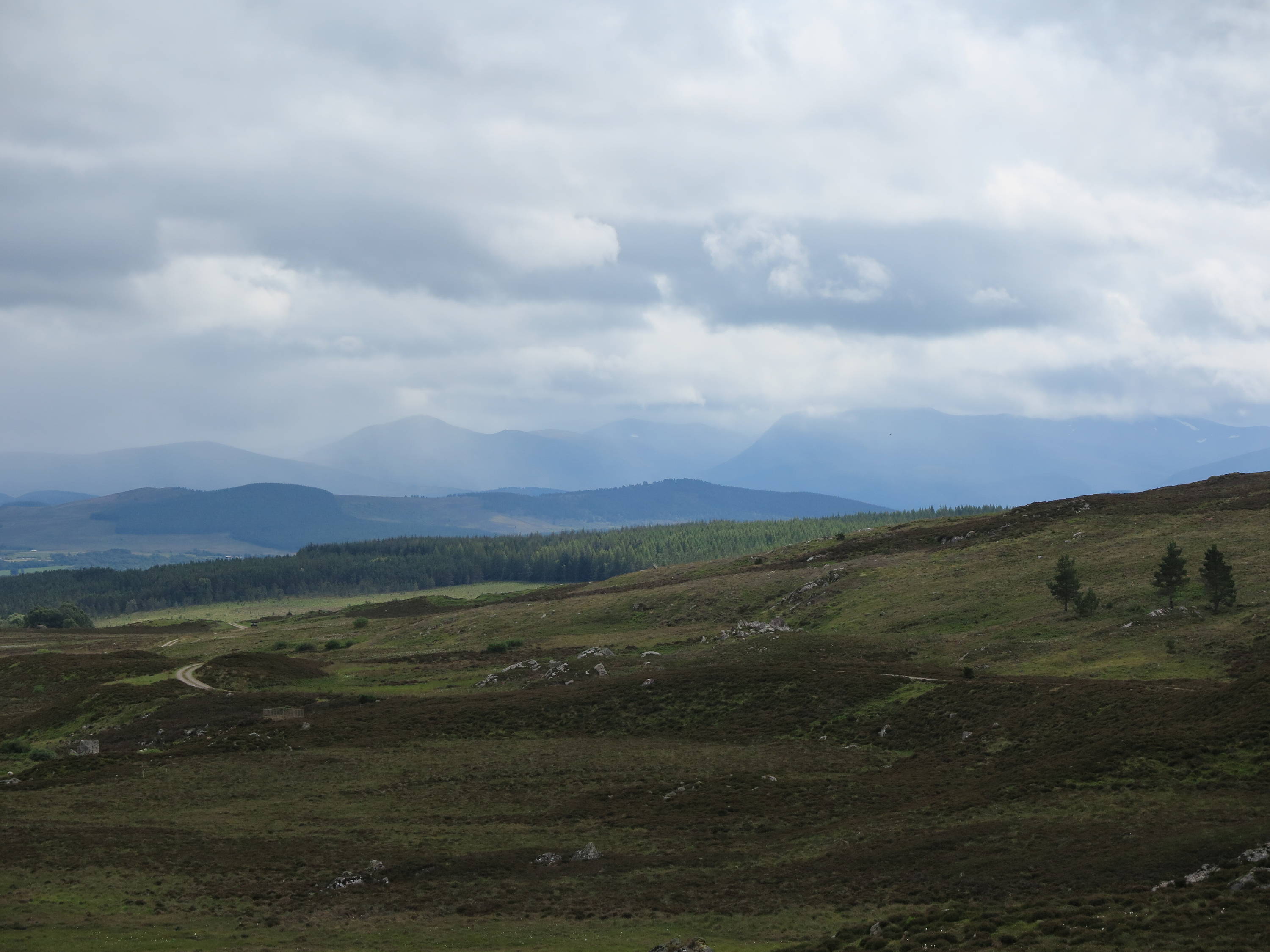 I also took a gamble on a campsite amongst a cluster of lochans where my SixMoonDesigns Deschutes Shelter and Lunar Solo tent for Kyle could be pitched without too much trouble. Finally the location of our campsite would allow Dunc an 8 mile ride after work to meet us. So we set. All that remained was to decide on who was taking what kit, food, stoves and shelter. Although this was only Kyle's second bikepacking trip and his first in daylight I knew that he would carefully choose and pack onto his bike the personal kit, sleeping gear, the Lunar Solo and food needed for the trip. I made no secret that I was in 'bike glamping mode' with my Canon camera & monopod, new Aeropress, big stove, vegetable fajitas for dinner, lots of snacks and a hip flask of Macallan malt whisky from my dad. Al...we did not need to even think about how this Jedi was going to roll.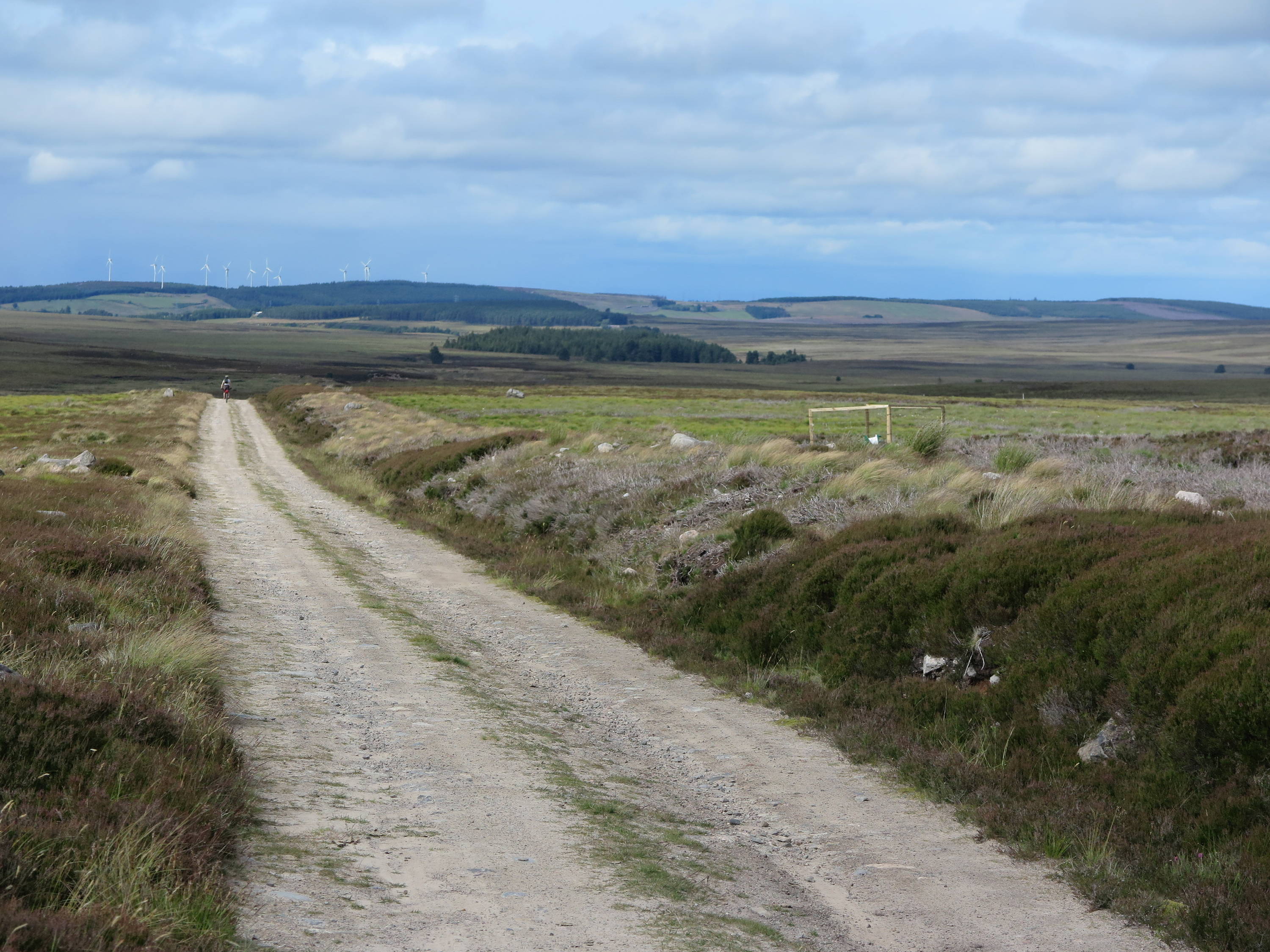 The three of us left Grantown on Spey at 2pm with a cruisy section of backroad for the first 5 or 6 miles. We then left the tarmac and started to climb on an estate track up to just under 1500 feet where the reward was grandstand views south to the Cairngorm Mountains and north to our planned route through the open Dava Moor with the sea in the background. The dry and clean descent to the river was exhilarating. Simple enough to allow us to look around at the moor, mountains and swooping, sweeping track but fast enough to require 70% concentration. After the descent this was new ground for all of us but what could possibly go wrong..? At this point some maps show a footpath west of the river, some show nothing and my Apple Maps program showed a vague shadow that could be a path. Al took the bull by the horns here and enjoyed every aspect of navigating us to a small block of trees which was between us and better farm tracks. The path wasn't too wet, or vague. The wind was still at our backs so in what seemed no time at all we rode through the swaying trees and along the farm tracks to the entrance of Berryburn wind farm. My GPS track took us along wind turbine access tracks to 'The loch of the pines' - Lochan an a ' Ghuibhais. Unfortunately there just wasn't any suitable ground for the four of us to set up camp next to Turbine no. 31 so we rode round to the ominous sounding Loch Noir. Here we had enough space to set up camp in a 15-20 mph wind just above the shoreline.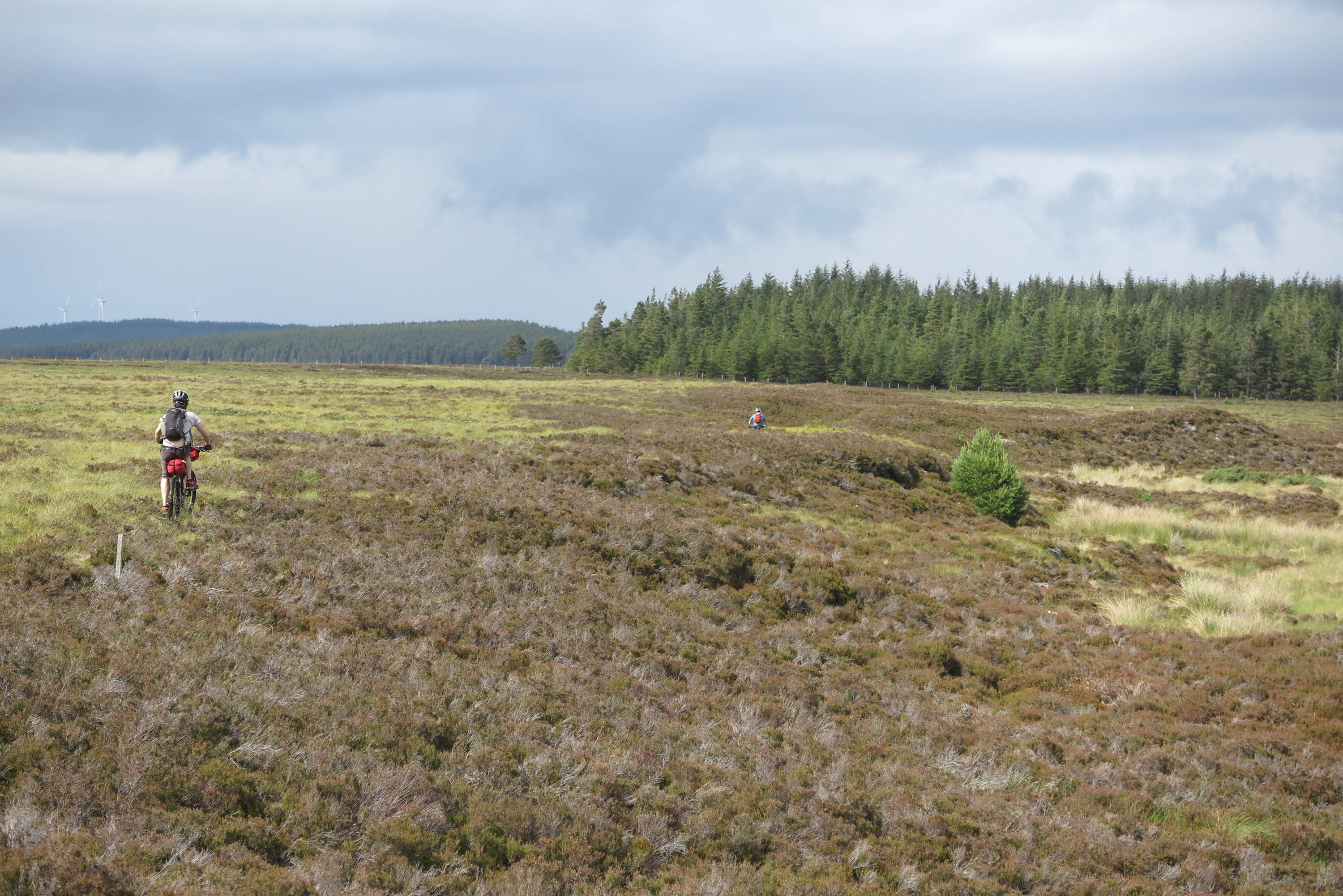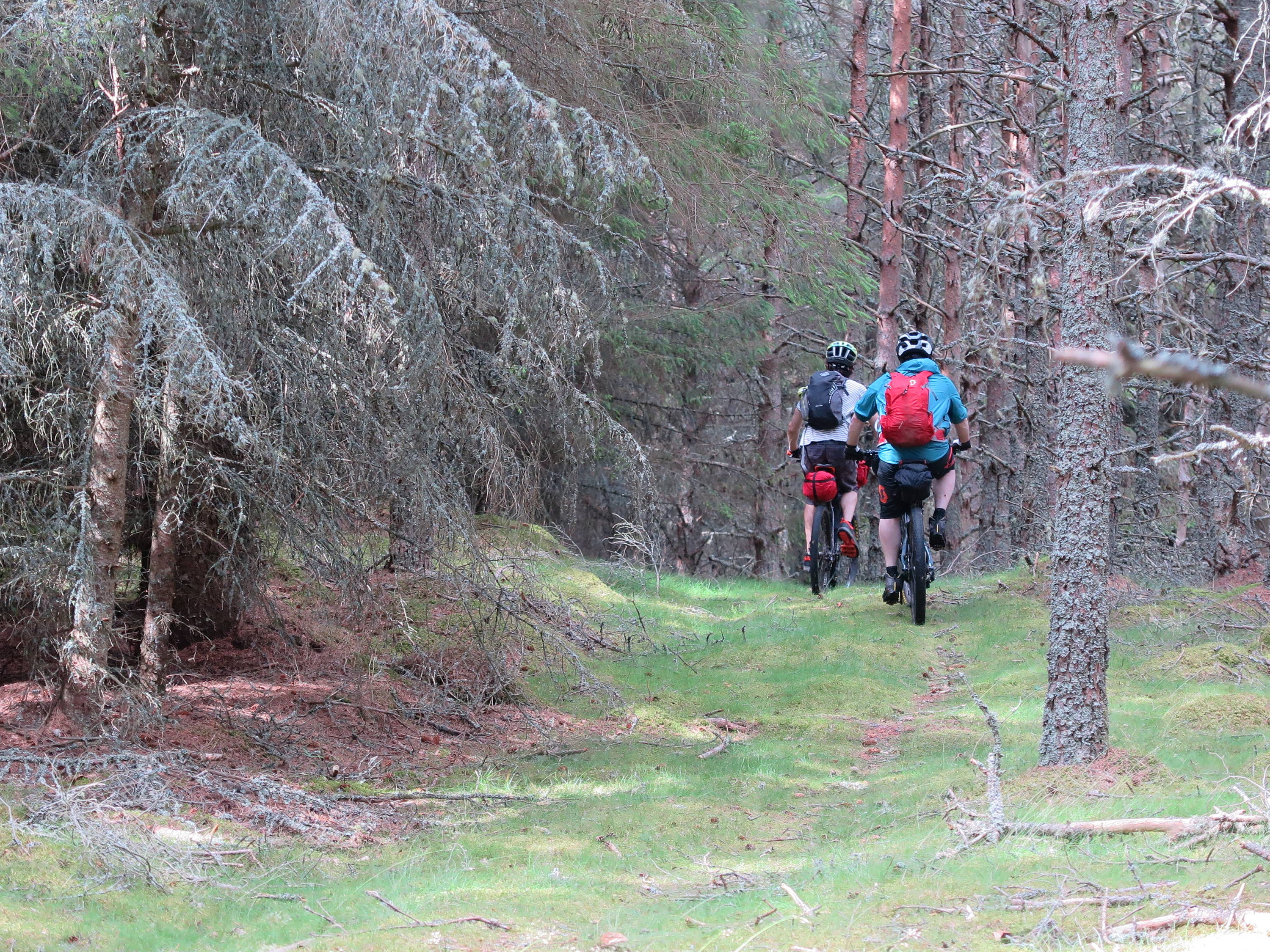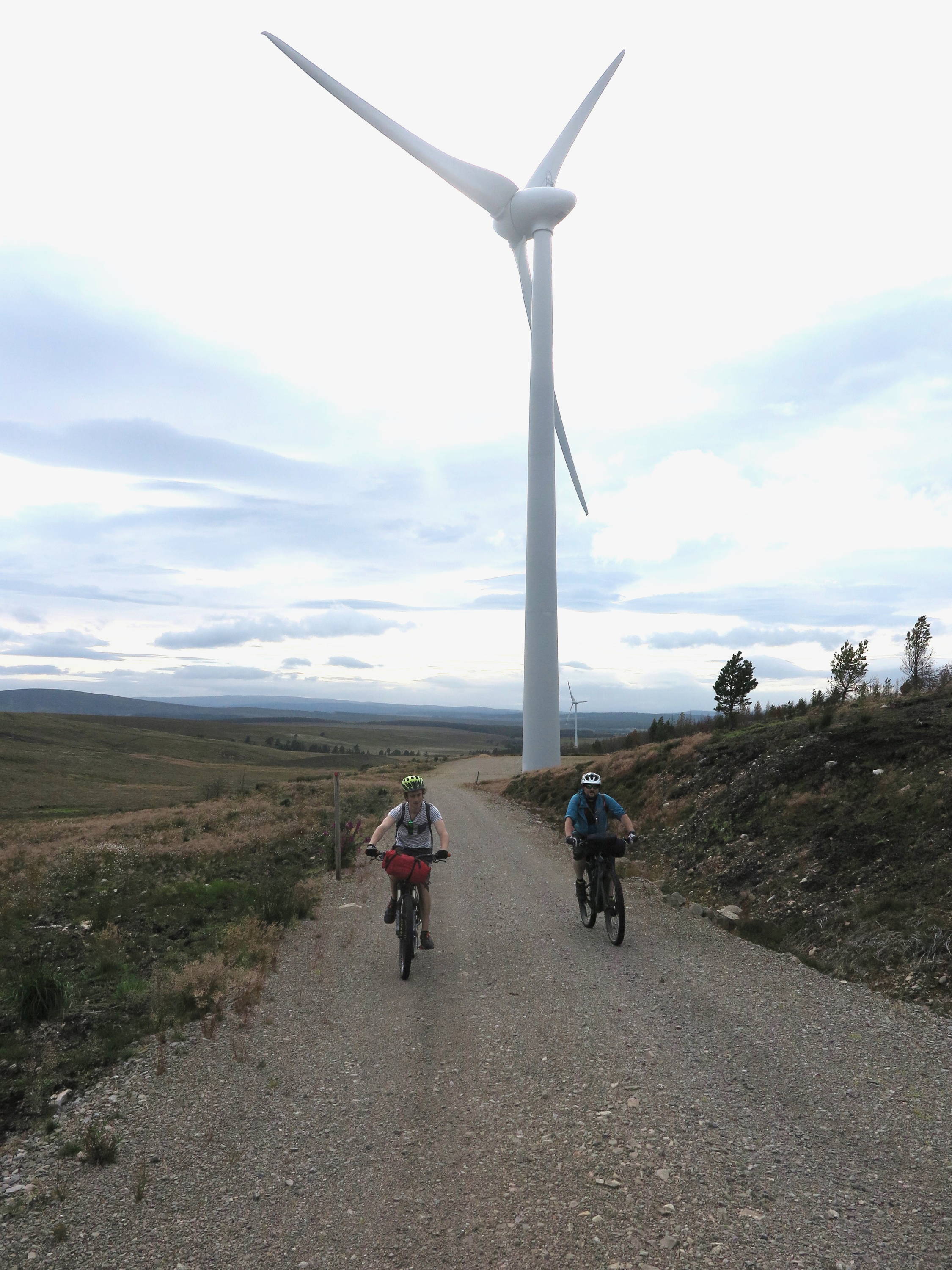 I was interested to see how easy it was going to be pitching our SixMoonDesign shelters in these winds. The coloured tags I had attached to tie-outs 1, 2 & 3 made life really easy as my shelter slithered around in the wind. I talked Kyle through the process of tying down the front face then the back before inserting the upright pole. As soon as that was done my shelter immediately quietened down and I was able to add tie-outs 4 & 5 before finally adjusting tension.
My Deschutes provided a sheltered, spacious and comfortable porch where I could serve up our first coffee of the trip, followed by the fajitas and Kyle's carrots and dip. Dunc arrived at this point so once he had some dinner we adjourned to the shore for Al's dessert of vegan millionaires shortbread with banana and squirty cream. We enjoyed the opportunity to reconnect with old friends, or get to know new ones in a beautiful location where nature and technology appeared to be in harmony. Shortly after all the malt had been shared we all turned in for what was clearly going to be a windy night.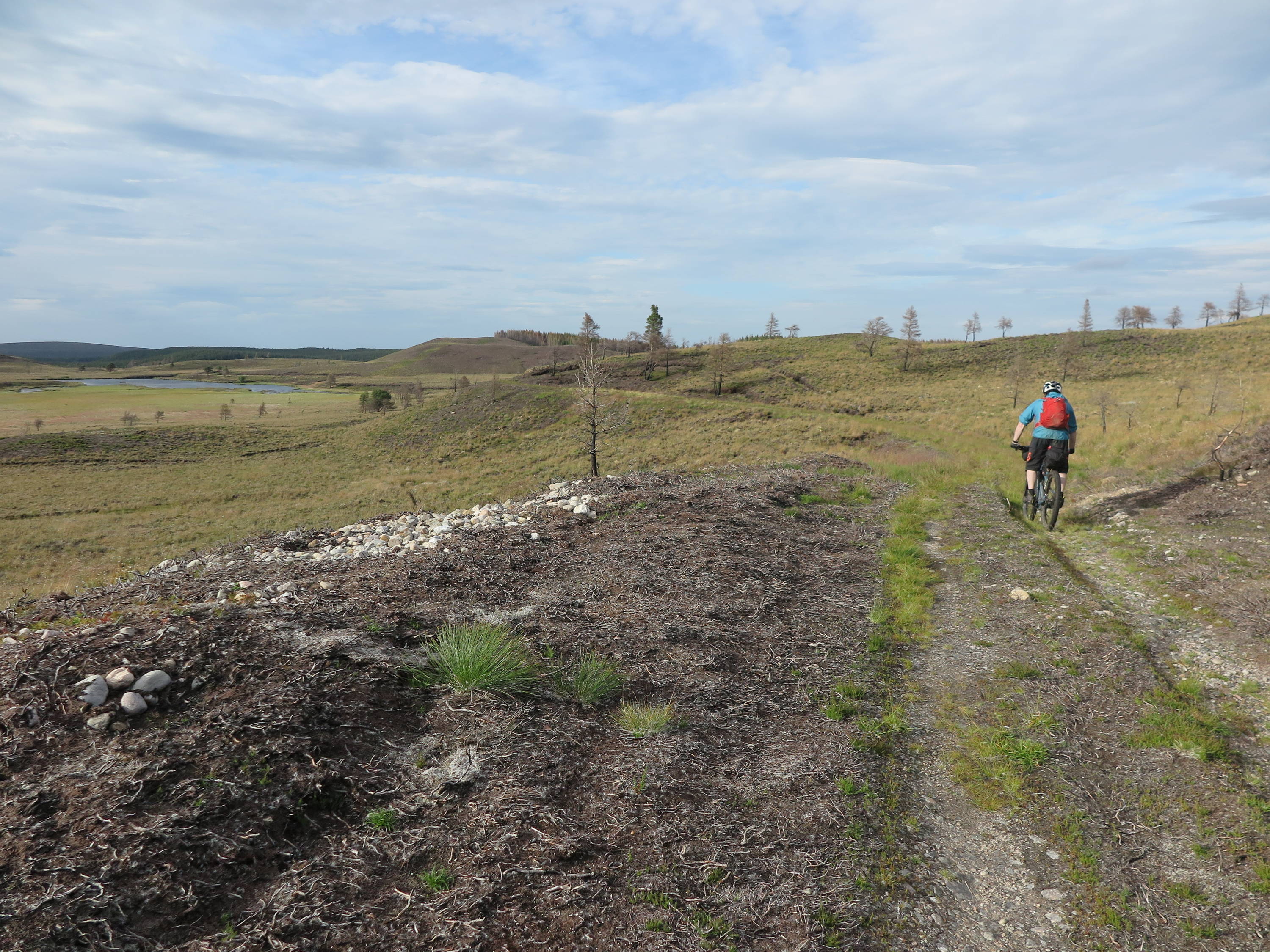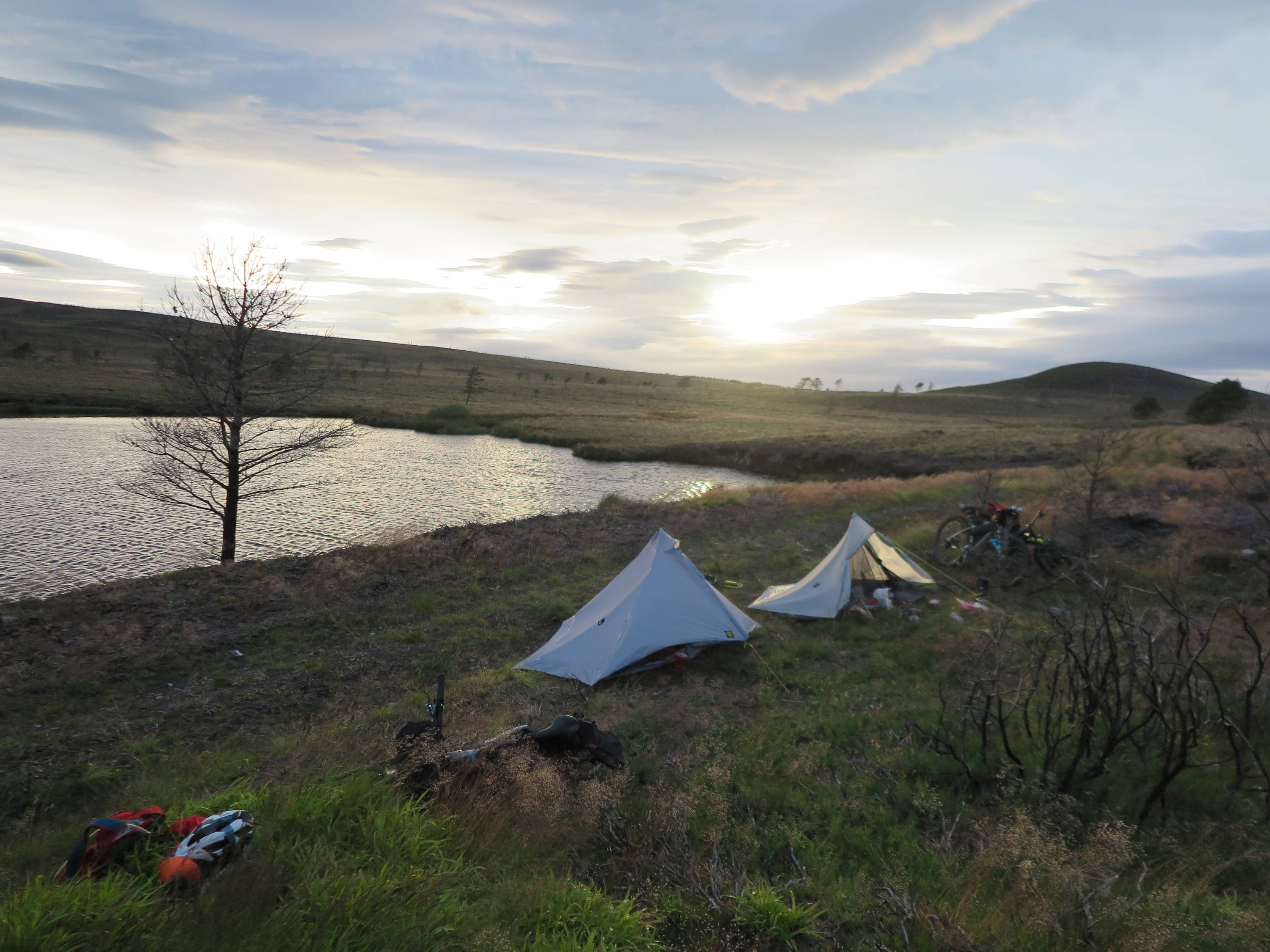 The rain woke me at about 6:30am. Rather than just roll over and wait it out I got organised with breakfast and repacking right away because I thought that Al and Dunc would be soaked and keen to get moving. I was wrong, they both were pretty relaxed even after their night in the open. All night Kyle's Lunar Solo and my Deschutes had borne the full brunt of the 15-20 mph wind with gusts of 30 mph. At no point did I feel that my shelter was in any danger of being overcome. In fact the structure flexed with the wind but at the same time kept a strong and stable base.
The Serenity NetTent worked well and gave me the reassurance against midges as well as lots of space inside. Inside this space I was comfortably able to organise gear in the morning and even take care of that sometimes annoying task of deflating, folding and repacking of an airbed. I think that a big feature of the Lunar Solo & the Deschutes is the head room and porch space - vital when doing stuff inside. Whilst repacking my BrotherCycles bike I hung my Deschutes on a small tree to dry it off a little in the wind. Then it rolled up easily into its own stuff sack before attaching it to one of my drj0n StrapDecks on the fork of my bike.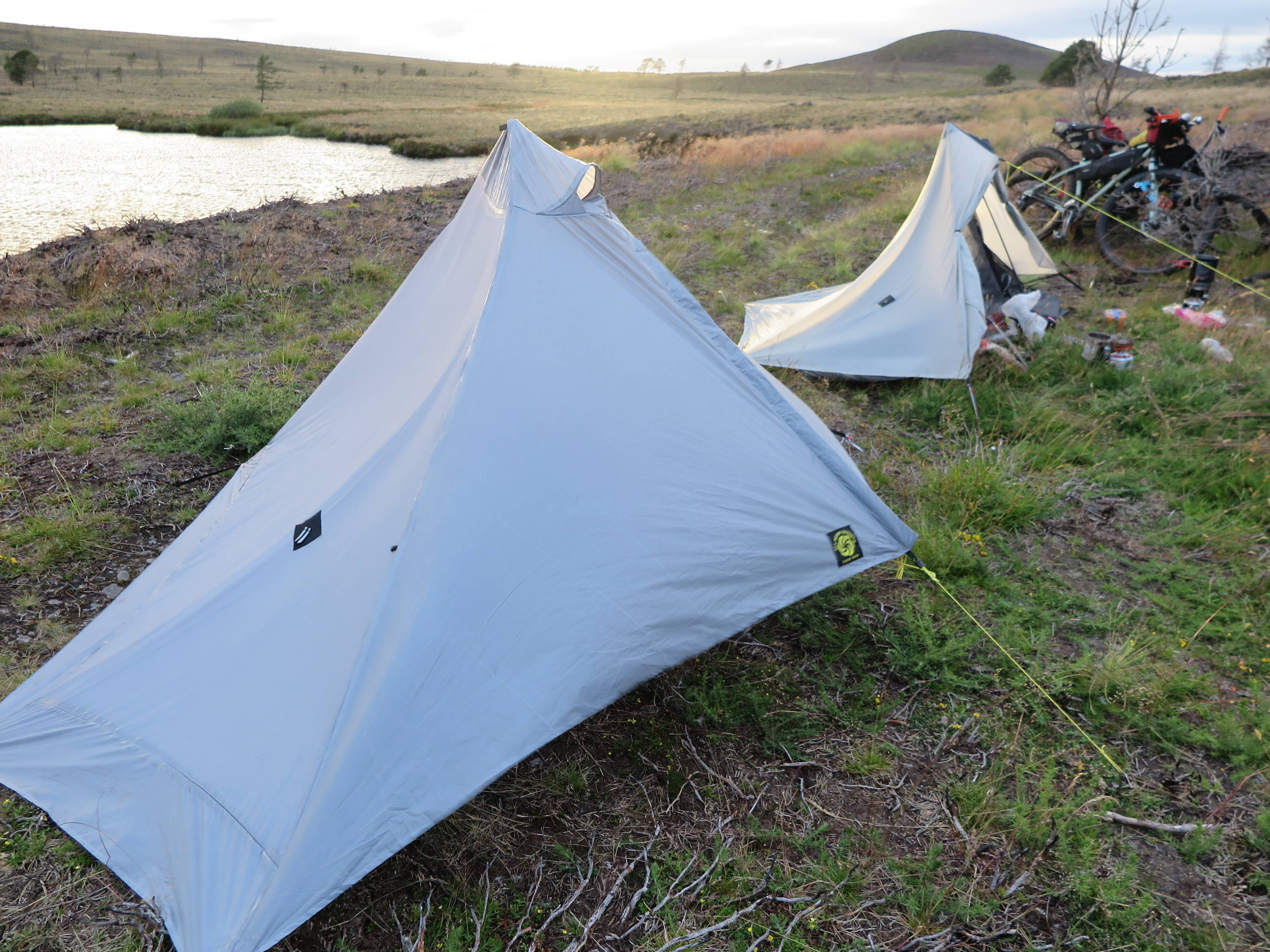 After packing up we rode in pairs on the two track to nearby Loch Dallas. All of us agreed that it was a cool spot, with easier camping but it looked as if the shore was starting to get a lot of traffic, so best left along to heal. Shortly after this our route almost pinched back into where we'd taken the wind farm access track at Tomchork. Here we saw lots of evidence of a big fire that had burned a couple of years ago. My wife is a local firefighter, she fought this one for a couple of days and by Scottish standards it was serious. Certainly her photos of the many fires looked big and were threatening properties. No danger this morning as there were still the last of the showers blowing through.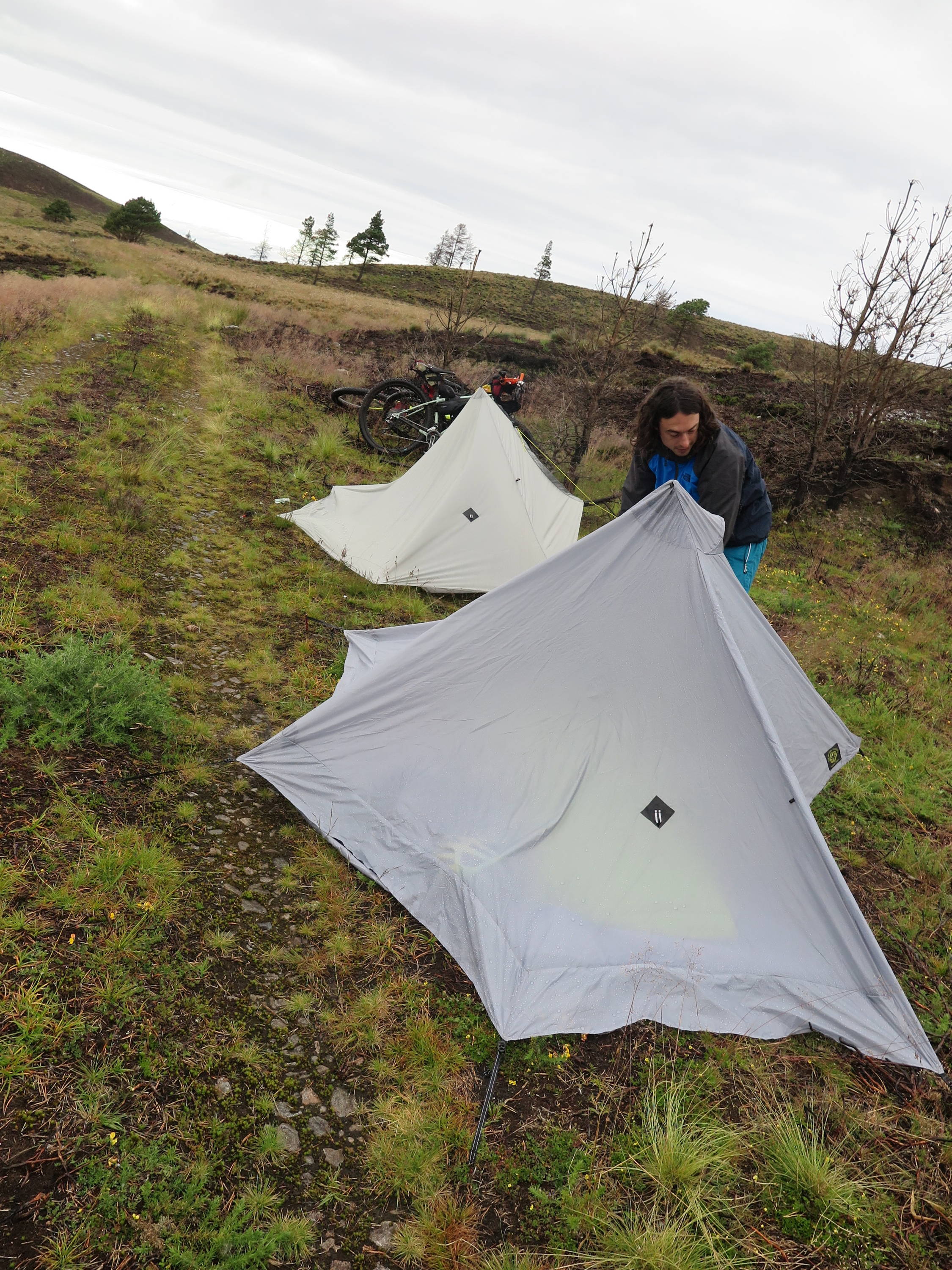 Soon we connected with the Dava Way which is a multi use path along a disused railway line between Forres on the Moray coast and our home town 23 miles away. If you like straight lines, space and a long, gentle climb then the Dava Way is for you. A keen group of locals look after this route and the route has really cool interpretive boards at places of interest or historical significance. Back in the day the train often got stuck in snow drifts and the poor folk of Grantown on Spey were sometimes sent north to dig it out. There is also a lovely wooden, carved Collie dog, where the real one used to catch his owner's parcels as they were flung from the train.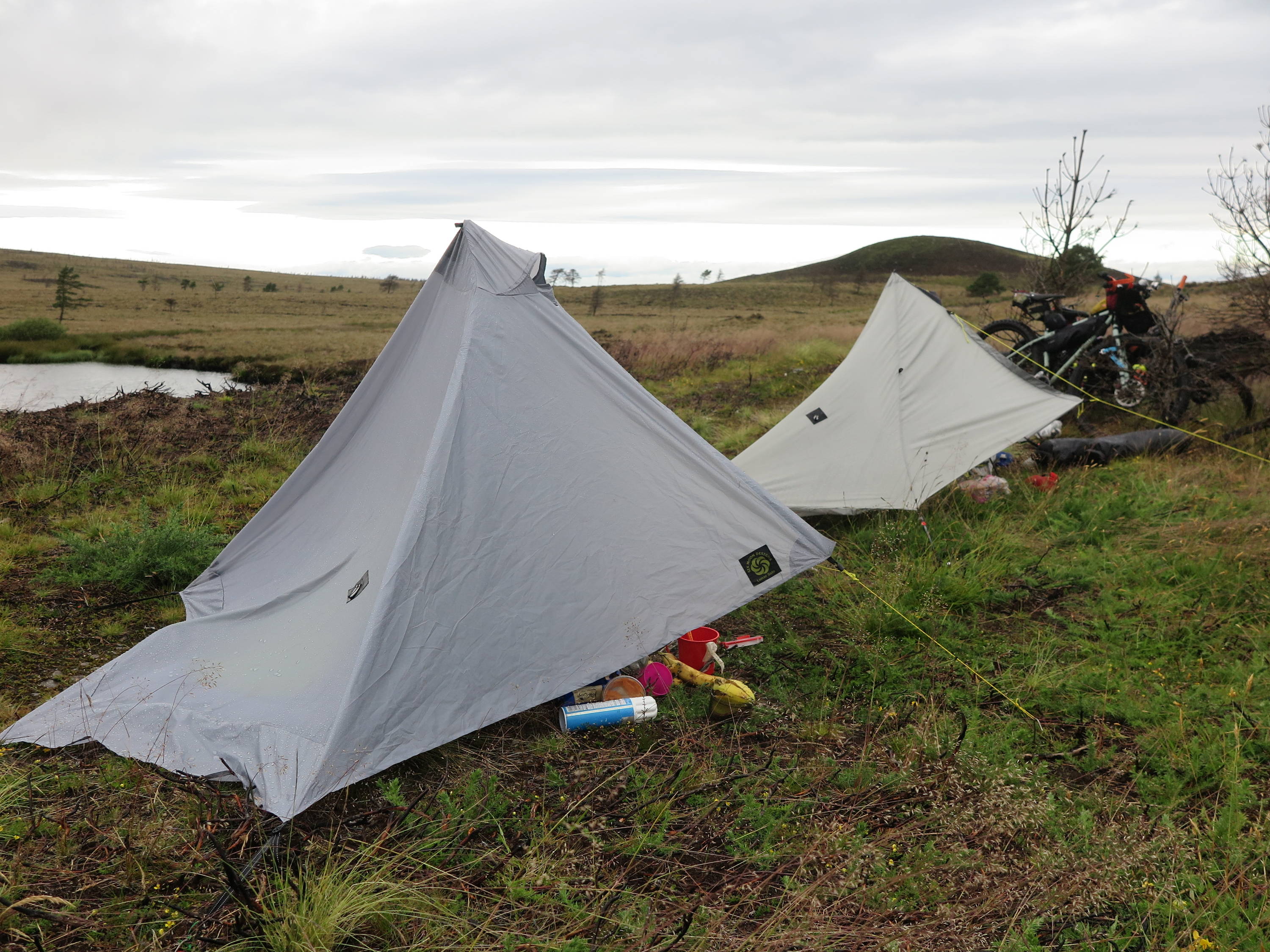 With less than 10 miles to go and time on our side we stopped at the little museum and had some coffee, more fajitas and other snacks at the side of the trail on the picnic benches. It was turning out to be a beautiful day and soon we started to pass other friendly trail users such as runners, hikers, families on bikes and solo riders cranking the pedals. We decided to take a route through Castle Grant estate then along by the River Spey and up to Al's house for scones from his wife's bakery. In his back garden we shared and reflected on a varied, fun and satisfying route of nearly 50 miles all from our back door in 24 hours! We agreed that this had been the perfect trip to celebrate our first bikepacking trip in nearly 4 months.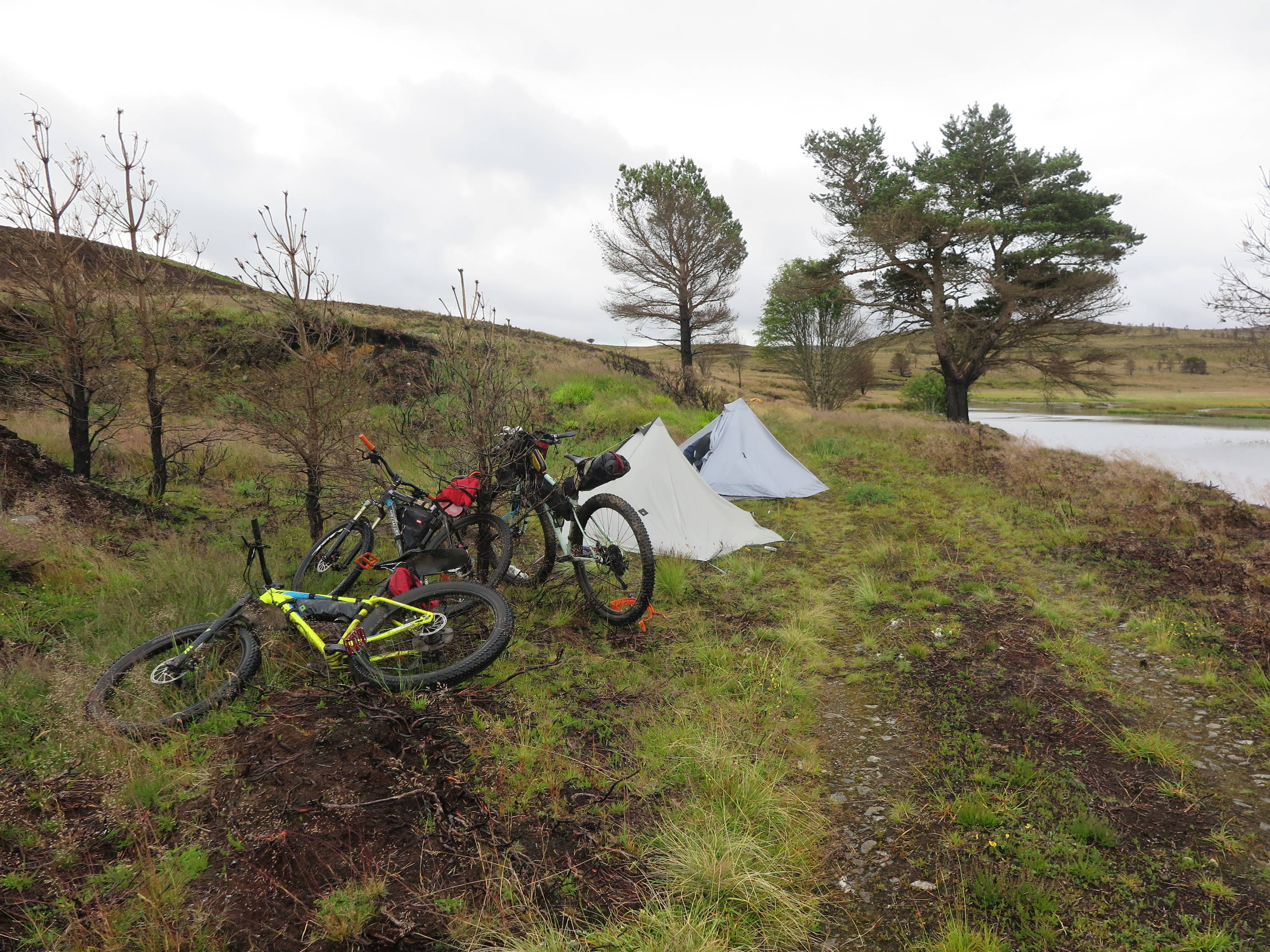 Already there is talk of another adventure by bike. Perhaps this time in the Northern Highlands. I can't wait and I know that whether I choose my Lunar Solo or my Deschutes it will be another comfortable night.