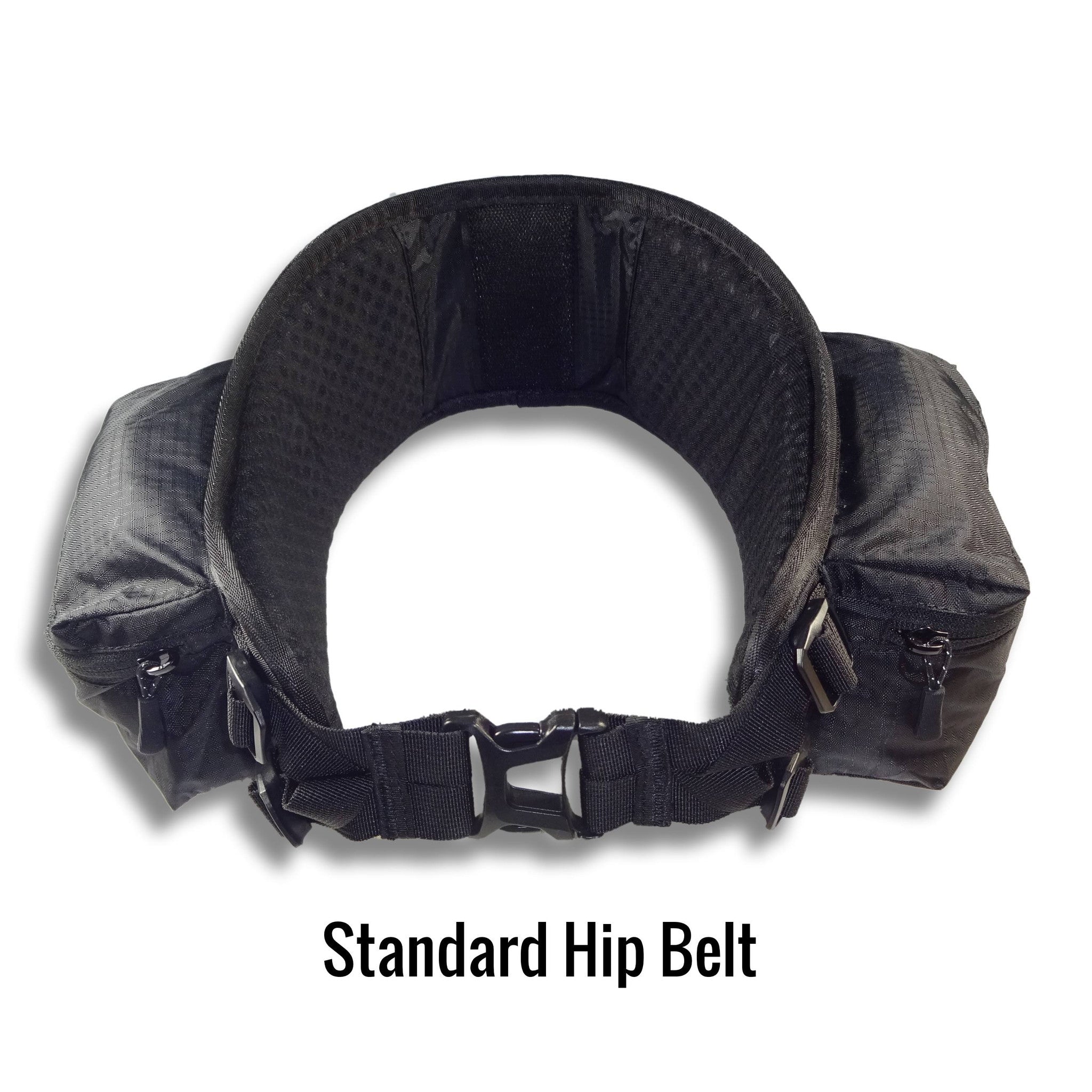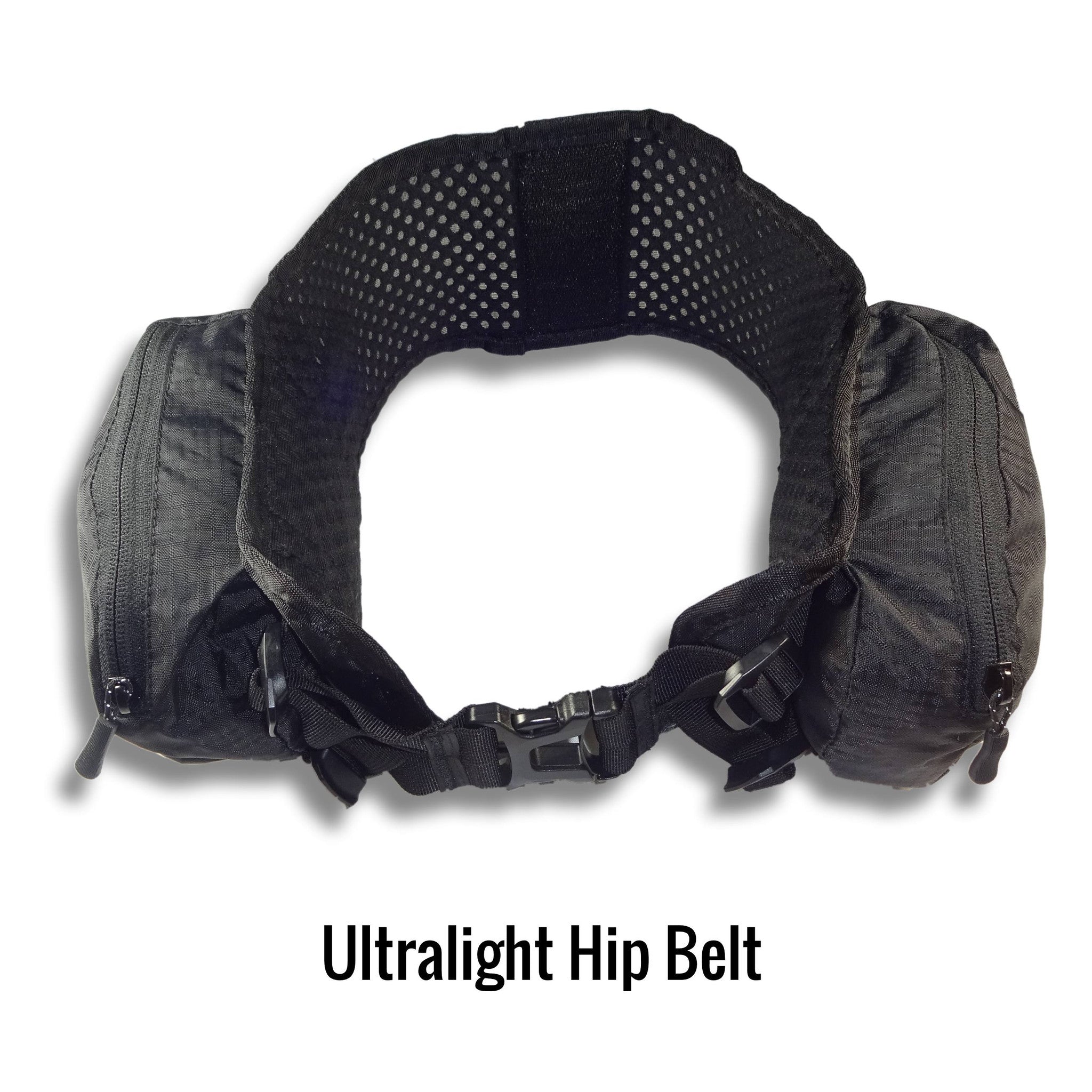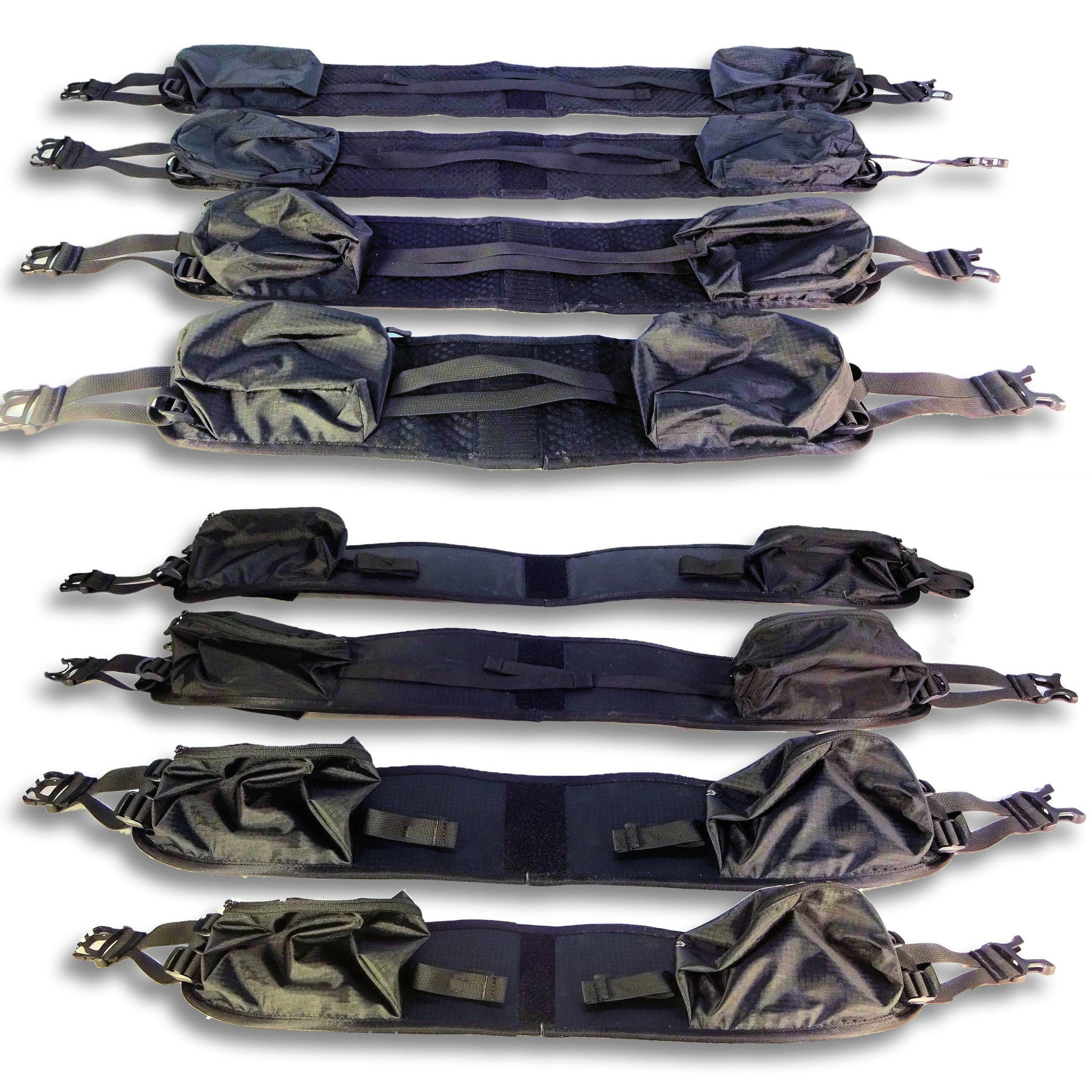 Hip Belts
We offer different hip belt styles (Standard, and UL Padded). While all of our hip belts can be used interchangeably between all of our packs. Selecting the right hip belt for your specific load weight and waist size is important. The Standard hip belt is for heavier loads is the default hip belt on our Fusion Series packs and Flight 40 - Backpacker. The Ultralight Hip Belt is the original lighter-weight hip belt and is standard on the Flight 40 - FKT. The Ultralight Hip Belt runs smaller than other models. The UL Padded Hip Belt is our newer lightweight hip belt and comes standard on our Flight 30 and Minimalist packs.
Below is our size comparison table. You can find our updated size guide here.
Styles
The Standard Hip Belt is constructed from multiple layers to provide both comfort and load support. The inner layer is a soft 1/8" thick 3D mesh. It is backed by a stiffer 3/8" thick foam core. To provide the structural rigidity necessary for load transfers, we added a rigid plastic sheet. This allows the pack weight to be distributed down and outward around your hips.

There is a cut out in the plastic at each end of the hip belt. When this is combined with our unique buckle, the hip belt can articulate and wrap around your hip bone. The unique 4 point buckle system allows you to lock the angle of the hip belt for a more comfortable and secure fit.

This Hip Belt is good for carrying weights comfortably from 30 pounds to well above.
Features
Dual One Liter Pockets - Too many packs employ hip belt pockets so small they'd crush a candy bar. Other packs make them add on option. Where they tend to slide off the hip belt unless properly secured.

The hip belt pockets on Six Moon Designs packs are some of the largest in the industry. At one liter each, they are sized large enough to carry a small camera, GPS, snacks, sun screen and other needed items. They are easy to open. Provide quick access needed gear. Still they aren't so large as to get in your way.

Four Point Buckle - Milti-Adjustment hip belts are not uncommon. However, typically there is a single piece of webbing that runs continuously between the tri-glide, buckle and back. With this arrangement the buckle can slide along the webbing. So as you walk the buckle will start to center itself between the two adjusters.

Our unique four point buckle system terminates each adjustable webbing at the buckle. This allows you to lock the angle of the hip belt. It will maintain the angle of the hip belt and provide you with a more comfortable and secure fit.
Sizing
SIZES AND WEIGHTS

Standard Hip Belt
X-Small
Small
Medium
Large
Padded Length
22" - 56 cm
26" - 65 cm
30" - 76 cm
34" - 86 cm
Waist Sizes
23 - 38"
58 - 89 cm
27 - 39"
68 - 99 cm
31 - 41"
79 - 104 cm
35 - 55"
89 - 140 cm
Weight
9 oz - 255 g
10 oz - 280 g
11 oz - 310 g
13 oz - 370 g
Ultralight Padded Hip Belt
Small
Medium
Large
Padded Length
24" - 65 cm
30" - 76 cm
34" - 86 cm
Waist Sizes
25 - 39"
61 - 99 cm
31 - 41"
79 - 104 cm
36 - 55"
89 - 140 cm
Weight
6.1 oz - 173 g
6.65 oz - 188 g
7.2 oz - 204 g
Pickup available at 8250 Southwest Nimbus Avenue
Usually ready in 24 hours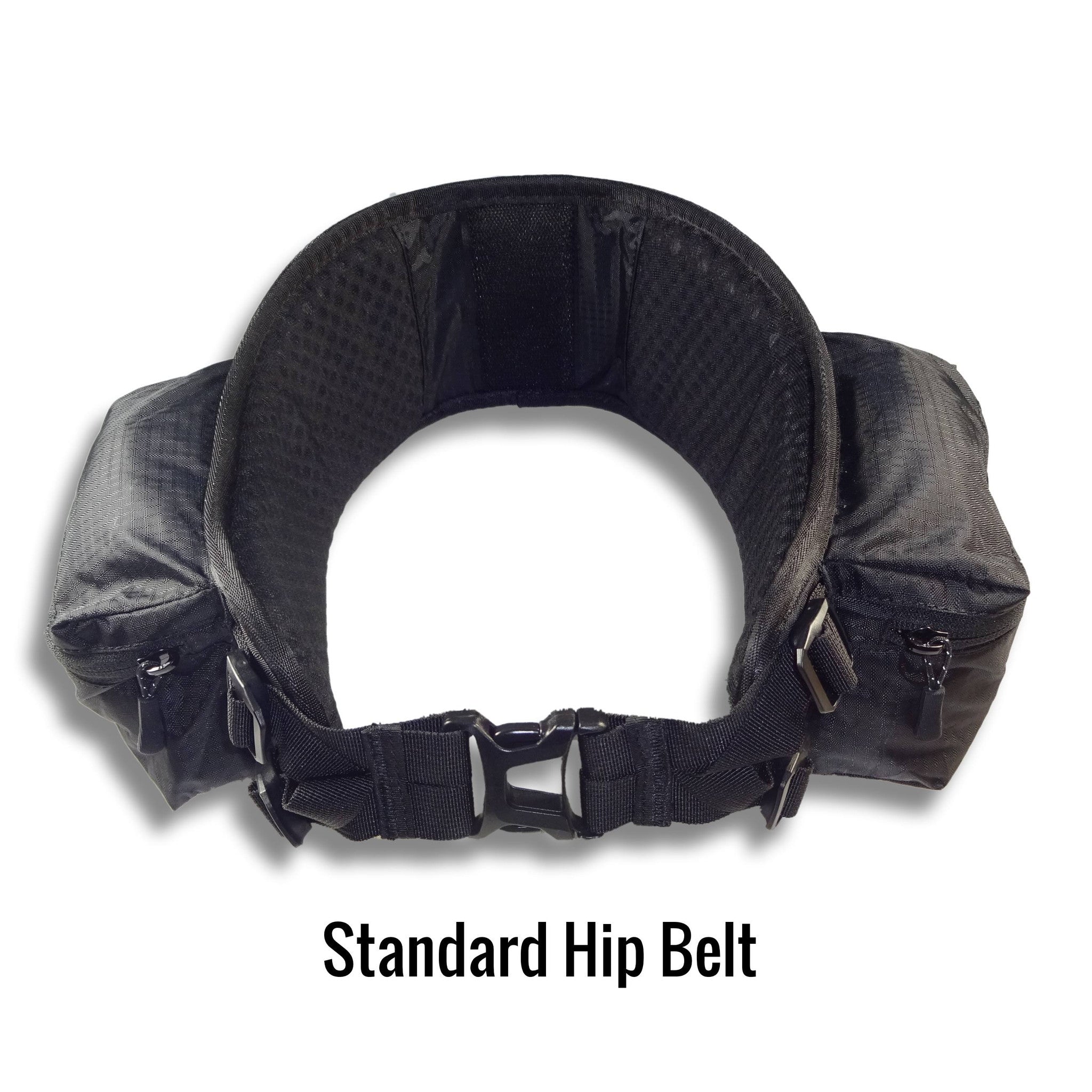 Hip Belts
Standard / Medium
8250 Southwest Nimbus Avenue
8250 Southwest Nimbus Avenue
Beaverton OR 97008
United States
5034302303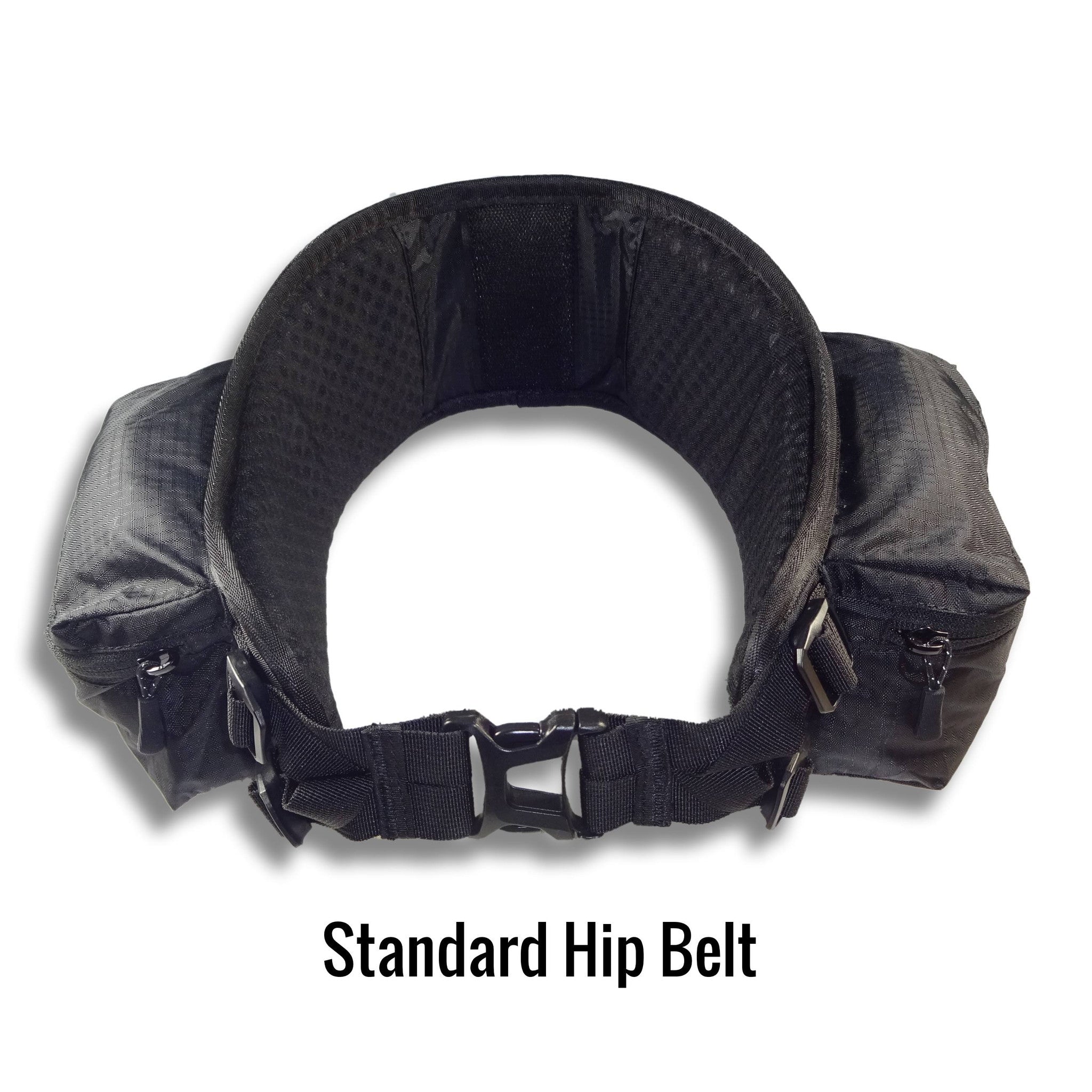 Hip Belts
Sale price
$40.00
Regular price
$40.00
(/)
This product is rated 5.0 of 5.0 stars.
It has received 9 reviews.
Thank you
I have been searching for a belt replacement for awhile as the manufacture of my pack stopped producing years ago (but I love it too much to buy a whole new one). Just finished a trip with your hip belt and it made such a difference. Very comfortable, easy to install and better than what the pack originally came with. Will be recommending your company
Better than the ULA hip belt
I bought a new ULA pack and found the hip belt insufficient. I don't have pronounced hips and the ULA belt is lacking in structure. Because it can bend and deflect it allows the pack to sag in the back and as I hike it shimmies down until I'm carrying the weight on my shoulders. I decided to look and see if I could find a different belt considering it's such a simple attachment (two hook and loop pads on the front and back). I'm so glad I found this belt. This belt has more structure. It bends around my waist as it should but does not bend or deflect vertically like the stock ULA belt did. It is a bit taller as well giving more surface area to grab and lock onto my non-existent hips. Now my pack carries SOOOO much better. It's silly that ULA hasn't figured out that a more rigid belt would improve their packs but I'm very pleased to have found this one.
Fusion 50 hip belts and harnesses
I love how versatile and adaptable SMD packs are! Not that I have both regular and large harnesses and hip belts, my pack can fit me no matter how much my weight changes on a long hike, or if I lend my pack to a friend.
Excellent hip belt for big guys like me
I replaced the standard GG pack hip belt with the SMD standard hip belt to leverage the additional hip straps. So far, I enjoy dialing in my hip belt in ways I couldn't with other single strap belts. The SMD standard belt is heavier, but I'm excited to balance my backpack better between my shoulders and hip using the dual hip strap design. Will know more after hiking a week on the JMT starting tomorrow.
Best load shifter ever .. plus pockets
Ordered the right sized belt ( love that the belts are interchangeable should you lose weight or visa versa ) My Six Moon Swift V pack performed so well on an AT Section hike… but I lost weight!! Now I am ready for the North Cascades with this simple switch!