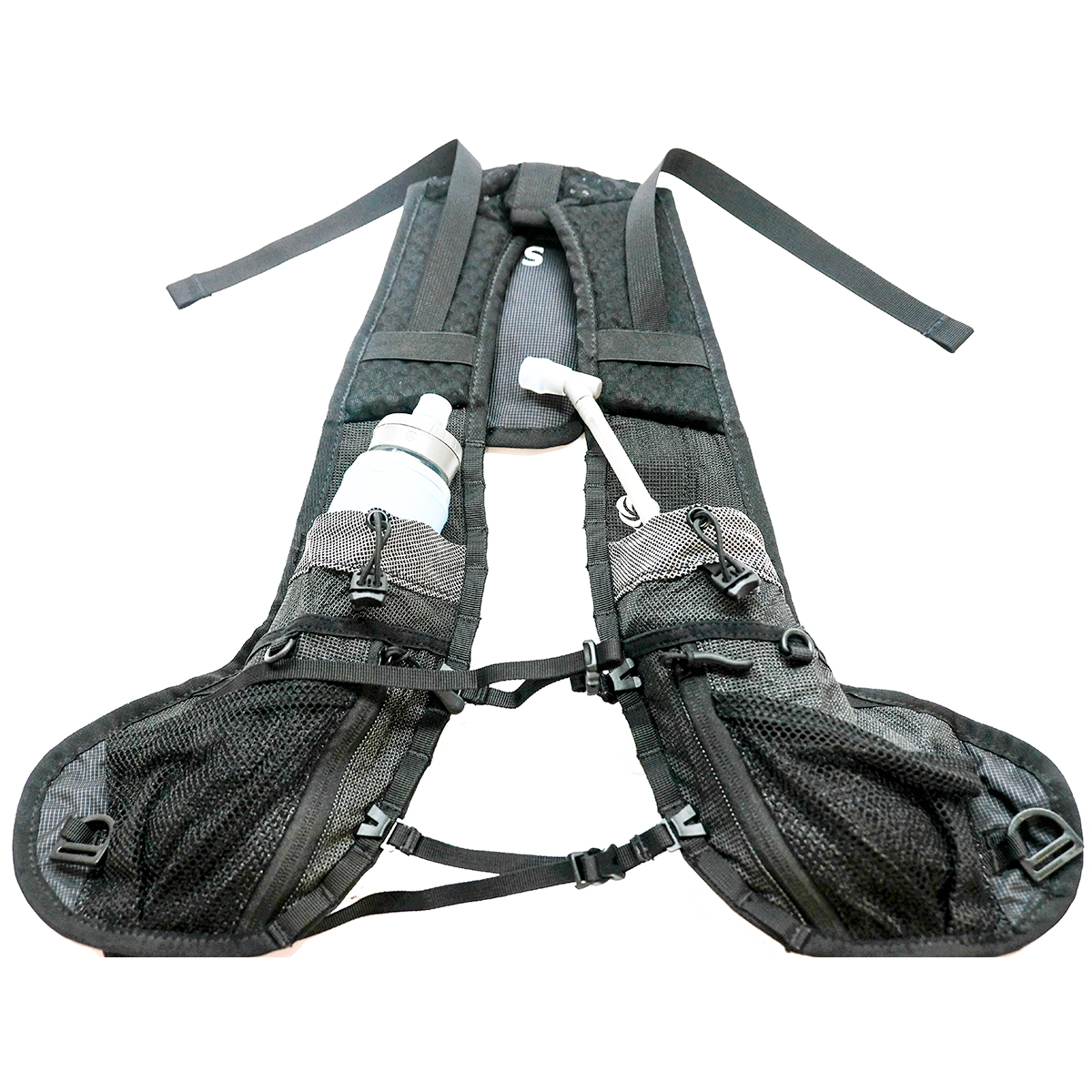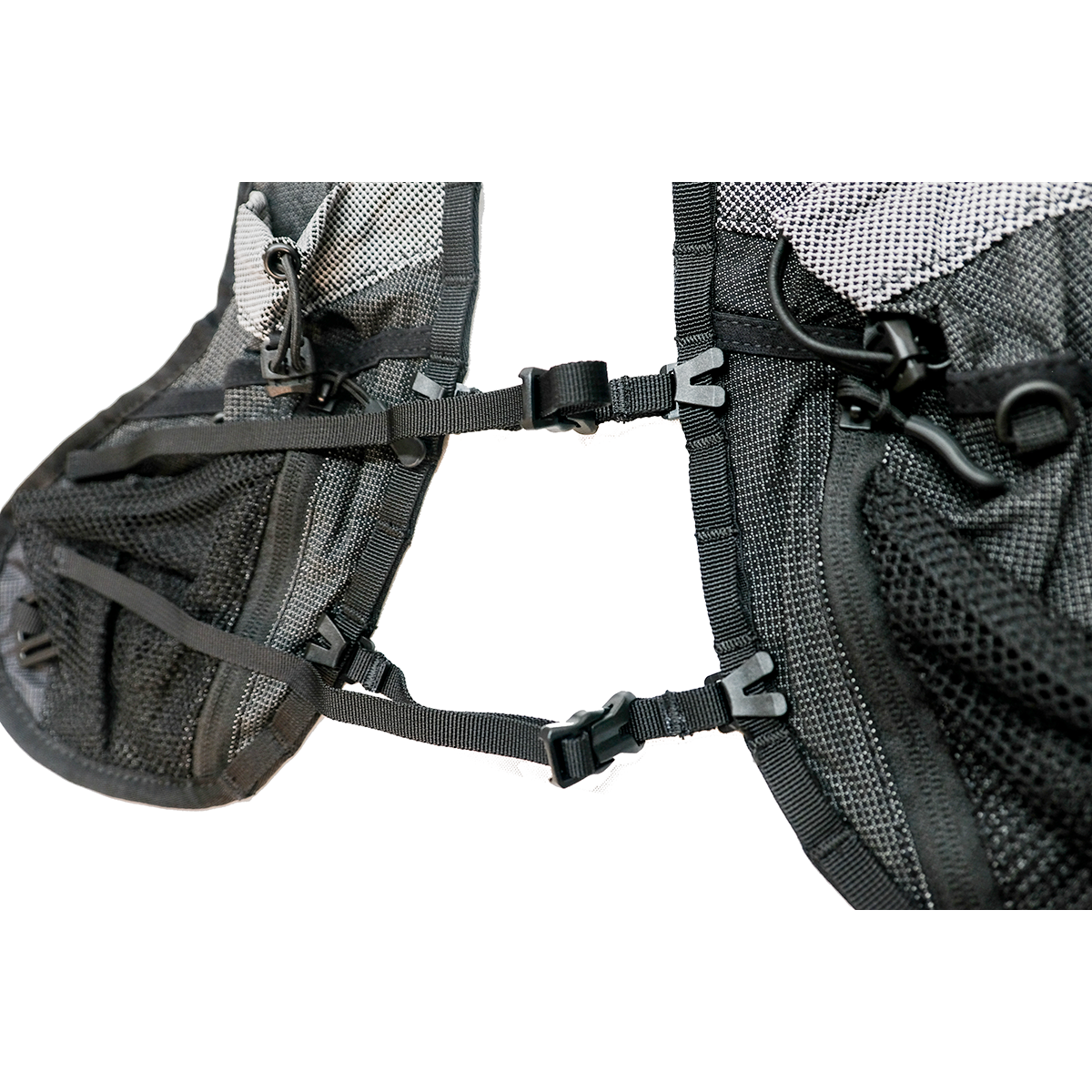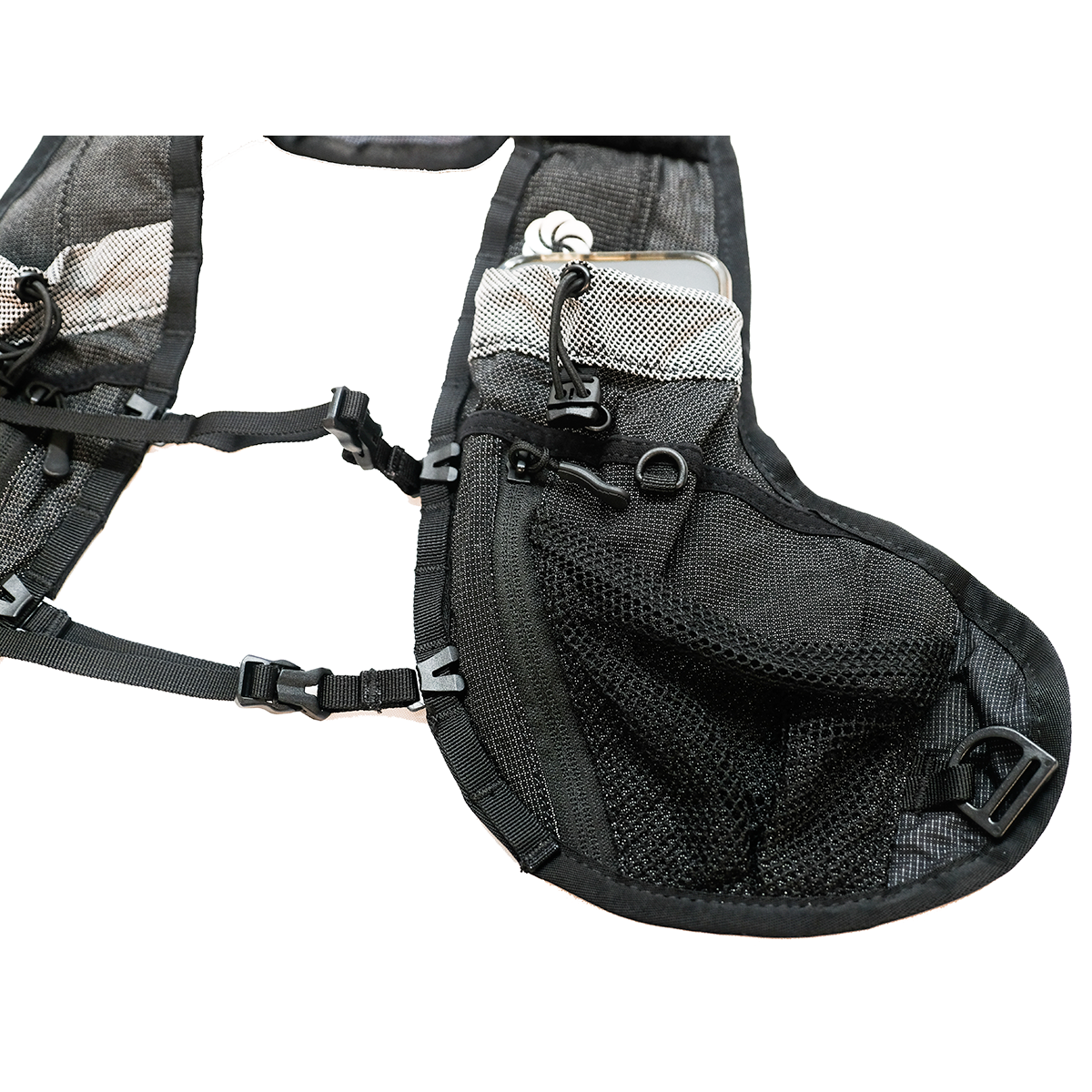 Flight Vest Harness
The Flight Vest Harness is our most updated Vest Harness for our Flight Series packs. The Flight Vest Harness is offered in two sizes: Small or Large.
 
Flight Vest Harness

 
Small
Large
Strap Length*
19"
22"
Weight
7.5 oz -212 g
8.5 oz - 242 g
 *Does not include webbing strap. 
Features
Adjustable sternum straps with a new system
Upgraded Ultra Stretch fabric by Challenge fabric for the pockets -

new

Two 4-Way Ultra Stretch Pockets that can hold 500ml soft bottles
Two 4-Way Ultra Stretch Stash Pockets 
2 Mesh Pockets
2 Zipper Pockets
Elastic Webbing for Hydration Hose
Benefits
✓ Six points of suspension between the pack and user
✓ Eliminates sway or bounce when walking or running
✓ Transfers some of the load to your core
✓ Helps to eliminate sores on your shoulders and hips
✓ Helps to reduce back pain after long days on the trail
✓ Provides extra storage pockets and quick-access options
Video
Shoulder Straps or Vest Harness?

By: Six Moon Designs
Published: 02/06/2020
History
Years ago when Ron Moak founded Six Moon Designs, his first pack incorporated a Vest Harness, he didn't design it so he could run or hike faster. It was designed to allow him to hike comfortably without a lot of pain. A bout of Cancer had made it difficult to hike more than a couple of hours at a time before stopping due to back pain.
Incorporating the Vest Harness in the pack provides significant additional support for the back and spine. By spreading the weight, he was able to walk more upright and longer distances without pain.
If you've found yourself unable to backpack as easily and as long as you once did, you may want to seriously consider the Vest Harness. We make no claims that the Vest Harness is a miracle cure, just that it helped Ron get back to really enjoying backpacking again.
Pickup available at 8250 Southwest Nimbus Avenue
Usually ready in 24 hours
Flight Vest Harness
Small Flight Vest
8250 Southwest Nimbus Avenue
8250 Southwest Nimbus Avenue
Beaverton OR 97008
United States
5034302303
This product is rated 4.5 of 5.0 stars.
It has received 10 reviews.
Feels like a hug!
The flight vest is so supportive and comfortable! Cannot recommend this product enough. The install could me a little tricky to figure out, but other than that super happy with this product.
Not great for larger chested or barrel chested individuals.
Ordered the flight vest along with the other two straps to see which was best. This was before I ran across the youtube video to see which was best for my body type.
The quality is great, and adding/removing the flight vest from the pack was a simple task that took me about 5-ish minutes.
That said the flight vest did not work well for my larger frame and barrel chest. Wish the website/online store better explained which straps are better for which body type.
It ends up the S-Curve, inspite of the description "Designed to accommodate people with narrow shoulders that have a larger chest area" -- I am 6'1" with more broad shoulders than many of the people I know - but also have a barrel chest.
Removing one star because I had to go through the trial and error of buying multiple straps to figure out which was best for my body type.
VEST
Truly the best back pack vest I have ever purchased!!!
Love the way the vest spreads out the load.Thanks for another cool product!!
Comfortable
Still need to test the pack with the vest, but would like to comment on my experience so far. I´ve exchanged the S Curve shoulder strap of my Minimalist V2, with this vest. I had some issues trying to adjust the S Curve to my shoulders, and although I could have continued trying to get it to a more comfortable fit, I decided to order the vest. Installing the vest was a breeze because I found a recent video SMD uploaded with instructions. Some of the straps of the S Curve were needed to install the vest with the pack. I have tried the pack and my first impression is that it seems it will be more comfortable and easier to adjust. I have to try it with a full load and hike some miles before I can conclude that it does. I would suggest to include a whistle with the vest. The whistle that comes with the S Curve can´t be attached to the vest.
Review of vest by woman with large chest
The Six Moon Designs website officially warns not to get this vest if you are large-chested. I ignored the warning because I was in love with the idea of a vest that would have pockets, engage my core, be wider across the shoulders, etc. I thought it couldn't be much worse than wearing a high impact sports bra. WRONG. It was terrible. I just want to reinforce the advice NOT to buy this if you are large chested.
The vest is an awesome idea, though. For men or VERY flat chested women, this vest would be awesome. I fiddled and fiddled trying to make it work. Super disappointed...