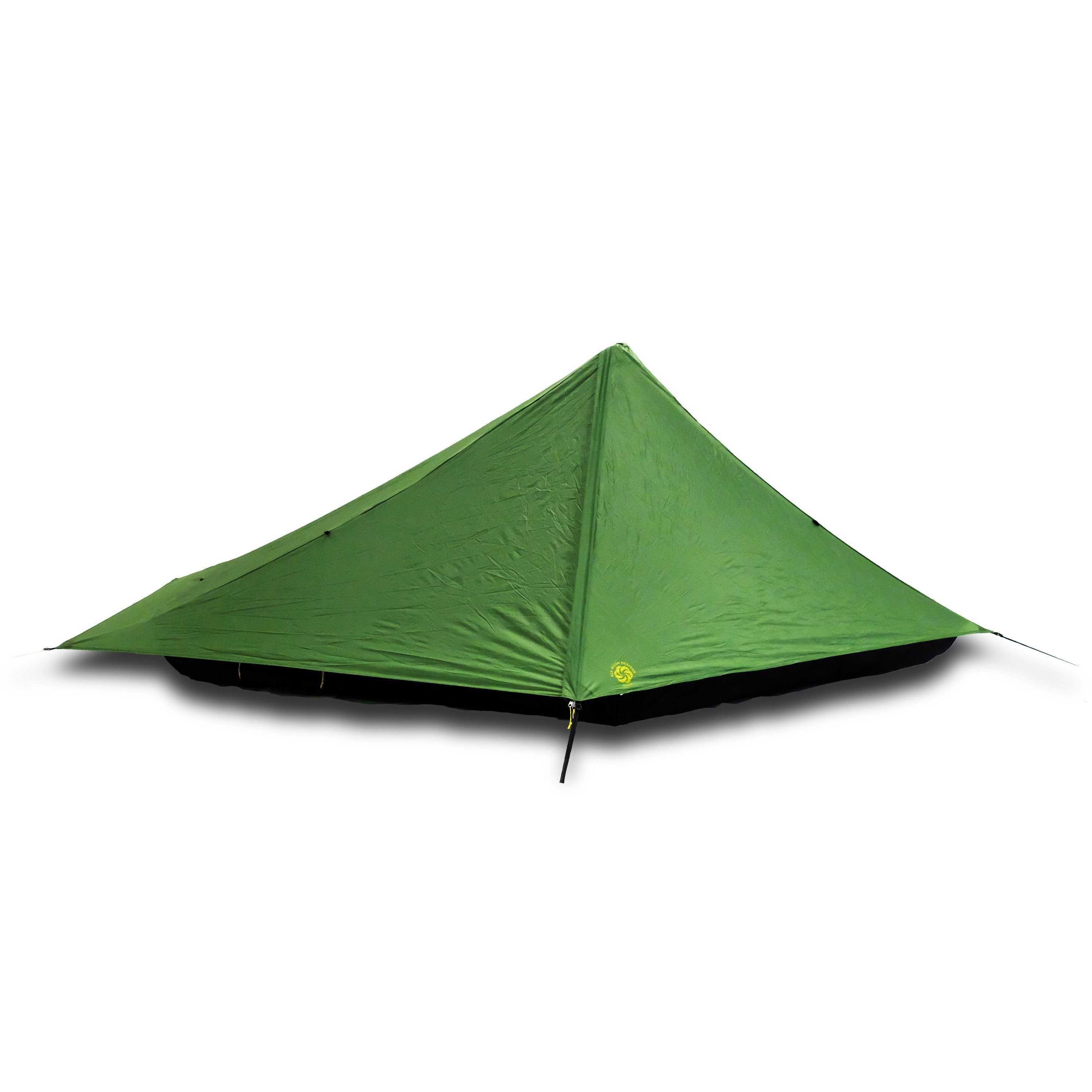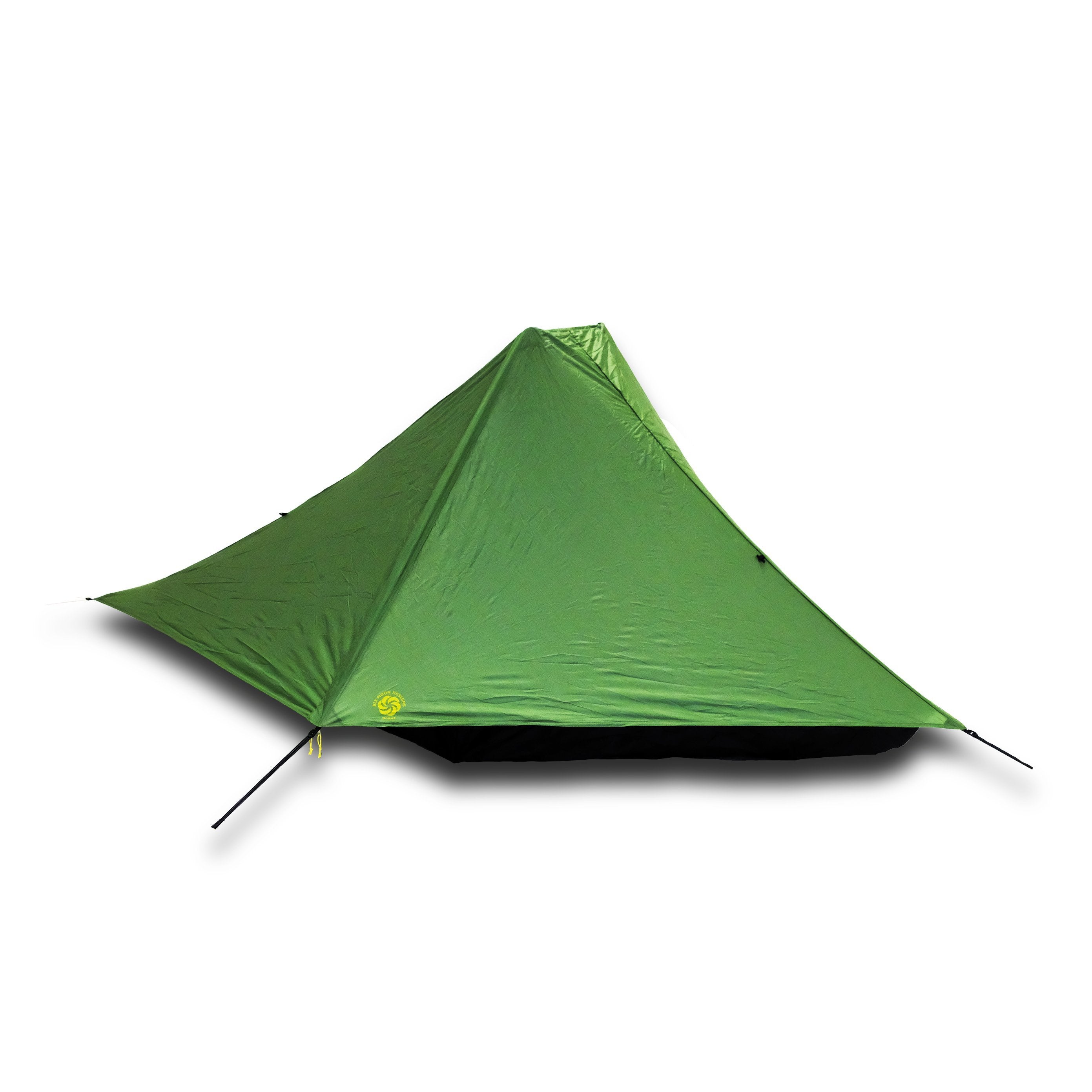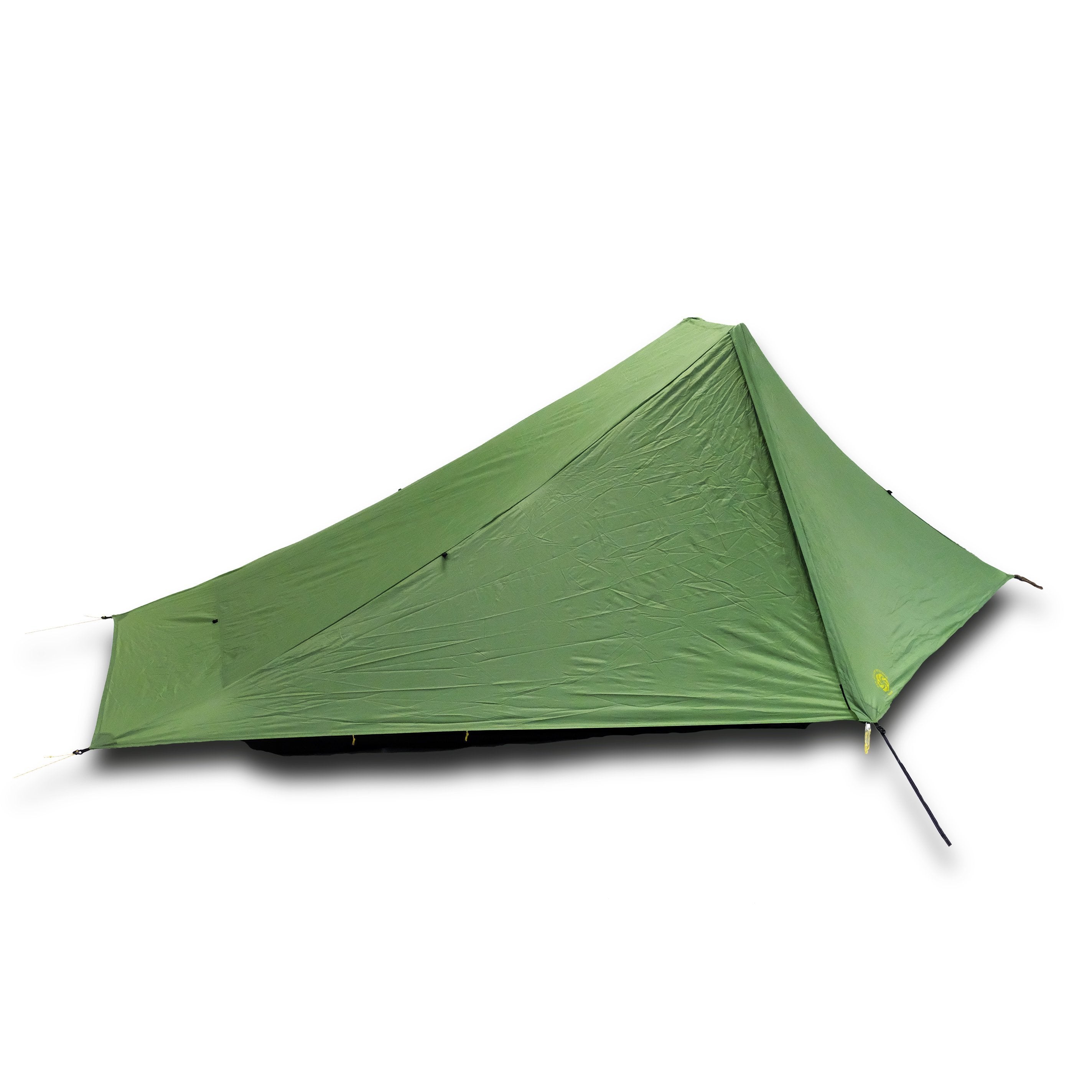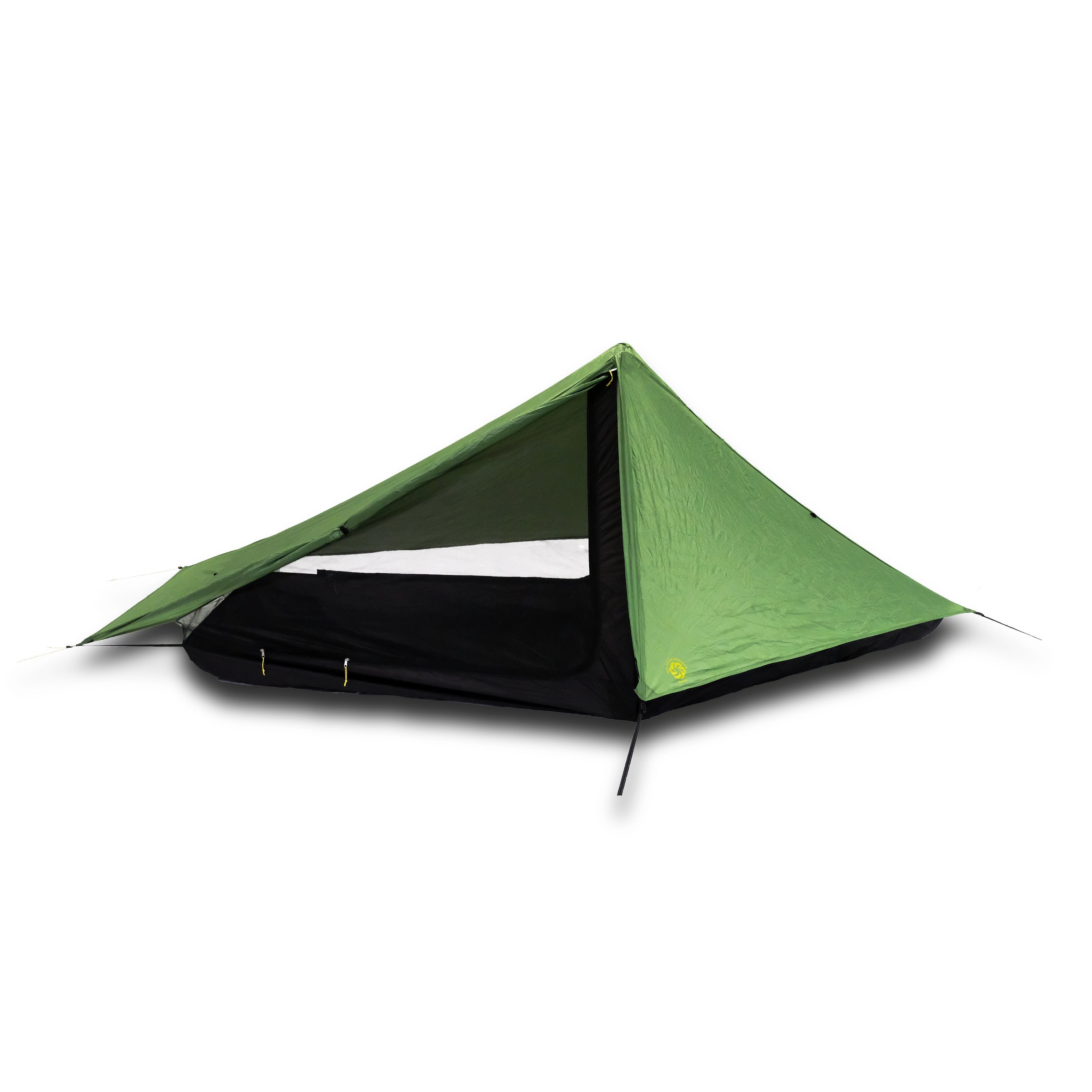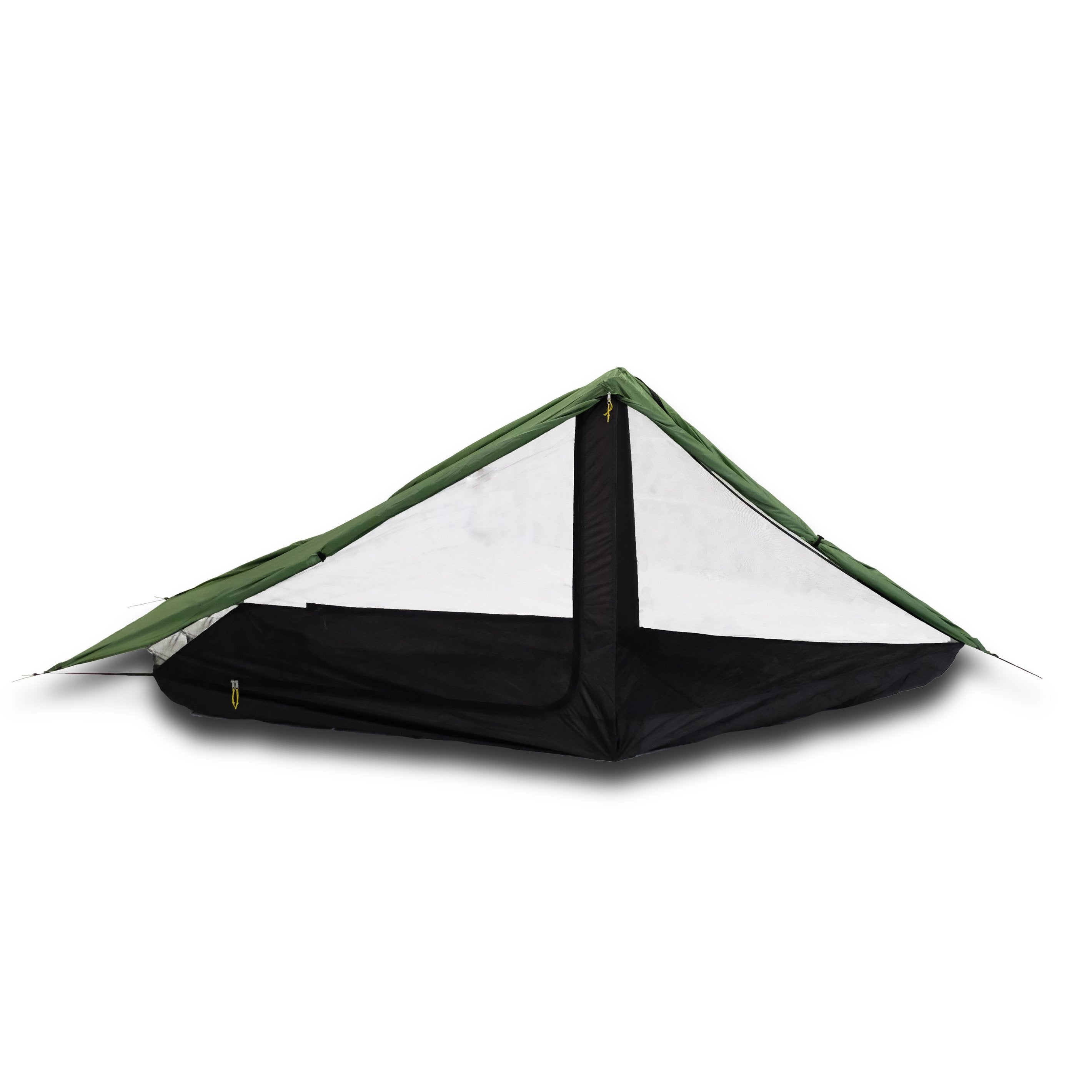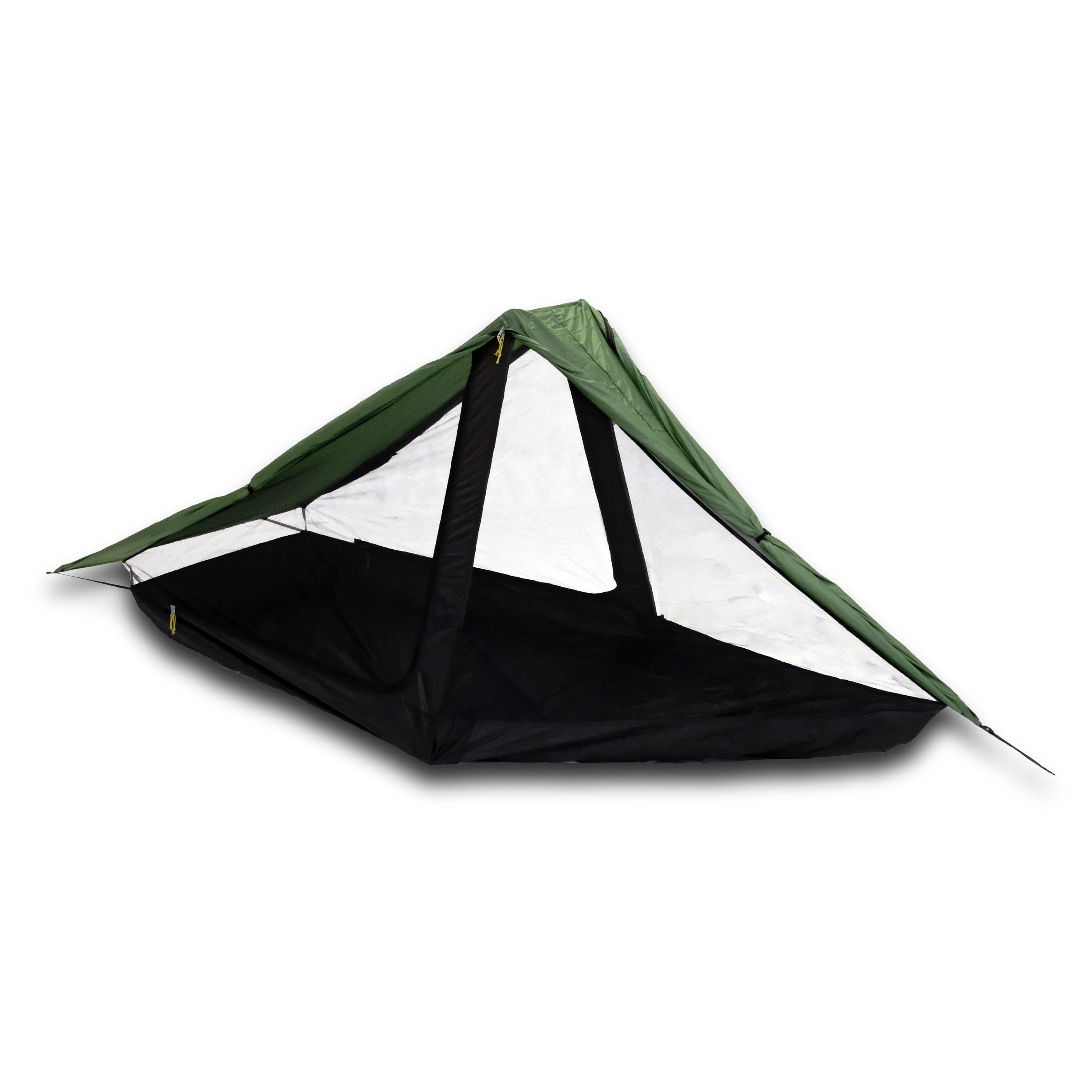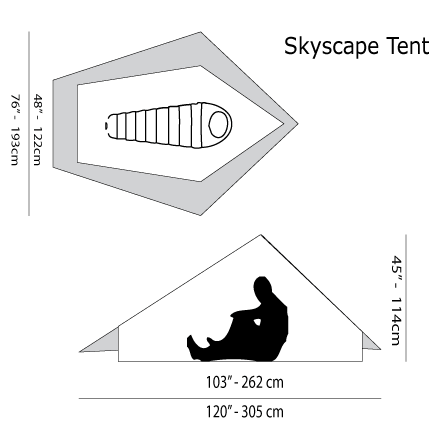 Skyscape Scout Hiking Tent
Our most versatile 3-season tent in a budget-friendly material.
1 Person Tent | Best for:
Tall Hikers
Star Gazing
Budget Conscious Hikers
---
Pickup available at 8250 Southwest Nimbus Avenue
Usually ready in 24 hours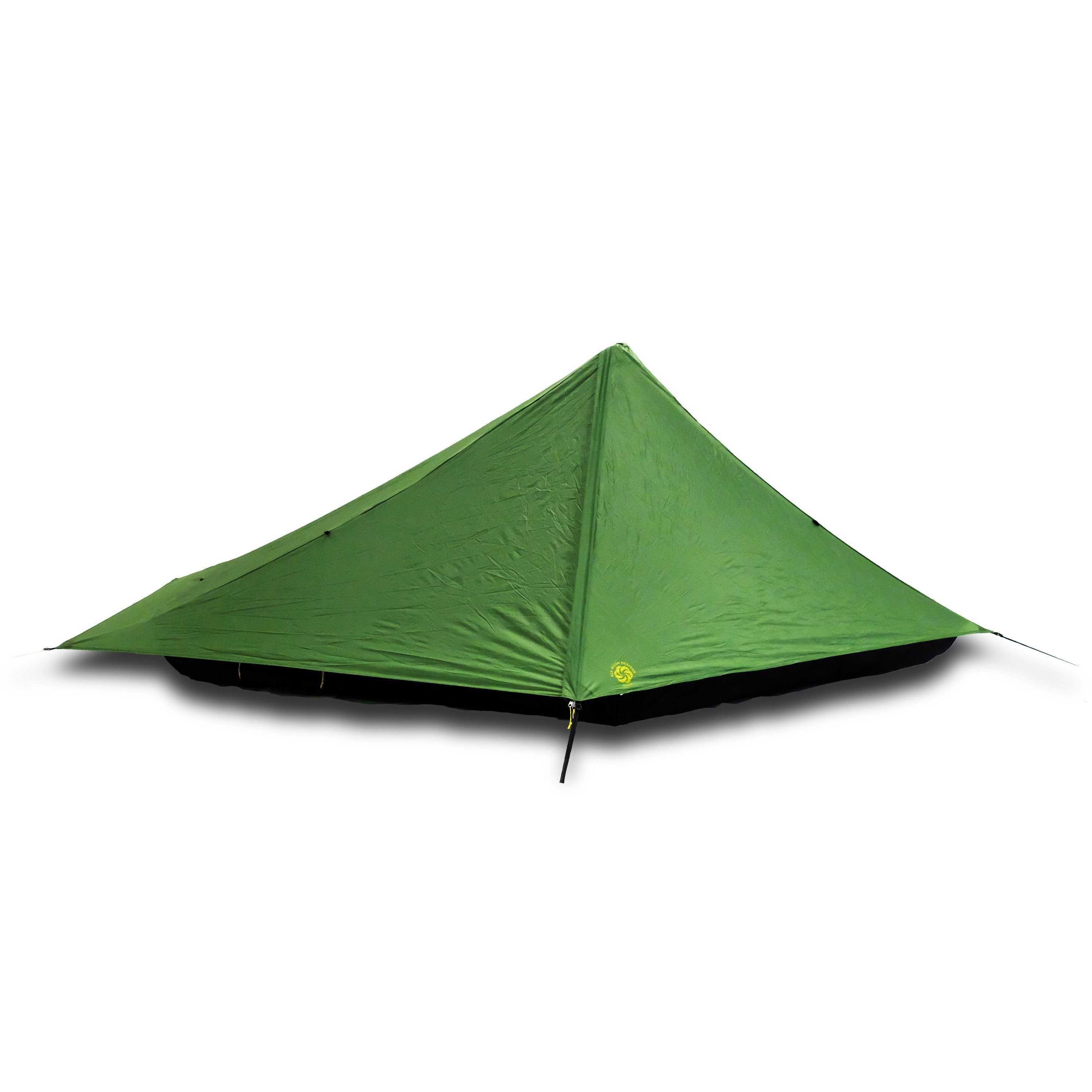 Skyscape Scout Hiking Tent
8250 Southwest Nimbus Avenue
8250 Southwest Nimbus Avenue
Beaverton OR 97008
United States
5034302303
⭐⭐⭐⭐⭐ Best tent I've ever owned
"I've owned my Scout for a year and just completed my fifth section hike on the AT with it. I love this little tent! It's lightweight and fits easily into my pack, and I've yet to find a problem with it. I really enjoy the full netted sides of the tent, which are great for enjoying the views outside while being protected from biting bugs. Great tent— great design!" - Meadow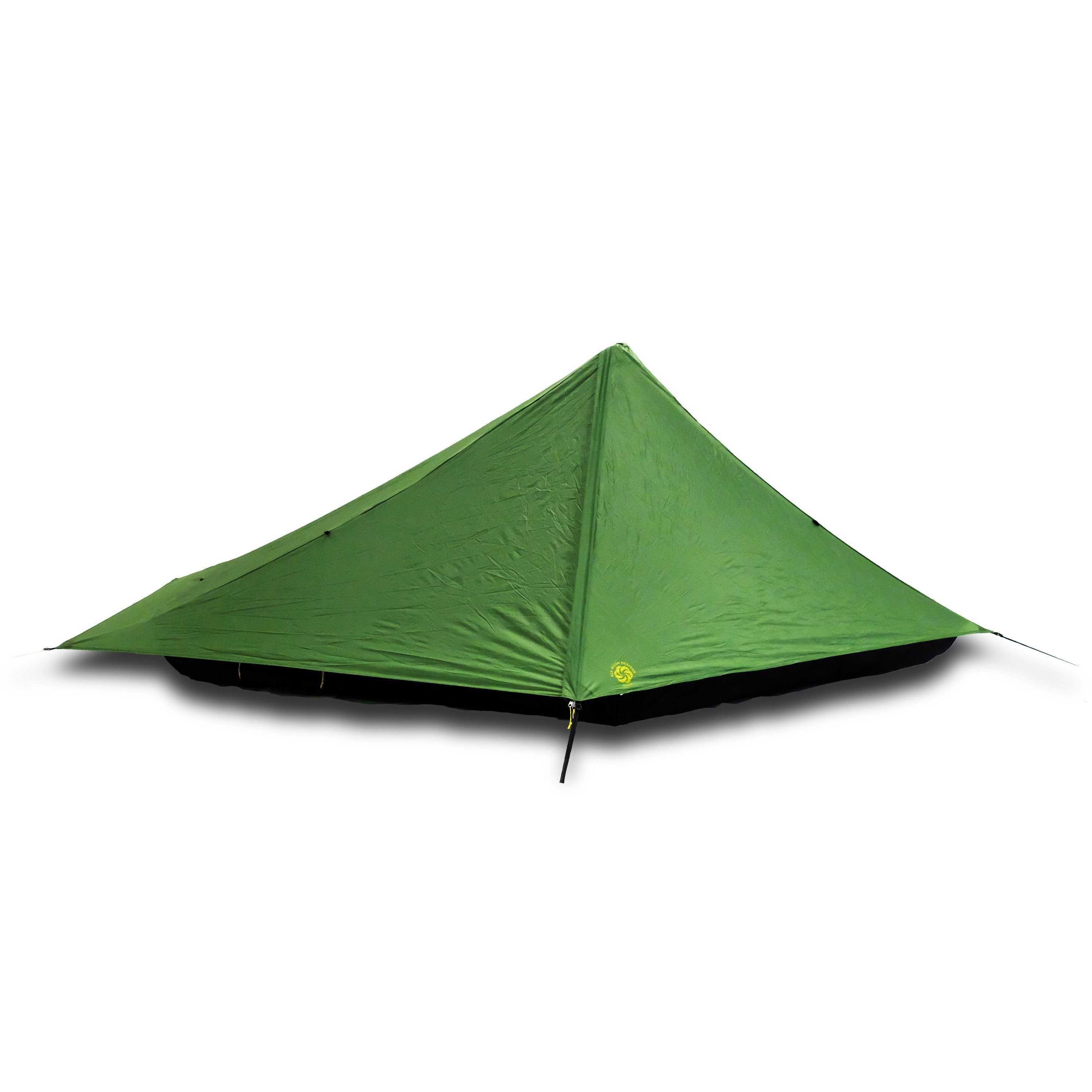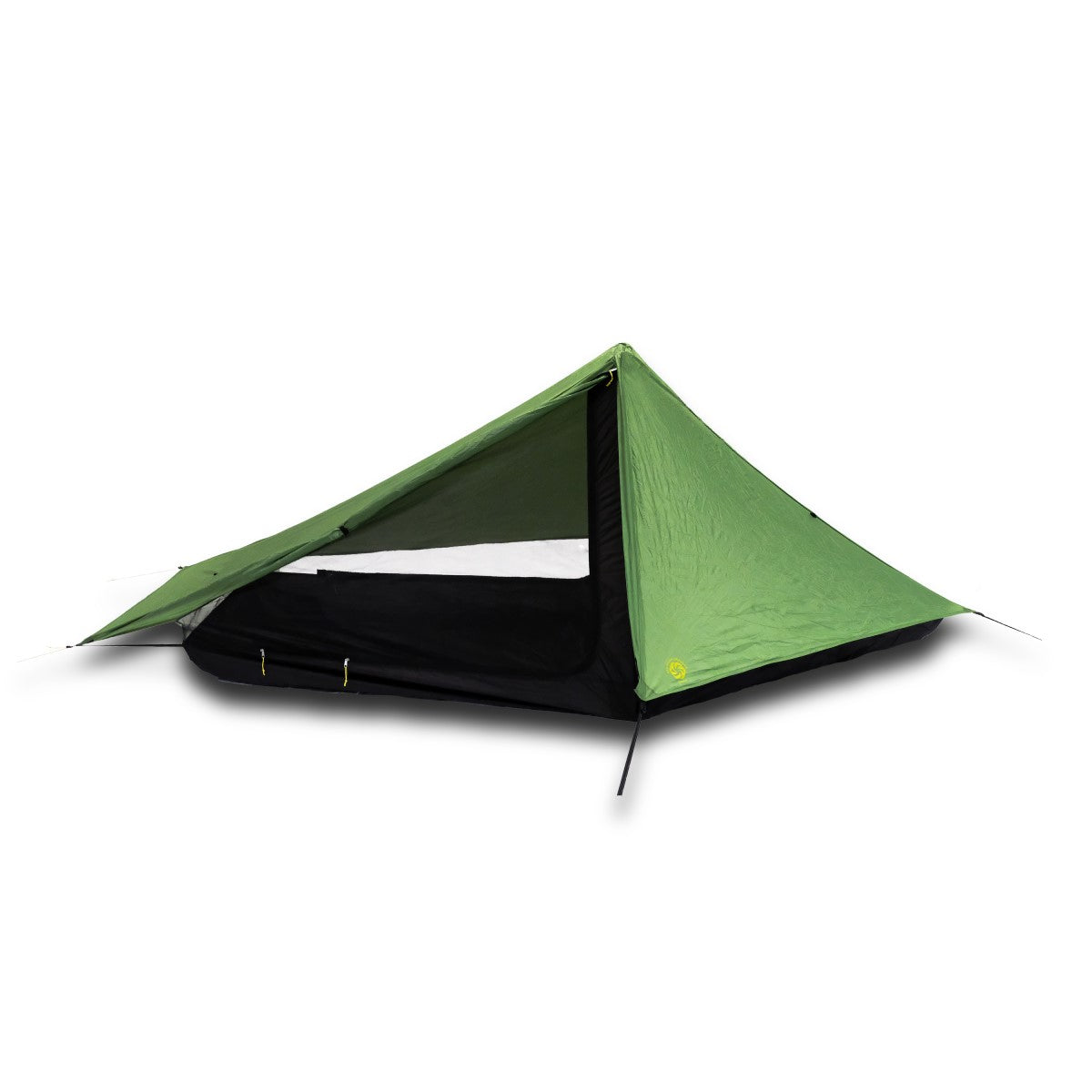 REQUIRES TWO POLES / HYBRID DOUBLE WALLED
40 oz – 1134 g Solo Backpacking Tent
The Skyscape Scout is the most affordable, lightweight tent on the market, so you can lighten your load on any budget.
You can just about go broke investing in ultralight gear. That's why we designed the Skyscape Scout because everyone deserves to be able to explore the great outdoors in lightweight comfort. Modeled after the popular Skyscape Trekker, the Scout has the same design with a more cost-effective 190T Polyester fabric.
*To completely repel water, shelters need to have sealer applied to the seams before use.
*We do not offer Seam Sealing Service for our Skyscape Scout and Lunar Duo Outfitter. These shelters are made of 190T Polyurethane coated polyester that requires Gear Aid's Seam Grip Plus FC to seam seal.

*Stakes and Support Poles Sold Separately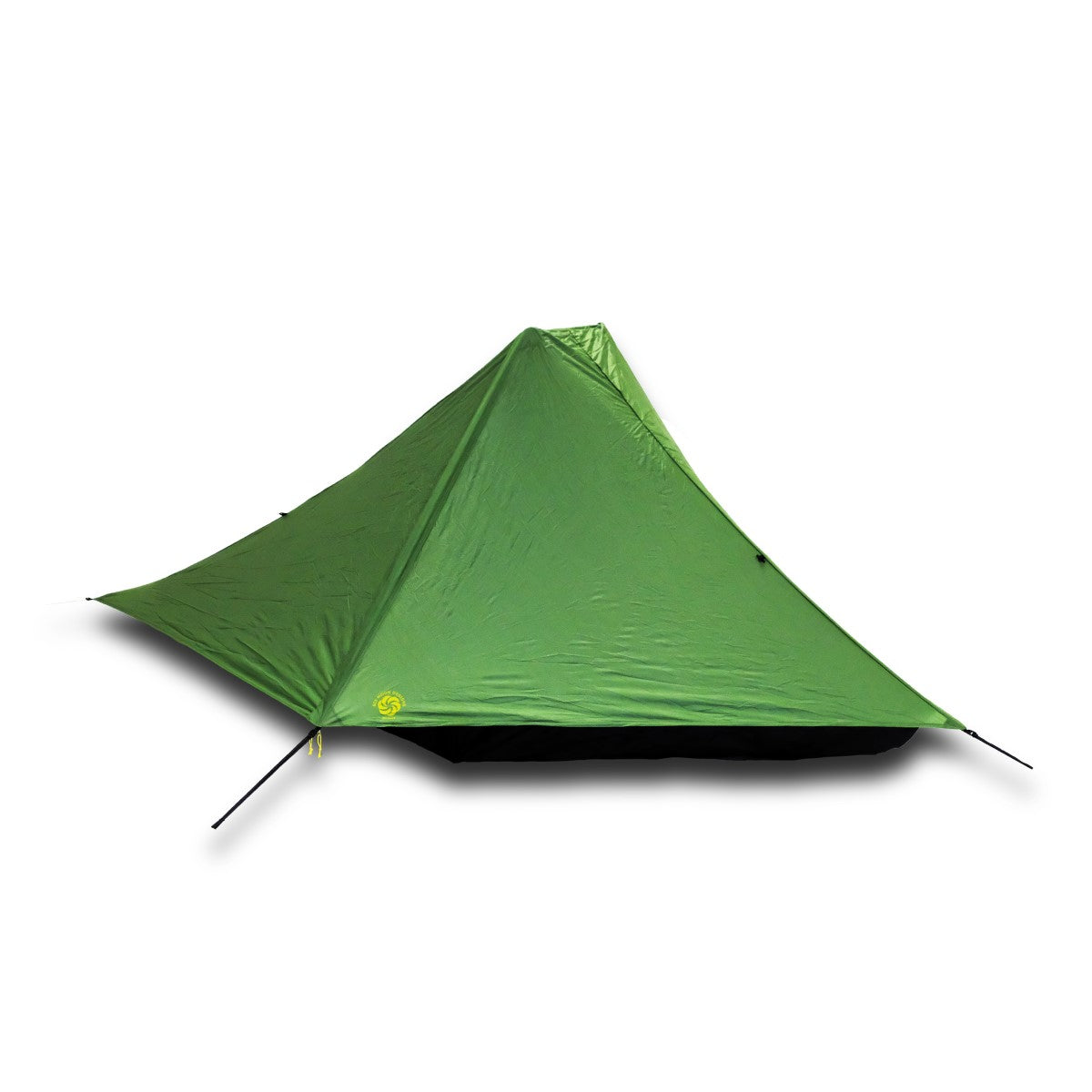 Design
All Skyscape models utilize a dual fixed length 45" or 115 cm pole support structure to create an A-frame like structure. This can be achieved through the use of trekking poles or our collapsible Aluminum and Carbon Fiber Poles (sold separately). While both poles work well with the Scout, the Aluminum poles are lower in price, while our Carbon Fiber poles are half the weight.
The dual pole structure is slightly offset from the center of the tent. The offset yields extra head room when lying down, reducing that claustrophobic feeling. Further, it allows the Skyscape to be extremely rigid when guyed out, creating a structure capable of riding out the worst storms.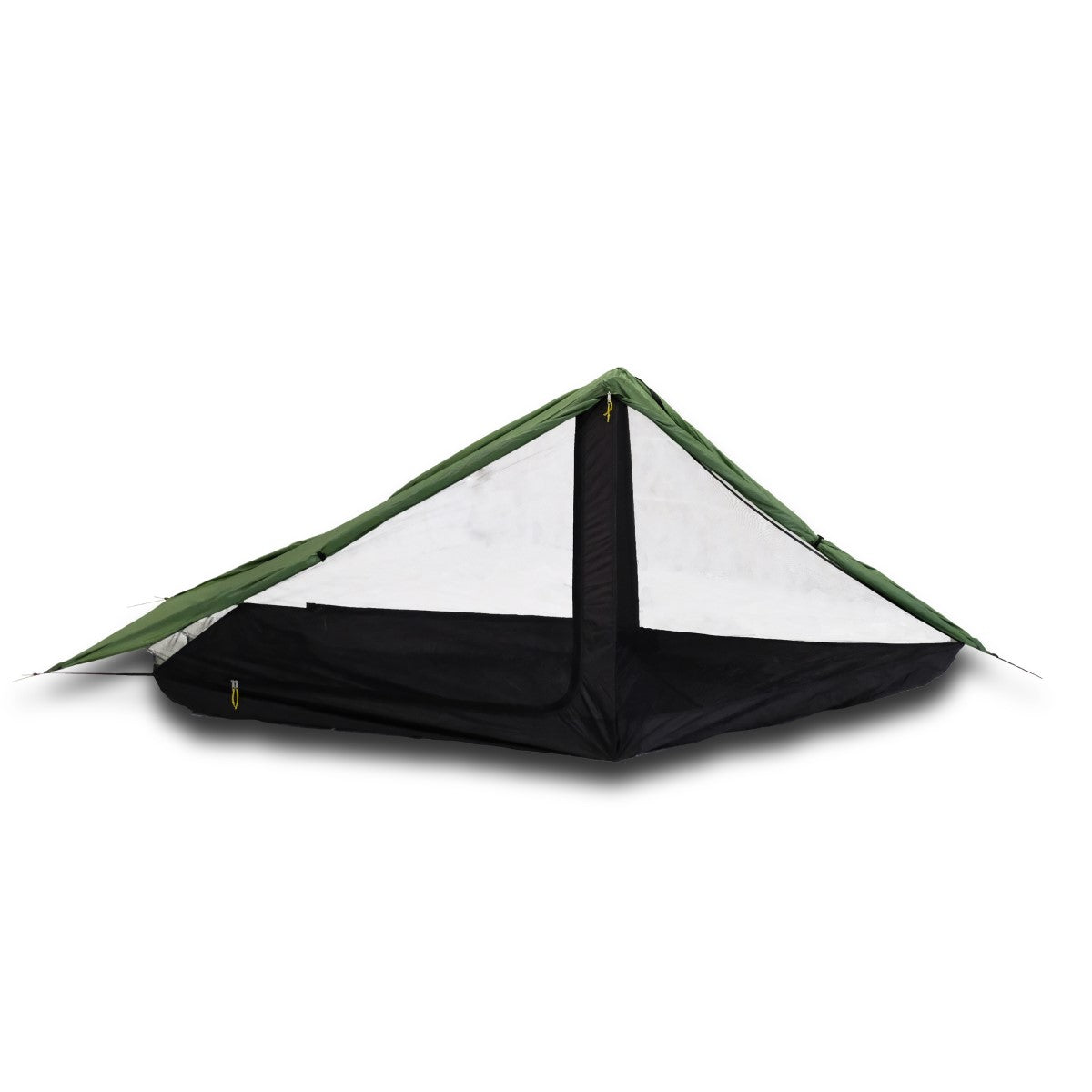 Construction
The Skyscape employs Hybrid Double Wall construction. Over 80% of the canopy is separated from you by a mesh wall, keeping that wet canopy at bay. The Hybrid Double Wall construction allows the vestibules roll back. On warm summer nights, convert the Skyscape into a net tent, pesky bugs stay outside while you enjoy the views and breezes.
The Skyscape's large side entry door lets you easily enter the tent or retrieve gear . With floor length over 100 inches, the Skyscape accommodates the tallest hikers. You can carry a light tent and still sleep well.
Scout Model
The canopy and floor of the Scout are constructed with 190T Polyester. Since this fabric is used in literally millions of tents, it is very cost effective. Incorporating Polyester fabric into the Scout makes it the most affordable ultralight tent on the market today.
The Scout is perfect for those starting to explore the world of ultralight travel.
Features
Hybrid Double Wall
Vestibules roll back for excellent views and ventilation.
Dual Pole structure is extremely stable in wind and snow.
Bathtub Floor
Stash Pocket
Extended floor for tall hikers
Side entry for easy access
Easy Setup
Packs extremely small
Ships With
Tent, Stuff Sacks, Guy Lines
Frame
Two 45" | 114 cm Poles (Not Included)
Lost your set-up instructions? Additional instructions can be downloaded here.
This product is rated 4.6 of 5.0 stars.
It has received 35 reviews.
Wet Weather Champion
First trip out with my new Skyscape Scout ended up being a wet one in the Washington Cascades. The weather ranged from mist to hard driving rain, but given the dense cloud cover and camping near a creek, I was a bit concerned to spend the night in a partially single walled tent. I am so impressed with how dry I stayed that I decided to come and write my first gear review.

Condensation did occur and I did have a towel to wipe down the interior a couple of times. Also worth noting I went over the seams twice and therefore used a whole bottle of the seam grip + FC. As a 6'2" person I will consistently guy out the foot end for a little extra space for the end of my bag. Other than that, space was not an issue for a person of my size. Vestibules are not exactly spacious, but there was enough room under them to store boots, backpack and cooking gear.
Easy to carry, easy to set up (even in the rain), easy to pack and all the protection needed to stay cozy and comfortable. I put in a lot of research before this purchase and I really think it would be hard to find anything better to carry in this price range, especially for someone looking for a 1p with enough space for a large camper.
Wet
One night of rain and everything I had was absolutely soaked. Even after using seam sealer, there was water coming through every wall of the tent. If you have to camp in the rain then don't bring this tent.
Scout rocks!
Took the Scout out for a weekend and it is impressive for size vs weight vs space. Now waiting for weather to blow in to see how it fairs when it's not nice outside!
Scout
Used this tent right away on a 5-day backpacking trip. Was everything I hoped it would be. I'm 6'1 and there was plenty of room inside to sit up. Easy set up and take down and at 40oz was a great purchase for the price. Sean sealing was also quite simple.
Lightweight quality tent at a fair price!
I bought this tent for motorcycle camping. I went with the Scout with the SMD CF poles rather than the trekker because I'm hard on my gear. I don't have any issues with sacrificing a few ounces for the thicker material. I'm very happy with the stitching and overall quality of this tent. It's lightweight and packs small enough to stow in my side case. I found it easy to set up, take down and repack. I set it up using both the purchased SMD CF poles and my trekking poles. I didn't have concerns with the SMD CF poles but I prefer the trekking pole set up as it seems more stable. I gave it 5 stars because it's well made, lightweight, easy to set up and competitively priced. Having said that, there are a few things I didn't care for. I found the oddly shaped floor plan a little narrow as my Nemo xl wide quasar sleeping pad was a snug fit. It pushed against the inner mesh sidewalls but that's certainly not a dealbreaker. The only other issue I had was that this tent is marketed as a good fit for taller campers however I was not able to avoid my top quilt touching the canopy all night. I didn't have any condensation issues on my latest trip but it would be a concern in more humid environments. I did have a few hours of moderate rain but stayed dry. I seam sealed the scout myself. Not a particularly difficult process and it took less than 30 minutes. Overall I'm happy with this tent and would recommend it to anyone looking for a well made and durable 1P shelter. Lastly, my sales and costumer service experience with SMD was top notch!