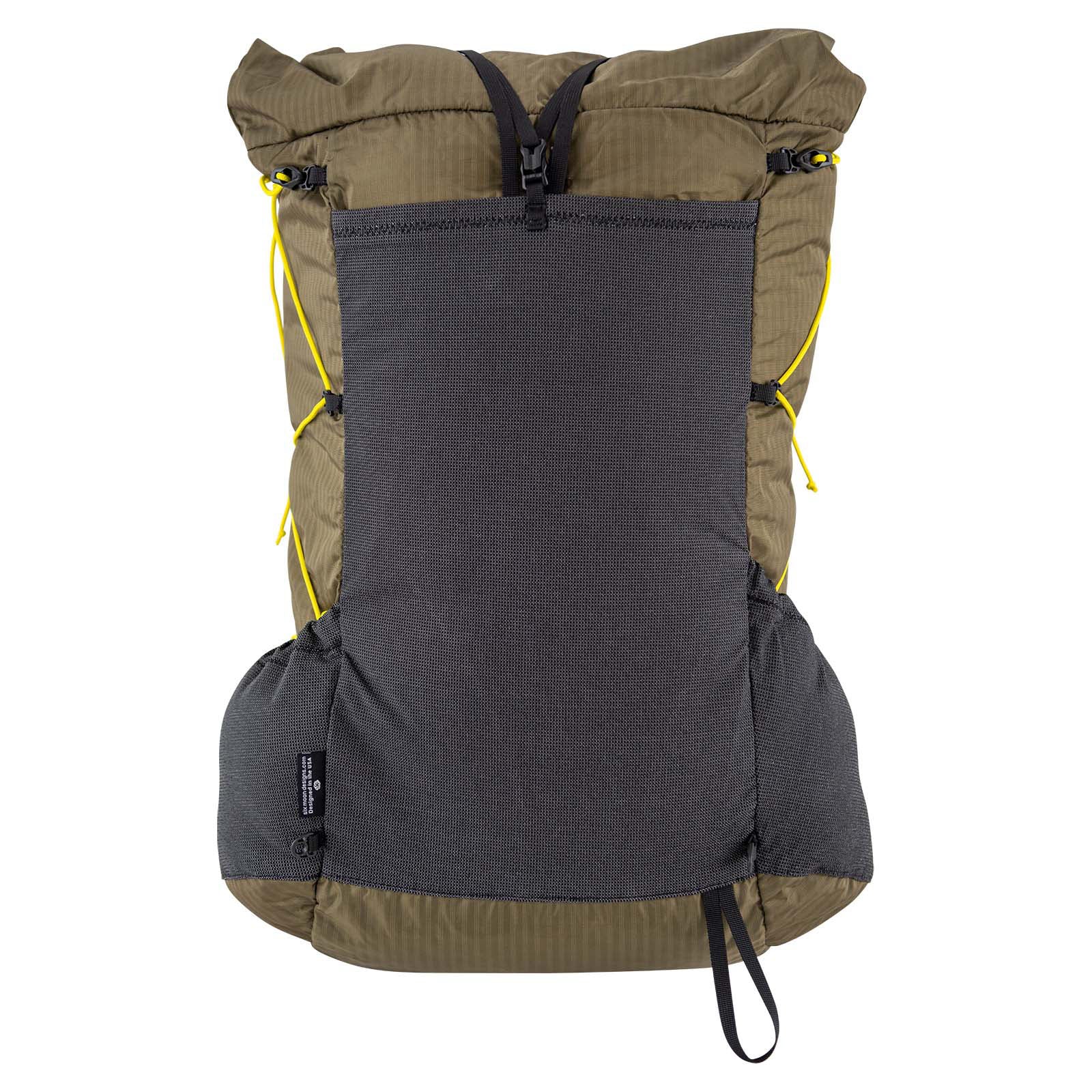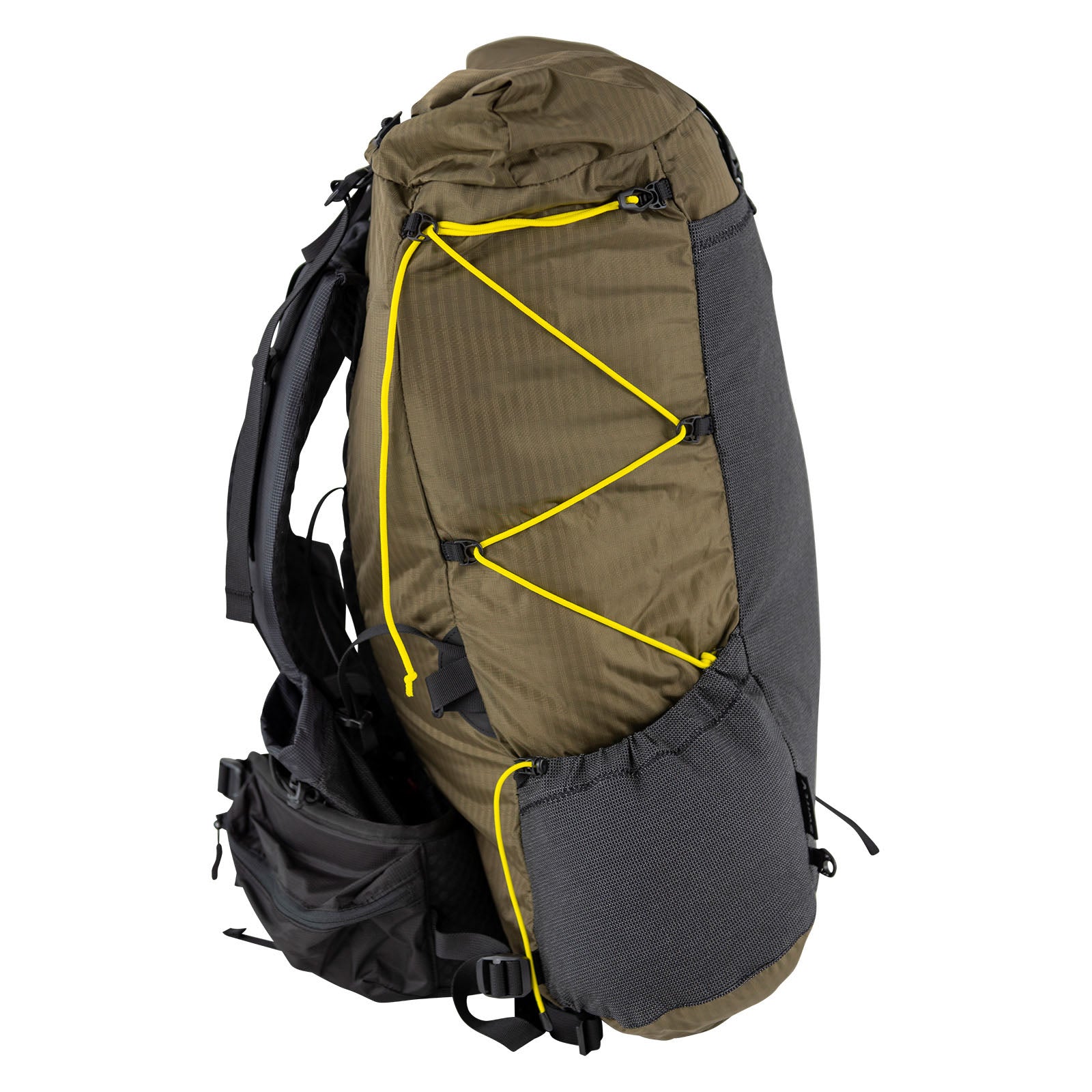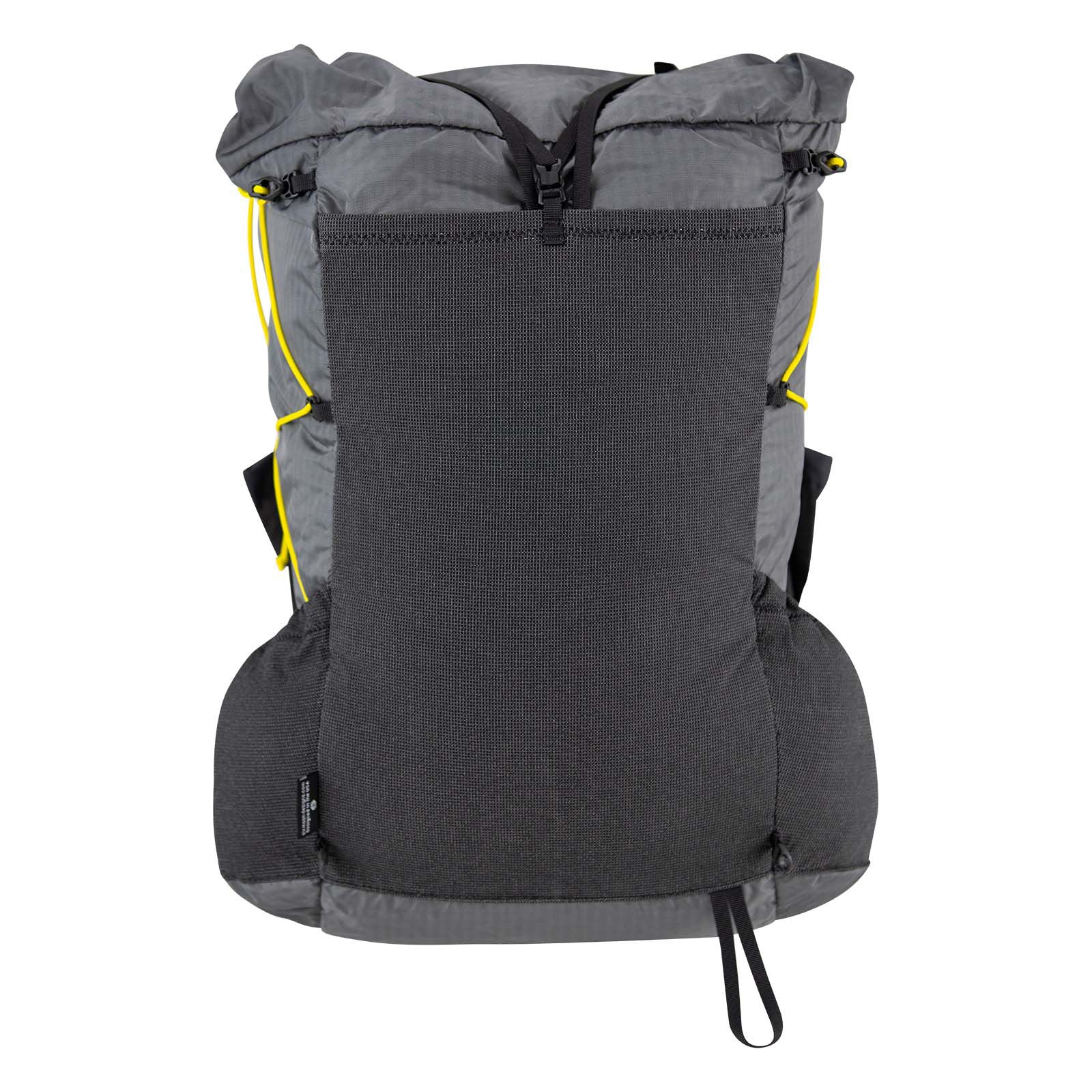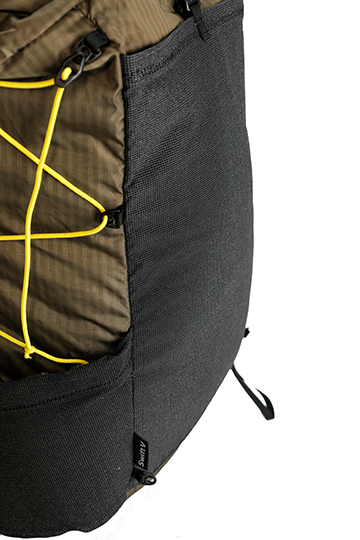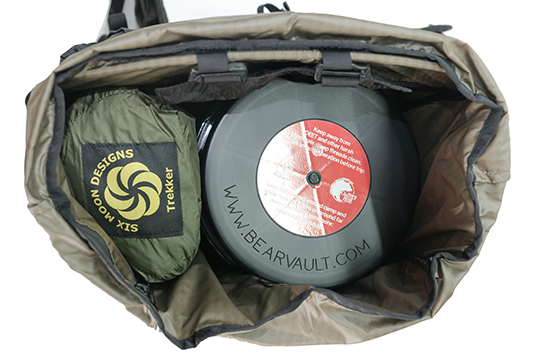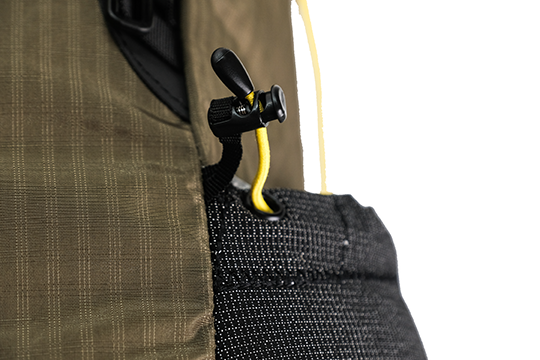 Swift V Hiking Backpack
---
An ultralight affordable backpack perfect for a thru-hike or weekend in the woods
50L Pack | Best for:
Thru Hiking
Bushwhacking and off trail travel
Price conscious hikers (tightwads)
Pickup available at 8250 Southwest Nimbus Avenue
Usually ready in 24 hours
Swift V Hiking Backpack
Robic Nylon Gray / Vest Harness - Large / Flight Hip Belt - Large
8250 Southwest Nimbus Avenue
8250 Southwest Nimbus Avenue
Beaverton OR 97008
United States
5034302303
⭐⭐⭐⭐⭐ Best value for weight and quality
"The swift V pack is so light and the vest harness is so comfortble. It makes hiking and camping enjoyable again. No more sore shoulders and hips. Hip belt is comfortable and pockets are a decent size. This one ticked all my boxes with only slight compromises. Perfect." - Michael
NOVEMBER 2022
Pack Updates
Interior pockets are now deeper allowing for a secure place for your passport, wallet etc…
All the stretch pockets have been upgraded to 

ultra-stretch

The pack now has 2 additional side straps so you can attach and secure the roll top either up top or on the side.
Six Moon Designs Logo and Pack name are now on a small woven label, and no longer silk screened to the woven stretch pockets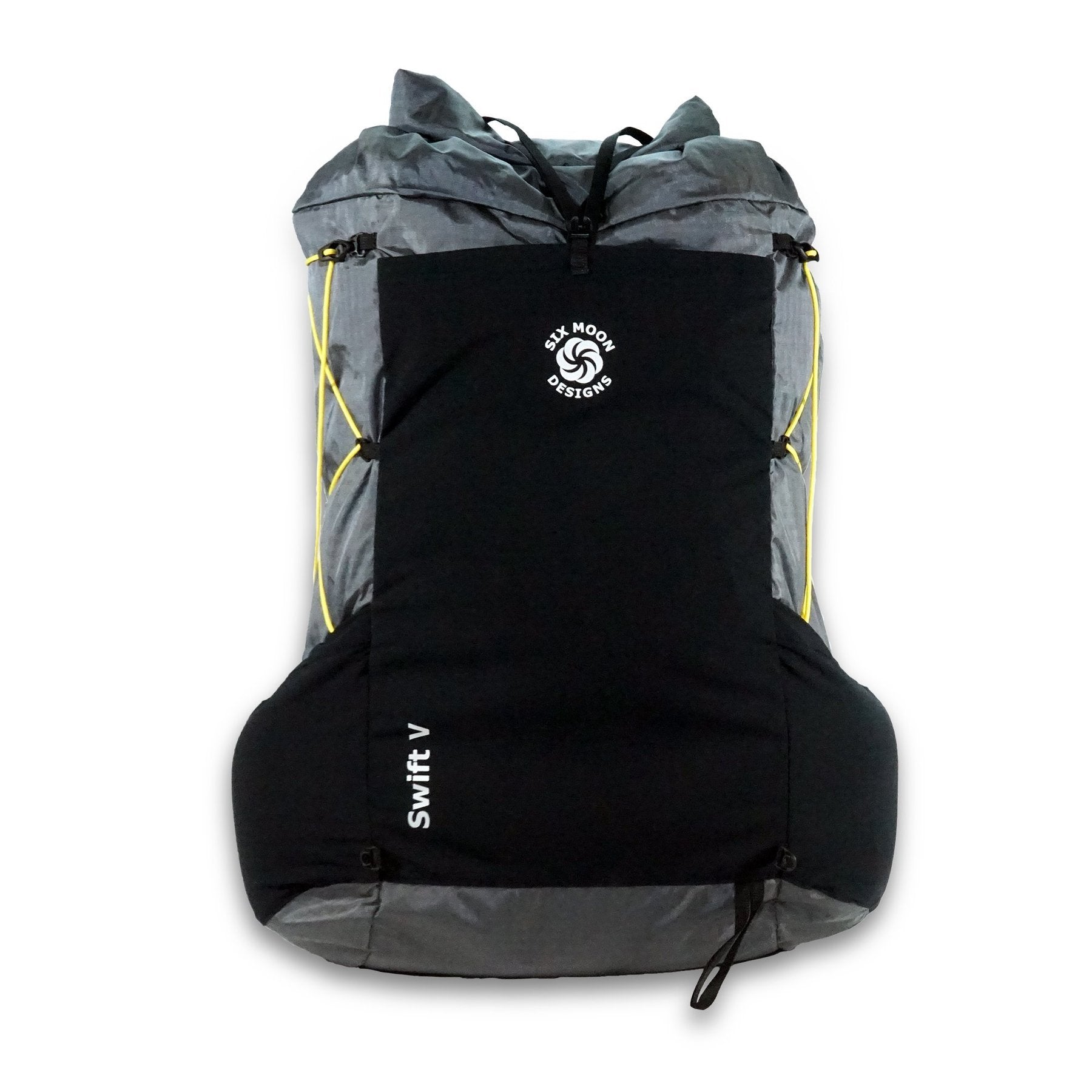 Before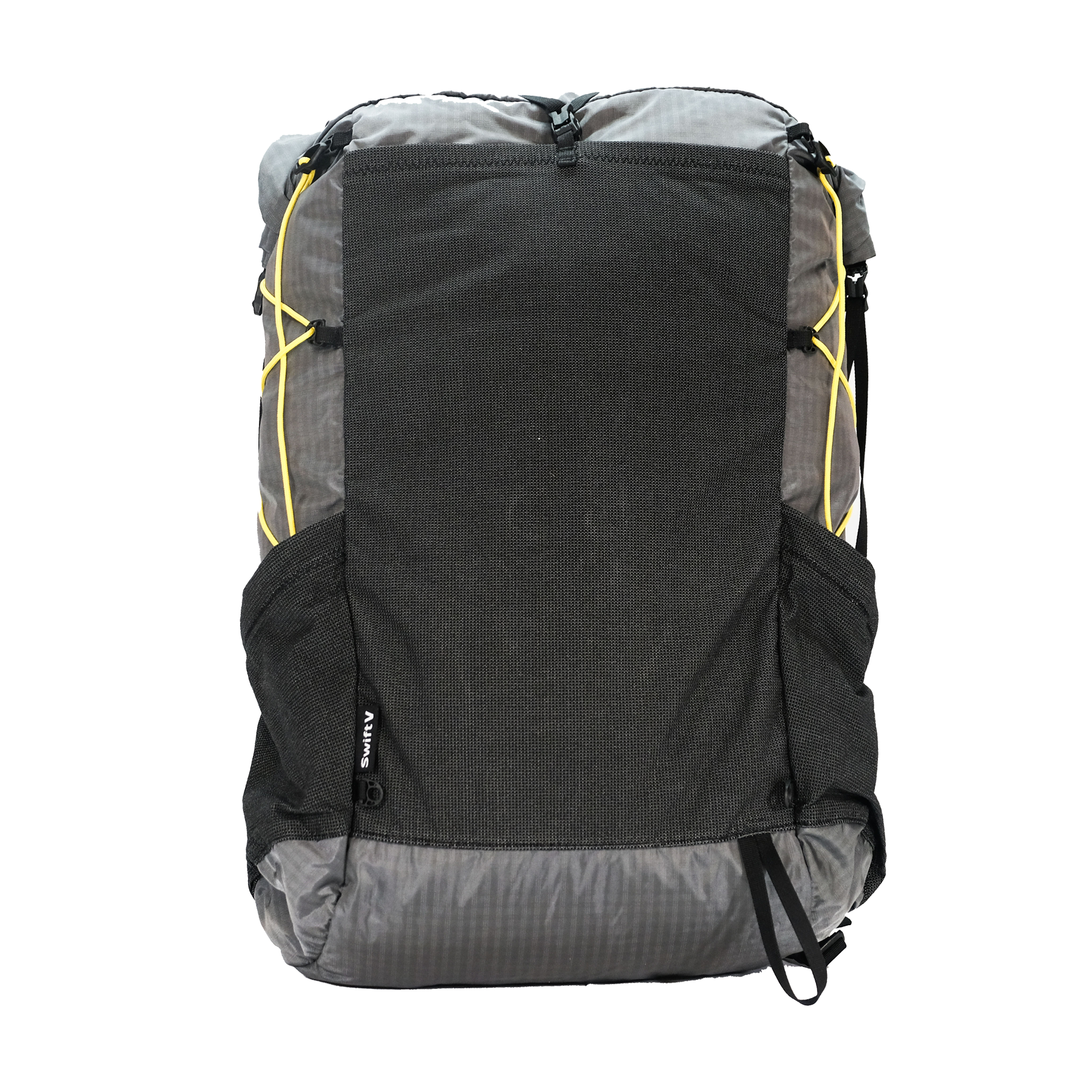 After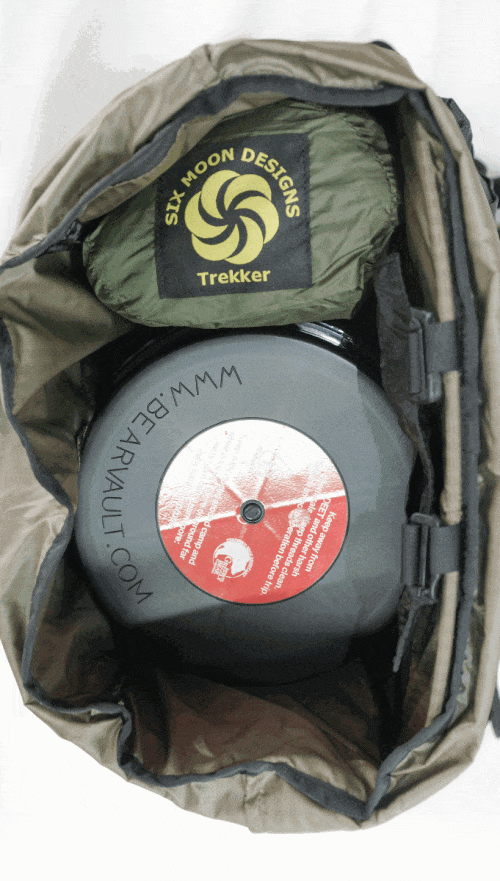 Streamlined and efficient, just like the Swift X, but with a more budget-friendly price.
35.96 oz - 1019 g Hiking Backpack
The Swift V is modeled after the popular Swift X. Over 10 years ago, we designed the Swift. Ten years later, we've added some modern upgrades to create the Swift X. And now we introduce the Swift V for the budget-minded hiker. The modular design means it easily configures to become your perfect pack for any adventure, be it a quick overnight trip or a calendar year triple crown.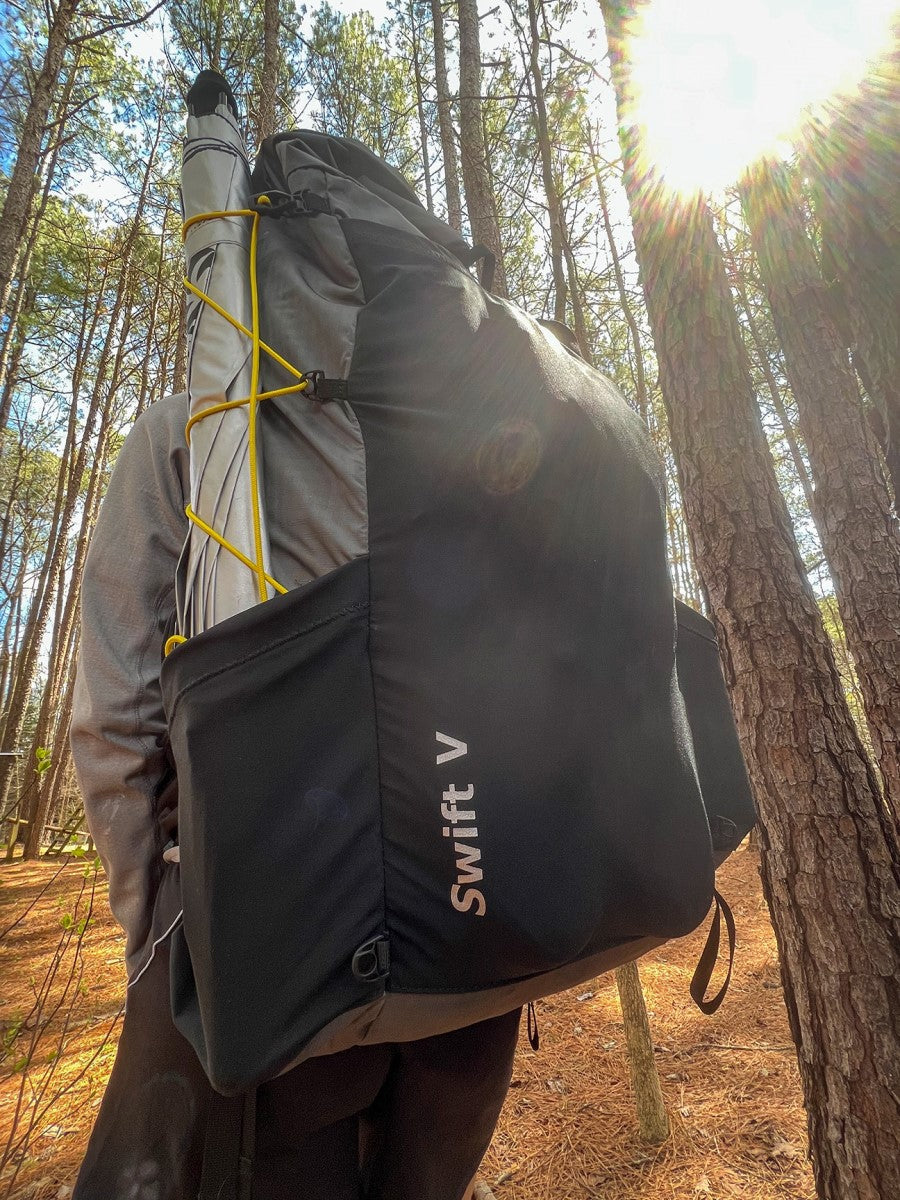 Overview
Modeled after the Swift X, the Swift V uses the same design but is constructed out of the more cost-effective Robic™ nylon fabric.
The Swift V still has all the features and benefits so many hikers love in the Swift X. It provides ultimate functionality in a simple design. It has a single 41L roll-top main compartment with a 10L extension collar for those resupply days. A Y-strap secures the load top and provides a convenient and easy attachment point for a bear barrel.

In the Standard Configuration with added Stay and Hip Belt, and shoulder harness, The Swift V weighs 37.7 oz. / 1069 g.
With the Vest Harness, you get additional stability in your load carrying and it brings the weight up to 36.1 oz. / 1023 g.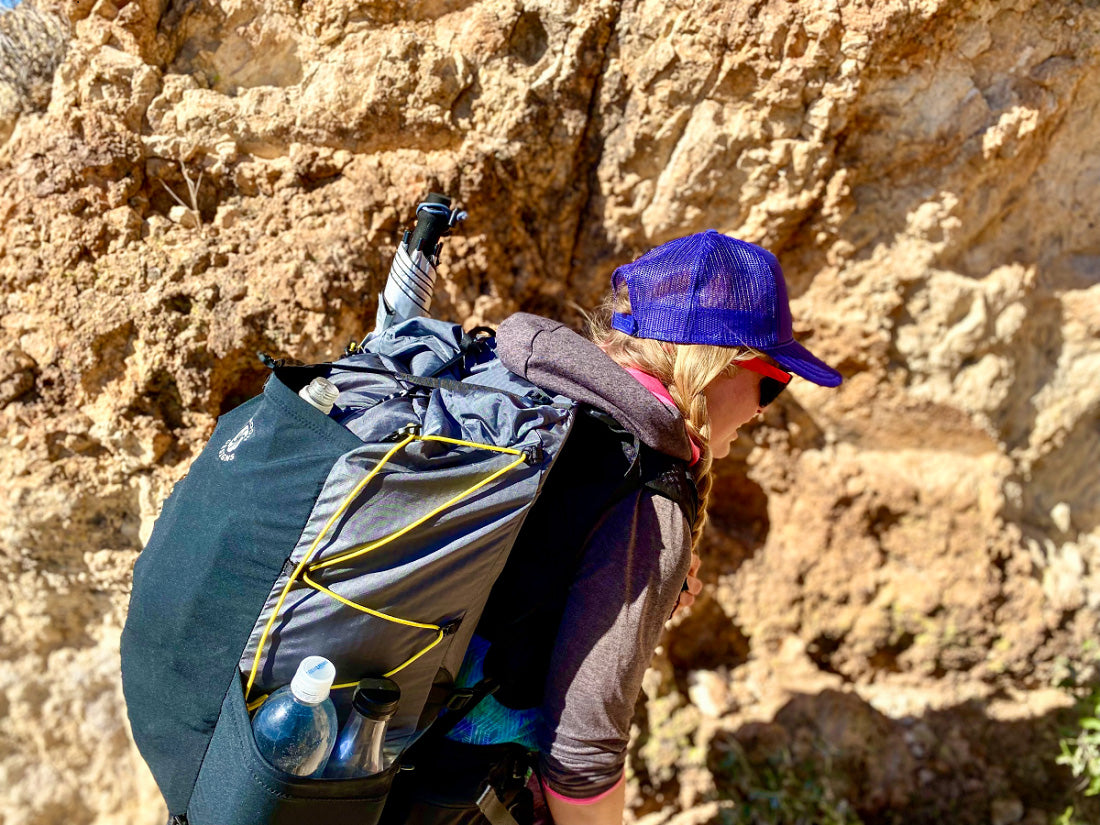 Pack Organization
Intentionally designed, the Swift V gives you easy access to snacks, your phone, maps, and all those little things you need to keep close at hand. You'll find you won't even have the need to take the pack off until you hit camp at the end of the day.
The Swift V uses Six Moon Designs' Fast and Light suspension system, allowing you to carry heavy loads with ease. That means you can crush those high mileage days in comfort.
The side water bottle pockets are made from 4-way stretch woven mesh. They are designed so that you can grab items easily while on the go.
Inside the main compartment, there is a zippered pocket for your wallet to keep it safe and secure and easy to access at the first sign of a burger joint.
With the Swift V, you don't have to sacrifice quality and intentional design just because you're on a budget.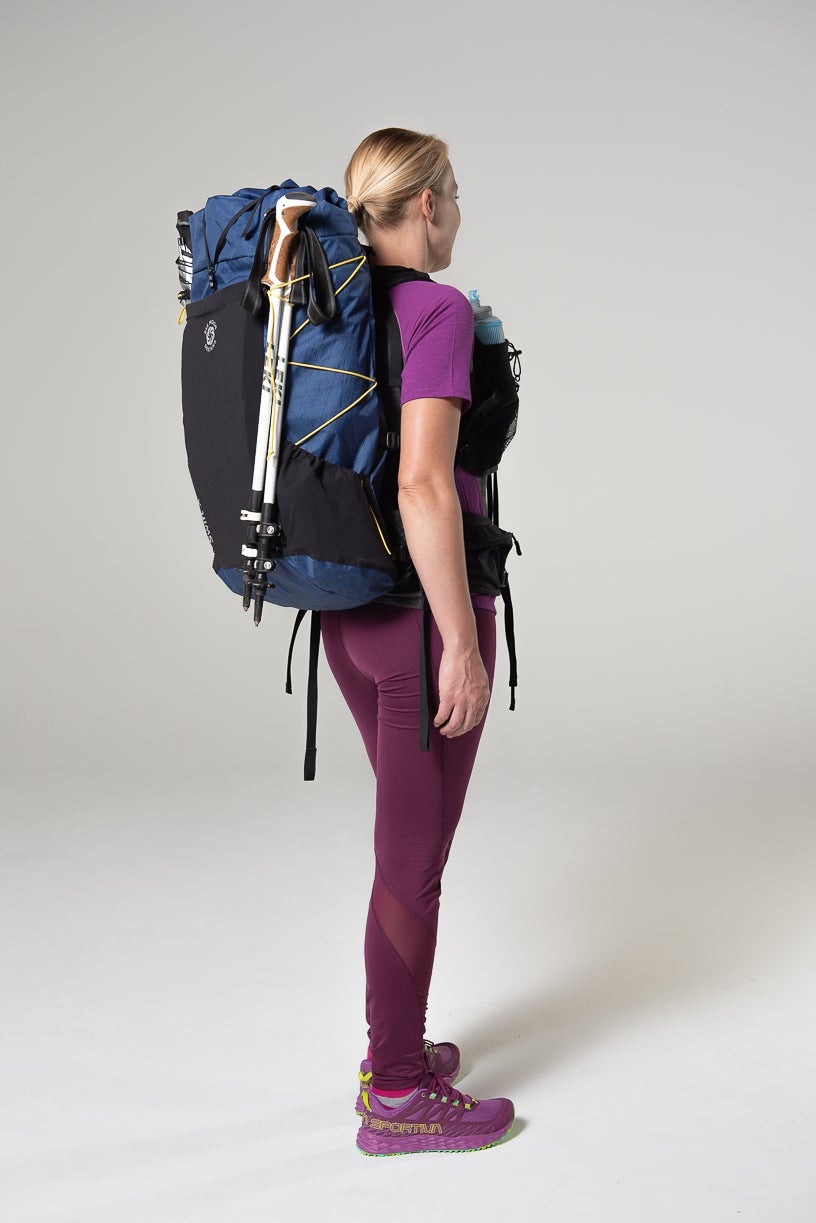 Versatility
The Swift V comes in a variety of configurations, so you can get the perfect fit for your body, and you can configure it for a variety of adventures. You can choose from a standard shoulder harness or vest harness. Each comes in 2 sizes.
The Swift V also comes with a removable hip belt available in 3 sizes.
Between the adjustable torso length, removable hip belt, harness options, and removable Delrin Hoop Stay, the Swift V can be dialed in to your exact preferences. Each configuration ultimately changes the weight of the pack.
We recommend using a 50L Pack Liner.
Suspension
Frame Configuration
The Swift V features a Delrin Hoop Stay Frame. 
Delrin Hoop Stay Frame Features:
Transfers load to the hip belt
Makes carrying heavy loads more comfortable
Reduces pack snag
Increases load carrying capacity by ~10 lbs | 4 kg
Recommended Base Weight: 12 lbs / 5.5 kg
Maximum Weight: 35 lbs / 15.8 kg
Frameless Configuration
The Swift V has the option to be configured without the use of the Delrin Hoop Stay Frame.
Frameless Features:
Decreases pack weight by 3 oz / 85 g
Great for fastpacking or super ultralight backpacking
Recommended Base Weight: 8 lbs / 3.5 kg
Maximum Weight: 25 lbs / 11kg
Harness Options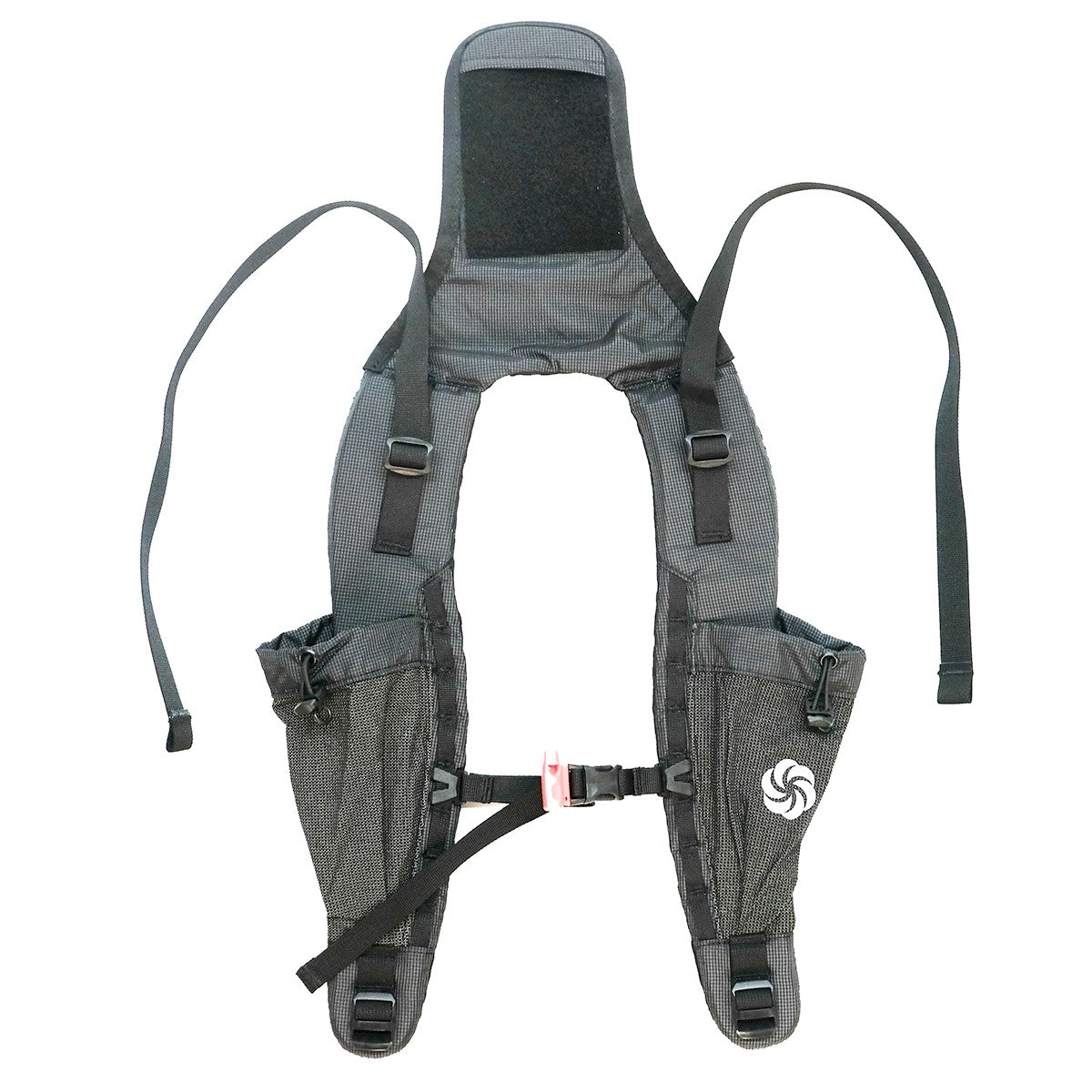 Shoulder Harness
✓ Traditional backpack shoulder straps
✓ Two 4-Way Stretch Pockets that hold 500ml soft bottles
✓ Sliding sternum strap
✓ Covers less torso area
✓ Weighs ~2 oz less than vest harness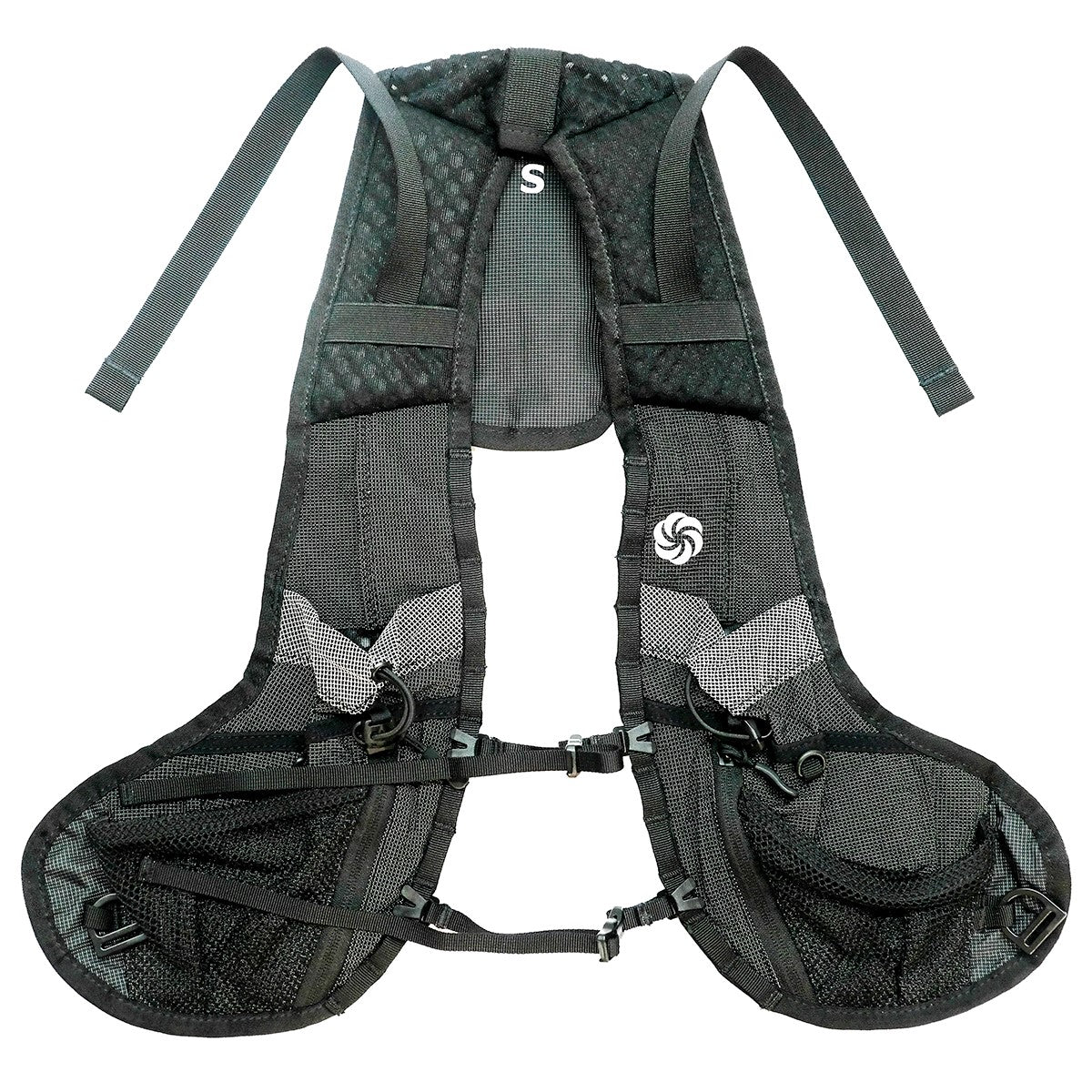 Vest Harness
✓ Six points of suspension between the pack and user
✓ Eliminates sway or bounce when walking or running
✓ Transfers some of the load to your core
✓ Helps to eliminate sores on your shoulders and hips
✓ Helps to reduce back pain after long days on trail
✓ Provides extra storage pockets and quick-access options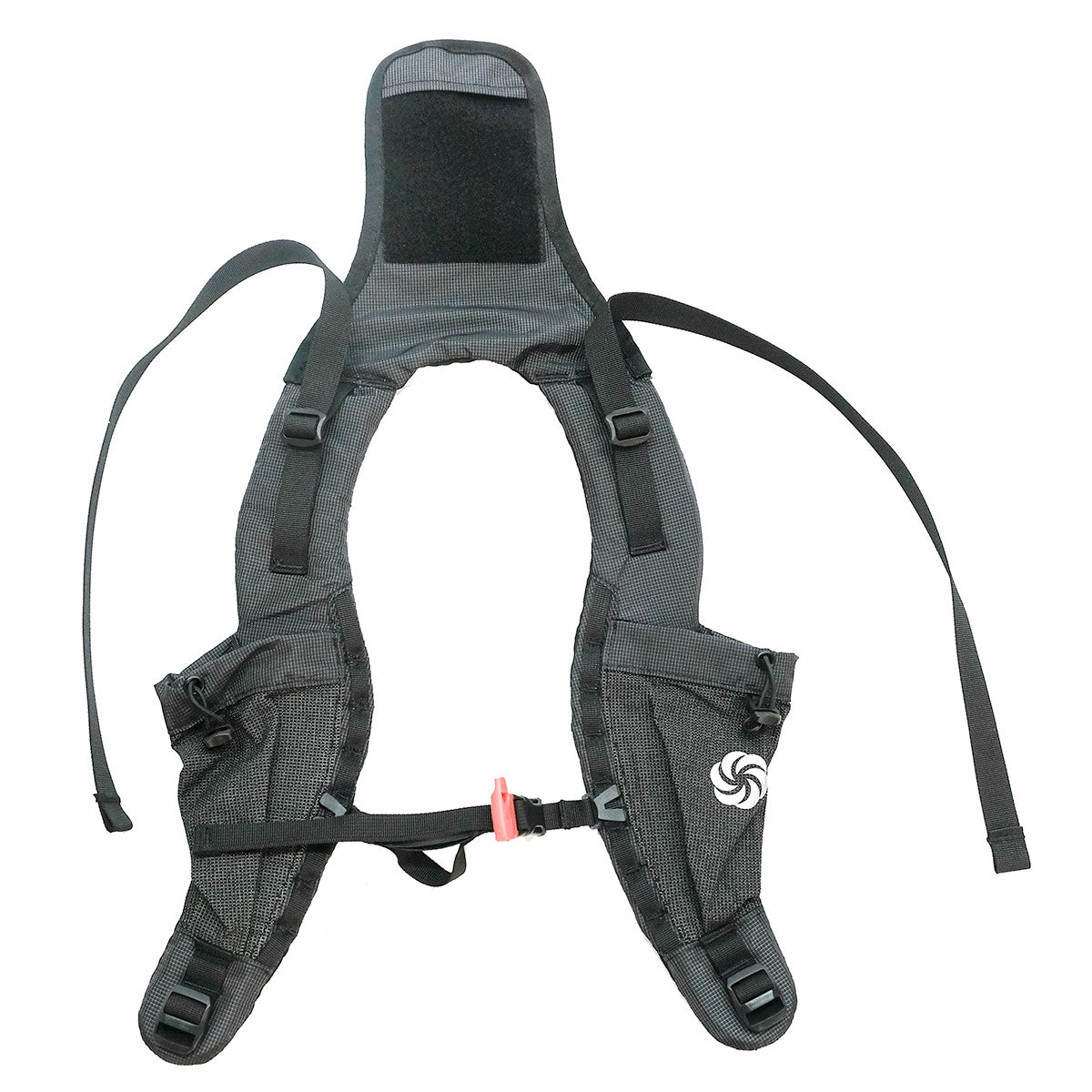 S-Curve Harness
✓ Designed to accommodate people with narrow shoulders that have a larger chest area
✓ Two 4-Way Stretch Pockets that hold 500ml soft bottles
✓ Sliding sternum strap
✓ Avoids covering chest for more comfort
✓ Weighs ~2oz less than Vest Harness
Features
Adjustable Torso Length

Three shoulder strap style options (Shoulder Harness, S-Curve or Vest Harness)

Three exterior woven pockets so you only have to unload your pack when its time to set up camp.

Rear Pocket

Two Side Pockets

Breathable and Durable 4-way Stretch Material

Large Shoulder Strap Pockets to keep things close at hand

Removable Hip Belt

Minimal Contact Back Panel
Top Loading with Dry Bag Closure

Internal Zippered Stash Pocket for your wallet and other small necessities

Multiple Point Cord Compression System to keep your load stabilized no matter the size

Single Ice Axe or Trekking pole attachment point

Two layers of material in key points to strengthen the pack and prevent holes.

Dual Hydration Ports

Removable Hydration Bladder

Sliding Sternum Straps on Vest and Shoulder Harness

Delrin Hoop Stay for added support on those heavy load days.
Dimensions
11" x 7" x 22" (WDT) | 28 cm x 18 cm x 56 cm
Uses
Lightweight Backpacking
Long Distance Backpacking
This product is rated 5.0 of 5.0 stars.
It has received 11 reviews.
Swift V with Flight Vest a great combo!
My brother & I had begun section hiking the AT. My 20+ year old backpack was giving me back and shoulder discomfort while carrying very little weight. Wanting an upgrade, the Swift V with the Flight Vest was a good choice for me. It redistributed the weight so that my back & shoulder discomfort appear to be things of the past all while carrying more weight. If you are looking for a more comfortable backpack, take a look at the Swift V with the Flight Vest. I don't think you'll be disappointed.
Great so far
I've only worn the pack for 2 weeks now while training locally in Florida for the PCT this year. I've worn it with ~16 lbs of gear in it and wow is it comfortable and it distributes the weight very well. Once I've put some more miles on the pack I'll probably make a YouTube video review about it.
Super Customizable
This pack is comfortable and easy to pack, but where it really stands out is how customizable it is. It helped a lot that you could adjust the yoke. The hip belt has two adjustable straps, so you can get it to sit just right. Even the chest straps can be moved up and down. With all this, there's a high chance you can make it super comfortable for your frame. The compartments that are available are also handy and not excessive.
Quick and timely
Ordered a the Swift V with two harness options. It arrived quickly and with very good instructions with how to adjust torso length of the pack itself and hip belt. Thank you.
Move over hubby, I have a new love
Love it..... seriously love it. After reading all the reviews on the flight vest option I felt this would be ideal for myself after years of military service, being a smaller female, improperly fitted rucksacks over the years while serving put stress on my shoulders, especially my trap area causing painful swelling. After receiving my pack I will never go back to anything else, the way it keeps my load firmly to my body with no movement or pressure on that sensitive area is a dream...thank you! thank you! thank you!