Backpacking gear has changed so much over the years, thankfully! Many, like myself, started out with the "heavy but affordable" gear, such as the 5 lb sleeping bag and 7 lb tent and took a number of years to upgrade. In preparation to hike the PCT in 2012/ 2013 I bought my first ultra light backpack, the Six Moon designs Starlite 65 L, worthy of such an adventure and fully capable of hauling 35 pounds and a bear canister with the optional aluminum stay. When I left Kennedy meadows my poor pack was loaded up with 12 days of food and weighed a total of 40 pounds, frankly I was mortified, but knew it would get lighter by the day.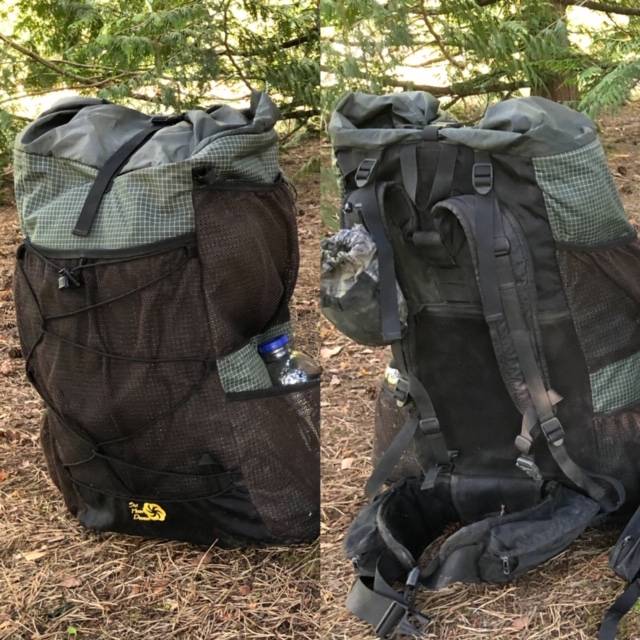 The Sierra Nevada mountains were magical with their vast granite peaks and massive boulders, crystal clear creeks and stunning views. At the base of 13,153 'ft Forester pass, a late May storm rolled in with gusting winds and snow flurries, my trail friends Forgetmenot, Epath and I set up our tents hurriedly while searching for rocks to hold our guy ropes down and for a wind break . Heavy mist closed in over the mountains and rain patterned on tents. I adjusted and readjusted the guy ropes and in the middle of the night sat up and held my pole and watched as the wind sucked the sides of my Gatewood Cape way in and then let go. I knew it would take the abuse but I wasn't sure if the extremely thin guy ropes would hold and my Cape would blow into the darkness. The morning light saw no damage , it was freezing and a few random snow flakes remained, but the promise of clear skies was ahead.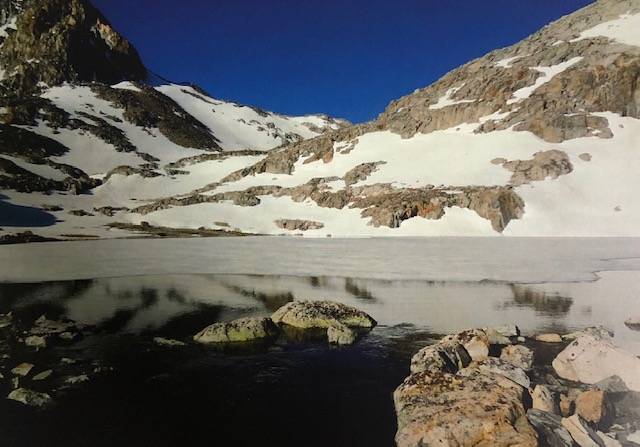 I love to be up at first light to watch the sunrise and be on my way, on one particular morning before Mather Pass amid frosty ground I came to a fast rushing creek that was too wide to rock hop and was void of a handy log to cross. After going up stream I saw two larger rocks and decided to cross there, my socks and shoes were already wet from the many crossings of the previous day and as I leapt my landing foot skidded on the ice cover rock and down I went into the creek, stuck literally between a rock and a hard place. I was like a dam squatting between the two rocks while the force of the water crept up my backpack. The pressure was trying to hold me down as I wedged sideways and finally was able to stand , chiding myself for such an idiot move , I'd bent my hiking pole, was wet from the thighs down and yet amazingly although the water had been racing across my back above my waist I was not wet there, between the length of my home-made Tyvek jacket and the protection of my pack, I was not wet over my waist.
After nearing the visible pass and navigating slowly to the top through many large patches of snow the northern slope was a much different story, very steep and apart from the first two switchbacks none were visible. I spotted tracks further down leading off into no mans land and decided to look for a way to follow them , thinking I could glissade down, I prepped myself on the ground leaning back on my pack and used both poles under one arm as a brake, it quickly became apparent that the slope I was headed down was not in the direction of the tracks but in fact headed for rocks. Thinking fast I worked out a plan to use my legs as a spring at impact, while trying to dig my poles into the ice to slow my descent I felt and heard a "snap" and knew the bent pole had succumbed and that I was not going to be able nor want to, climb up 500 feet and retrieve it . I landed safely and when I looked around to see how high up the pole bit was, I realized I had "Z" poles and it was still attached, hanging by the thread. All to be fixed later in the day with copious amounts of duct tape.