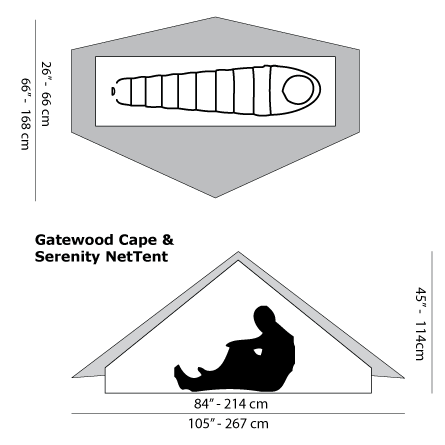 Serenity Ultralight NetTent
A simple solution to bugs and pests. Period.
1 Person NetTent | Best for:
Thru Hiking
Bikepacking
Bug filled Adventures
---
Pickup available at 8250 Southwest Nimbus Avenue
Usually ready in 24 hours
Serenity Ultralight NetTent
8250 Southwest Nimbus Avenue
8250 Southwest Nimbus Avenue
Beaverton OR 97008
United States
5034302303
⭐⭐⭐⭐⭐ Don't be Afraid to Sleep Outside!!
"Probably my favorite piece of gear now! Use it on a beautiful night or pitch the Gatewood Cape over it for wind/rain/snow protection. My suggestion.. Find a surreal setting and enjoy the views!!" - Dirtbag Outside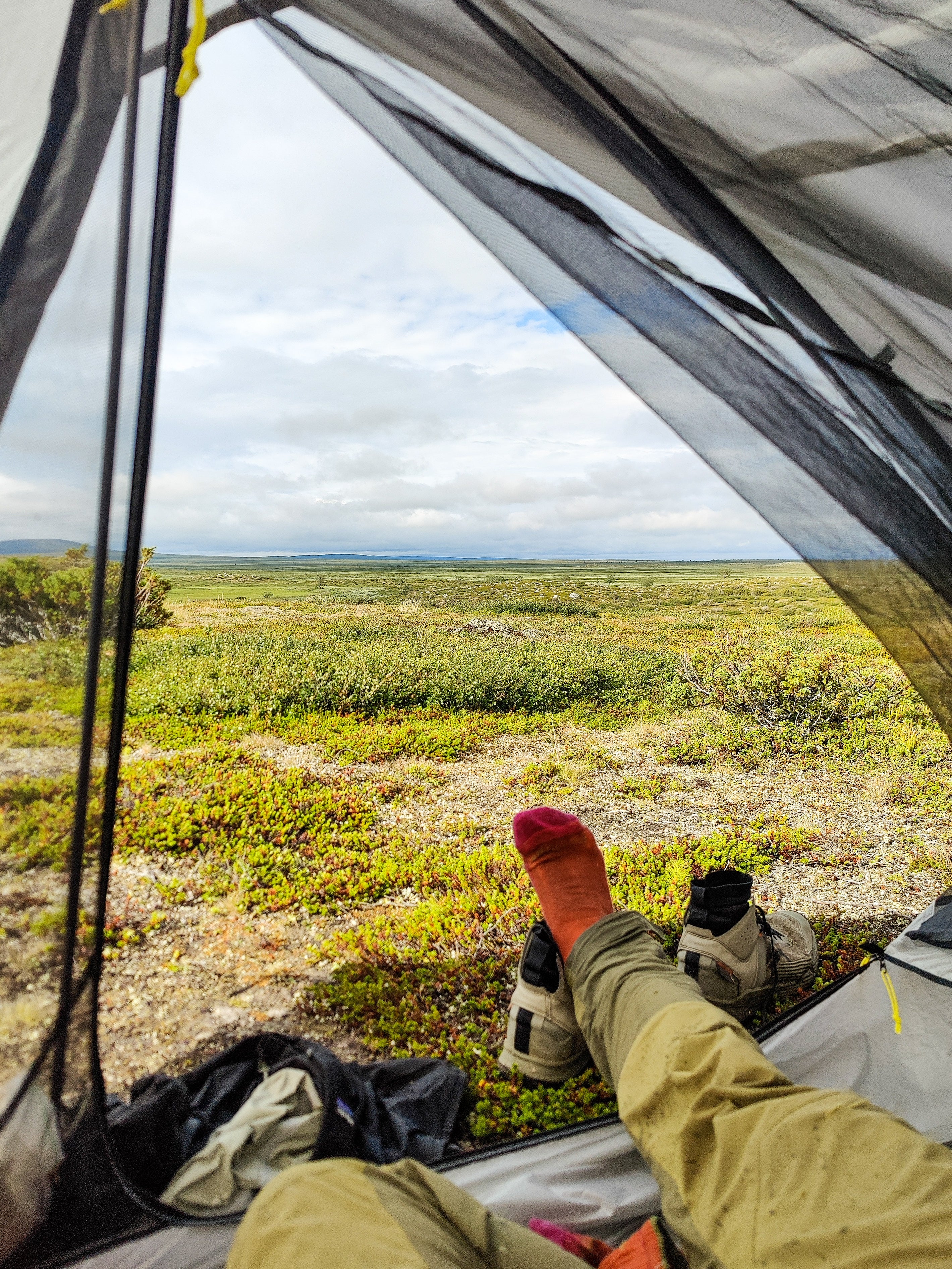 REQUIRES ONE POLE
11 OZ – 312 G Solo NetTent
A simple solution to bugs and pests. Period.
Sometimes the best solution is the simplest. The Serenity NetTent provides a simple solution to dealing with insects and mice and other creepy crawlies. Its small footprint means you can set it up anyplace. It is a great solution for a bug-free night of camping in fair weather or for those sticking to open shelters on the Appalachian Trail.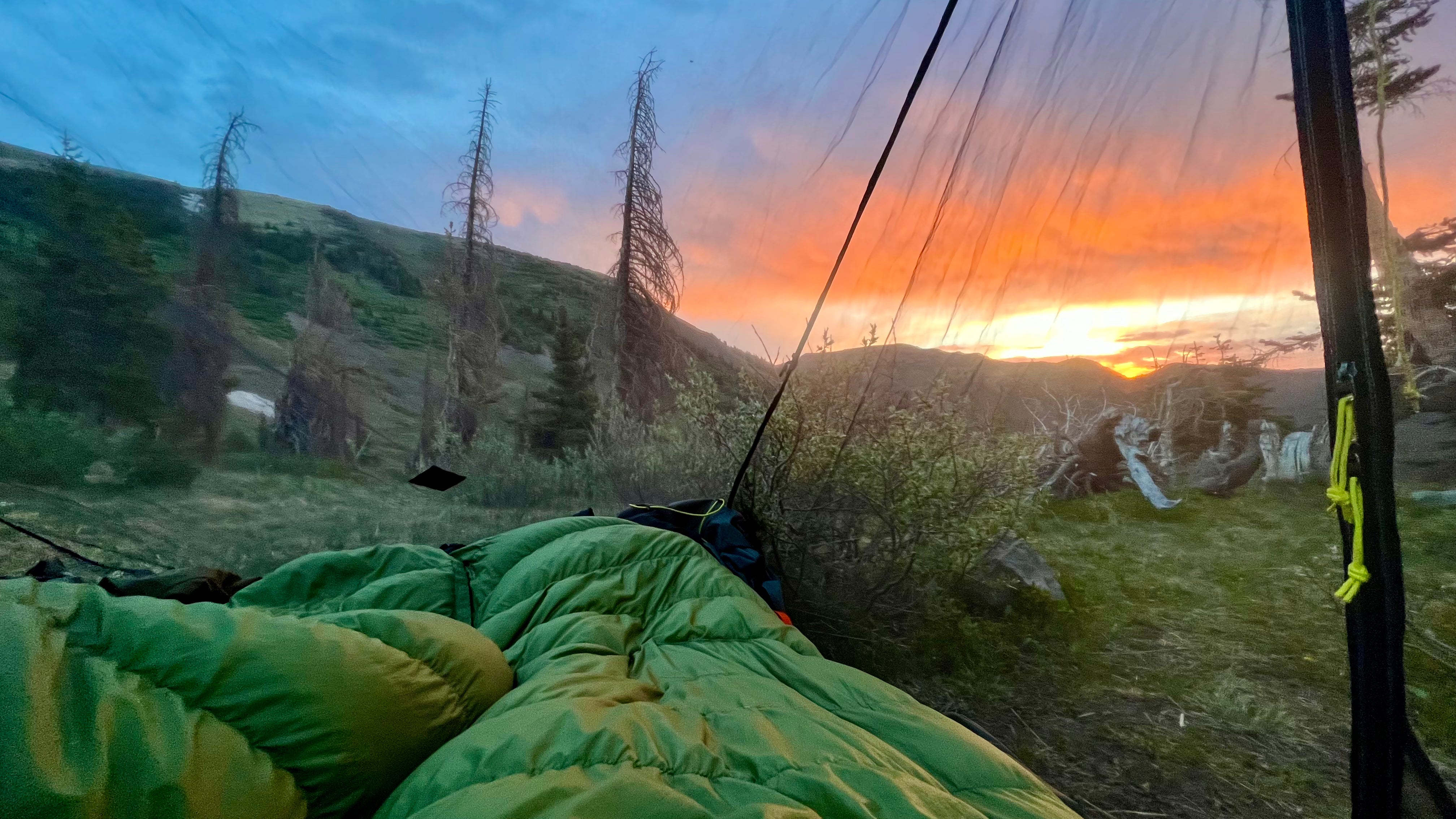 Description
The Serenity has a large over-sized door to make entering and exiting easy. No need to shimmy out of a long tube. Nor do you need to detach it from a cape or tarp when exiting. The ends of the Serenity are 8" tall. This effectively lengthens the floor and raises the netting off your face.
For hikers on the Appalachian Trail who spend many nights in shelters, the Serenity is the perfect companion. Since it takes up no more space than a bivy you won't be crowding out your neighbors. Yet it's easy to hang from the roof and guaranteed to keep the mice at bay.
The Serenity is the perfect mate for either the Gatewood Cape or Deschutes Tarp. Used together, the two make a great lightweight double-wall shelter. And on nice nights, simply set the Serenity up by itself and you've got a great star gazing shelter.
Features
Quick Connect easily mates with Gatewood Cape or Deschutes Tarp.
Full Zippered Entrance
Standalone Setup for clear nights when you simply need some bug protection.
Ultra-light No-See-Um Netting
Easy Setup
Bathtub Floor
Reinforced corners
Bathtub Floor Depth Sides: 3"
Bathtub Floor Depth Ends: 8"
Ships With
NetTent, Stuff Sacks, Guy lines
Floor
30D Silicone Coated Nylon
Frame
Single 45" Pole(sold separately)
Floor Dimensions
84" x 26" | 214 cm x 66 cm
This product is rated 4.9 of 5.0 stars.
It has received 9 reviews.
Pairs brilliantly with my Gatewood Cape!
I've had my Gatewood Cape for over a decade and had always paired it with a TI Goat Ptarmigan bivy I already owned. But the bivy turned up missing as I prepared for a recent 5 day/55 mile trip in the high Sierra. I got the Serenity net tent as a replacement and loved it. My Serenity weighs 10.0 oz in the stuff sack, so only about 3 oz weight penalty vs the bivy. I'm happy to make the trade off for the much roomier Serenity. I'm 5' 10" and 155 lbs and found the Serenity plenty roomy for me and all my gear. I could sit upright with room to spare. The modular design of the Gatewood + Serenity allowing me to cowboy camp, use net tent only, or go full protection with both is a nearly ideal shelter set up for me.
The NetTent needs some tweaks for a guy my height.
The netting touched my body during a mild breeze. In my opinion, guyout loops (or something) is needed on each end of the NetTent to prevent the netting from draping onto my feet and head. The angle of the netting on each end is too steep for a person my size. I really wanted to like it, as there is not much out there quite like it.
Love it!
For those interested in weight, it weighed 10.1 ounces on my scale with stuff bag. Word or caution, be very careful when stuffing the nettent into the included mesh bag, I ripped the mesh bag first thing. They quickly sent me a new larger replacement bag for free... Thank you. This tent is exactly what I was looking for here in Southern California. Bugs can be problematic in the mountains, but it rarely rains here. And, this nettent delivered perfectly, it takes up very little room in my bag. Roomy enough inside for a ground pad. Easy to unzip, get in, get out, sit up, etc. It's small, but larger than a bivy. I'd recommend it. I've also got the Gatewood Cape which I've been using for several years and they work well together.
"Serenity Now!!"
I have used my Lunar Solo on several backpacking adventures and thru-hikes. I found myself wanting a smaller and LIGHTER version to move my base weight down, as well as provide some versatility to have a full net for use under a canopy or in a shelter type situation. The Serenity net tent does just that. I found it to be enough room for my gear (I use a 3/4 pad, and have my pack under my feet) as well as tall enough to sit up. I used it with a ultra light poncho in dry but windy conditions and it worked great! The light weight, smaller footprint and easier staking makes this a go to, if only SMD would put out a small bare bones shaped dcf type tarp- yes, I am aware of the other products, but I am referring to something a little smaller and lighter. This is a great product, and a grest company!!! Thank you SMD!