As discussed in Part One: Introducing the Camino de Santiago (March 23, 2021), there are an infinite number of start points for a journey towards Santiago de Compostela. I've enjoyed walking several different routes across Europe over the past eight years. Selecting the ideal pilgrimage comes down to time of year, physical fitness level, and the personal reasons for walking the Camino.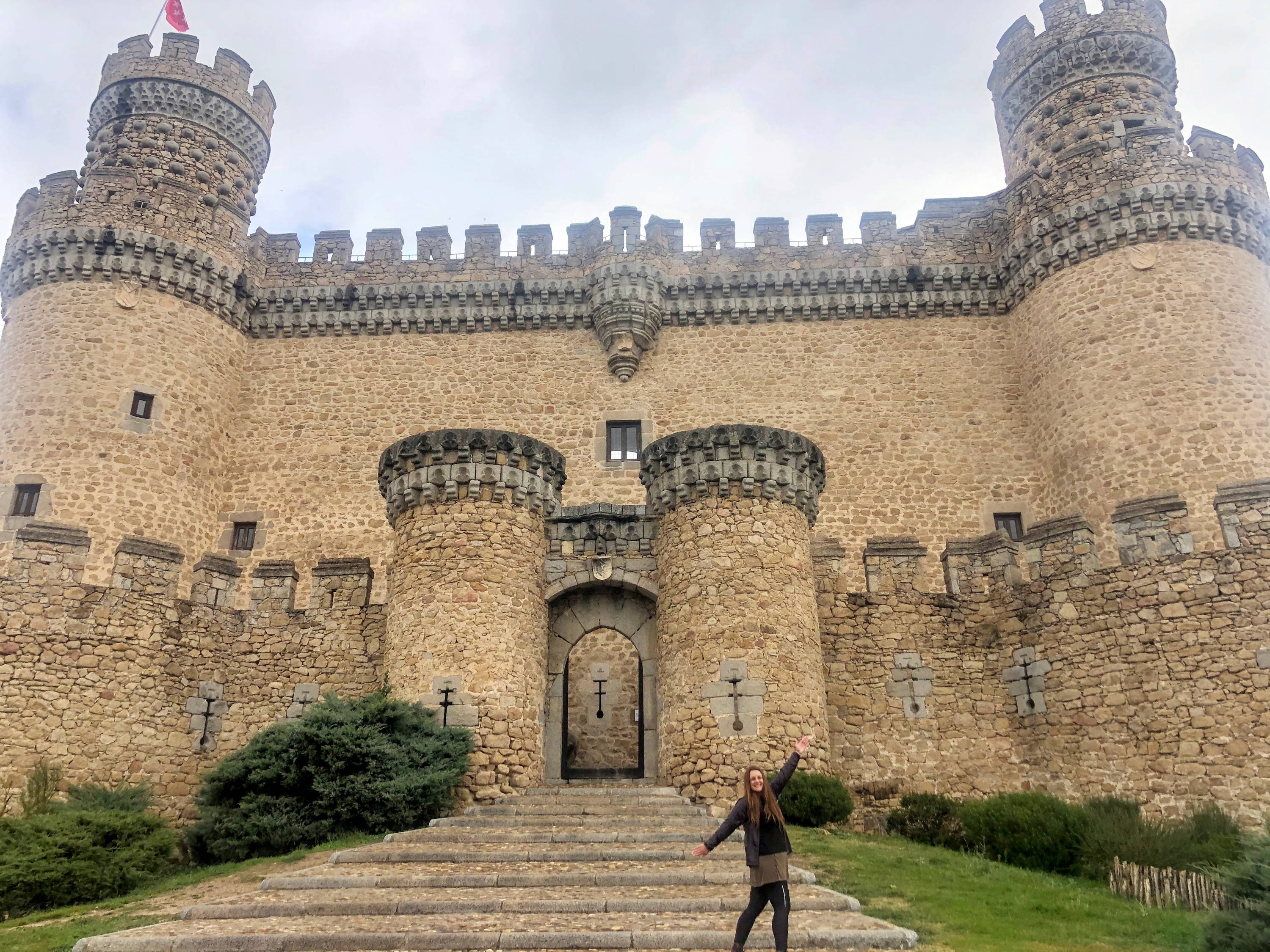 Visiting the 15th century 'Castle of Los Mendoza' on the Camino de Madrid
TIME OF YEAR
Pilgrims walk the Camino de Santiago in Europe all year round. The prime benefit of "peak" season (spring to autumn for most routes) is truly enjoyable walking conditions with gorgeous weather. You'll be meeting people from all over the world on the popular routes. Unfortunately, there might be so many people that there is a "race" for your preferred nightly accommodation. Some budget albergues do not permit advanced reservations, and pilgrims line-up outside in advance of afternoon opening to obtain a bed. Full albergues result in less hot water for the showers, limited kitchen space for cooking, and much louder noise levels in the dorms.
It largely depends on your personal tolerance for terrible weather conditions if you choose to travel in the "off-season" for the different routes. Winter caminos require heavier backpacks for warmer sleeping gear and waterproof clothing against the chilling Galician rain. Always check with the locals for trail conditions before attempting any mountain travel during the snowy months.  
Camino routes in the "off-season" are fantastic for quiet, reflective walking. Many albergues do not have heating and some close during the winter time. During seasonal pilgrim lodging closures, it may be necessary to complete long walking stages, carry a tent, utilize taxi service, and/or stay at expensive hotels.
Flat stretch of walking along a canal in France on the Via Lemovicensis
PHYSICAL FITNESS
People of all fitness levels are able to enjoy the Camino de Santiago. Long-distance walking beginners will find it easier to start with short daily stages (less than 15km). There are no "set" stage lengths for the Camino, and pilgrims should have flexible itineraries to fit with how their bodies are responding. I've noticed some people tend to push through injuries to keep to a set schedule. This practice can result in extensive damage and may prematurely end the entire Camino journey. It is good practice to have extra days built into the schedule for unexpected foot pain, knee discomfort, and other physical maladies. If vacation time is a constraint, consider completing a section, or choosing a short Camino route to finish in Santiago de Compostela.
During "peak season" on the popular routes it is possible to arrange for daily luggage transfer for a small fee. This service is wonderful to alleviate the stress of wearing a large, heavy backpack. It is challenging enough for average folks to walk continuous long distances with variable elevation change. The freedom of a small daypack can make for a much more comfortable time on the Camino. It is also a great solution for pilgrims who bring heavy or bulky items (eg. CPAP machine, photography gear).
Although it isn't mandatory, training before the trip is beneficial to having a more enjoyable pilgrimage.   Walking on compacted, hard flat surfaces can be more stressful on the feet and joints than a hiking path.
At home, it is easier to recover from blisters and learn how to manage walking injuries like plantar fasciitis.   Being fit can be the difference between exhaustion during the evening, and having the energy to walk into the city centre to admire the cathedral.    
Pilgrims with an excellent level of walking conditioning have increased options for choosing various Camino routes. The less popular Camino routes usually have long daily stages (sometimes 40+ km). These routes can often travel through remote, mountainous areas with limited services and challenging trail conditions.
Exploring the ancient Roman mines of Las Medulas on the Camino de Invierno
CAMINO DE SANTIAGO REASONS
Why do you want to walk the Camino de Santiago? That is probably the most important question to ask yourself before selecting a particular route. All the ways to Santiago have their individual charms and are worthy to walk. For example, lovers of Roman history will adore the Via de la Plata as it follows an ancient path and takes walkers by amazing ancient sites. I've highlighted some Camino route selections below. Be warned that if you complete one Camino route, you'll probably dream about trying others!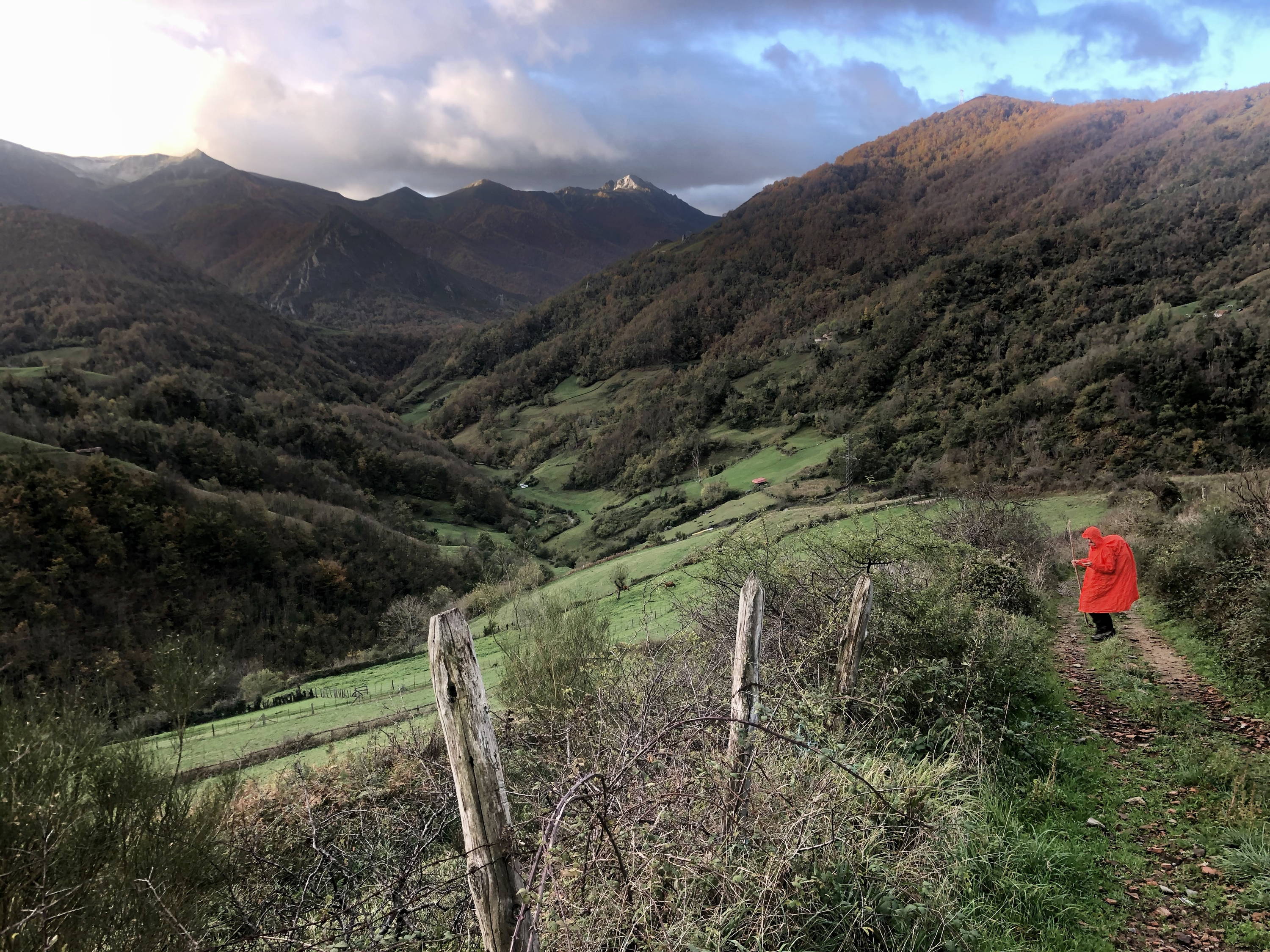 Trekking mountain passes on the Camino San Salvador
FOR INEXPERIENCED WALKERS
The very popular Camino Frances (764 km) and Camino Portuguese (280 km from Porto) both offer a gentler transition into long-distance pilgrimage walking. They travel through varied terrain with simple navigation following frequent yellow arrow markings. Abundant amenities are found along the way such as hotels, albergues, cafes, shops, and pilgrim rest areas to take the pressure off hiking long stages. Plenty of amazing cities, lovely churches, and small villages to explore for relaxation or injury rest. There are public transportation links, pilgrim luggage transfer services, and lots of community support for walkers. Those short on time could choose to start in Sarria (or Tui) to walk the final 100km into Santiago to earn the Compostela certificate.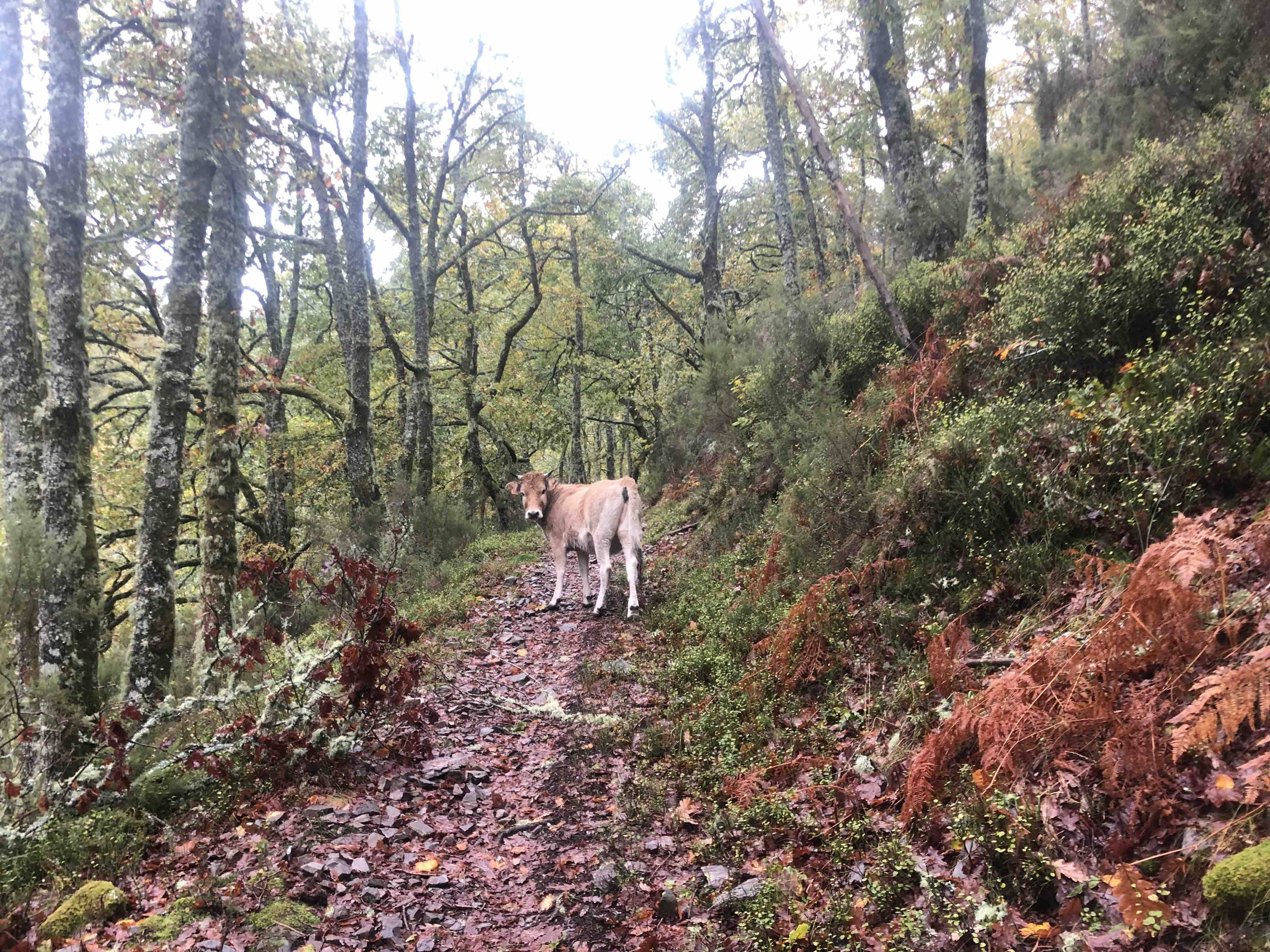 A lone calf on the Camino Primitivo trail
FOR WALKERS ON THE WILD SIDE
Nature-loving hikers should aim for the coastal Camino del Norte (824 km), or the mountainous Camino Primitivo (323 km). Both hikes are strenuous, and require a higher level of fitness to handle the elevation changes. The trail conditions can be dangerous in poor weather, and pilgrims must be well-equipped to deal with rain, slippery mud, and potential snow. They offer delightful hiking through the lush green hills, wildlife spotting opportunities, and the views are simply astounding.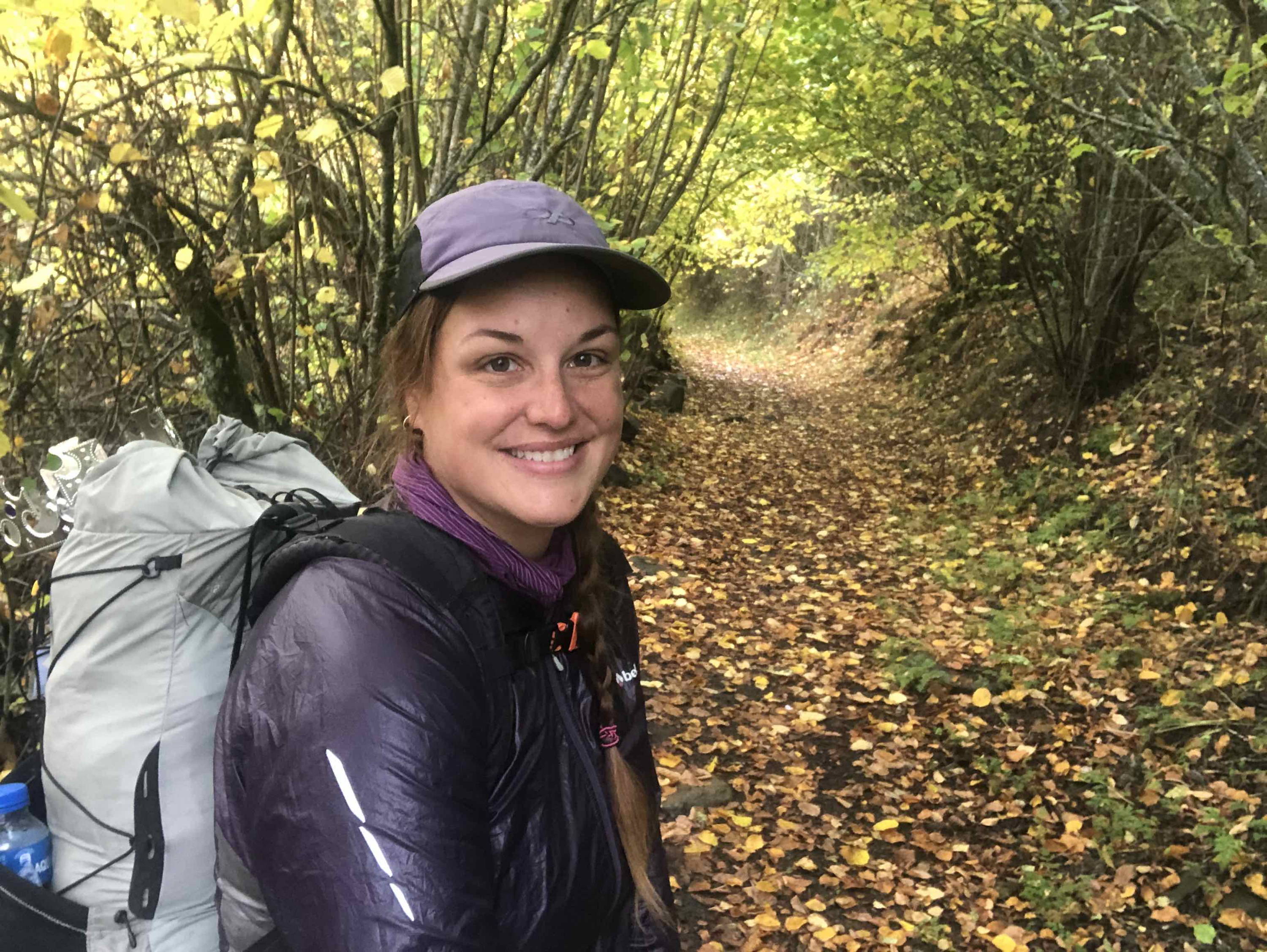 Forest Valley on the San Salvador Camino
FOR WALKERS SHORT ON TIME
The Camino Ingles (122 km) is the best option to complete an entire Camino route that finishes in Santiago. Walkers begin along the seaside for two days, then head into the Galician countryside interior towards the Cathedral. The physically demanding Camino San Salvador (122 km) ends in Oviedo rather than Santiago. This marvellous mountainous route is short, but sweet - and offers some of Spain's prettiest landscapes.
FOR WALKERS WHO LOVE FOOD
The Via Pondensis (736 km) from Puy-en-Velay and the Via Lemovicensis (900 km) from Vezelay are Camino de Santiago routes through south-west France. As pilgrims hike through different French regions it gives a superb opportunity to sample local gastronomic delights. Examples include exquisite cheese, delicate truffle dishes, and meat simmered in rich buttery sauces. Many pilgrims choose to stay at "gite" accommodations which normally include a bed, breakfast and home-cooked dinner for one set price. The provided meals are typically delicious and fresh with generous portions for hungry hikers. An entire course of cheese is traditionally offered towards the end of the meal! The small village bakeries in France create stunning pastries that are perfect for a mid-afternoon sugar boost. The higher food costs on French Caminos are definitely worth the additional expense.  
In Spain, the Via de la Plata (963 km) another great foodie pick for the simply divine Extremadura acorn-fed Iberian ham.
Rainbow over a Via Lemovicensis town in France
FOR WALKERS WHO LOVE SOLITUDE
If in search of solitude, do not choose a popular route like the Camino Frances or Camino Portuguese during peak season. In the colder, wetter months walkers are able to avoid the usual crowds.
The Camino Mozarabe (619 km from Almeria) and the Ruta de Lana (676 km) are two wonderful historical pilgrimages with few walkers. The distances between accommodations can be long, so it is important to have a good level of walking fitness. Although the path is lonely, the warm interactions with locals are rewarding. Highly recommended for Camino veterans in search of a unique pilgrimage experience.
---
---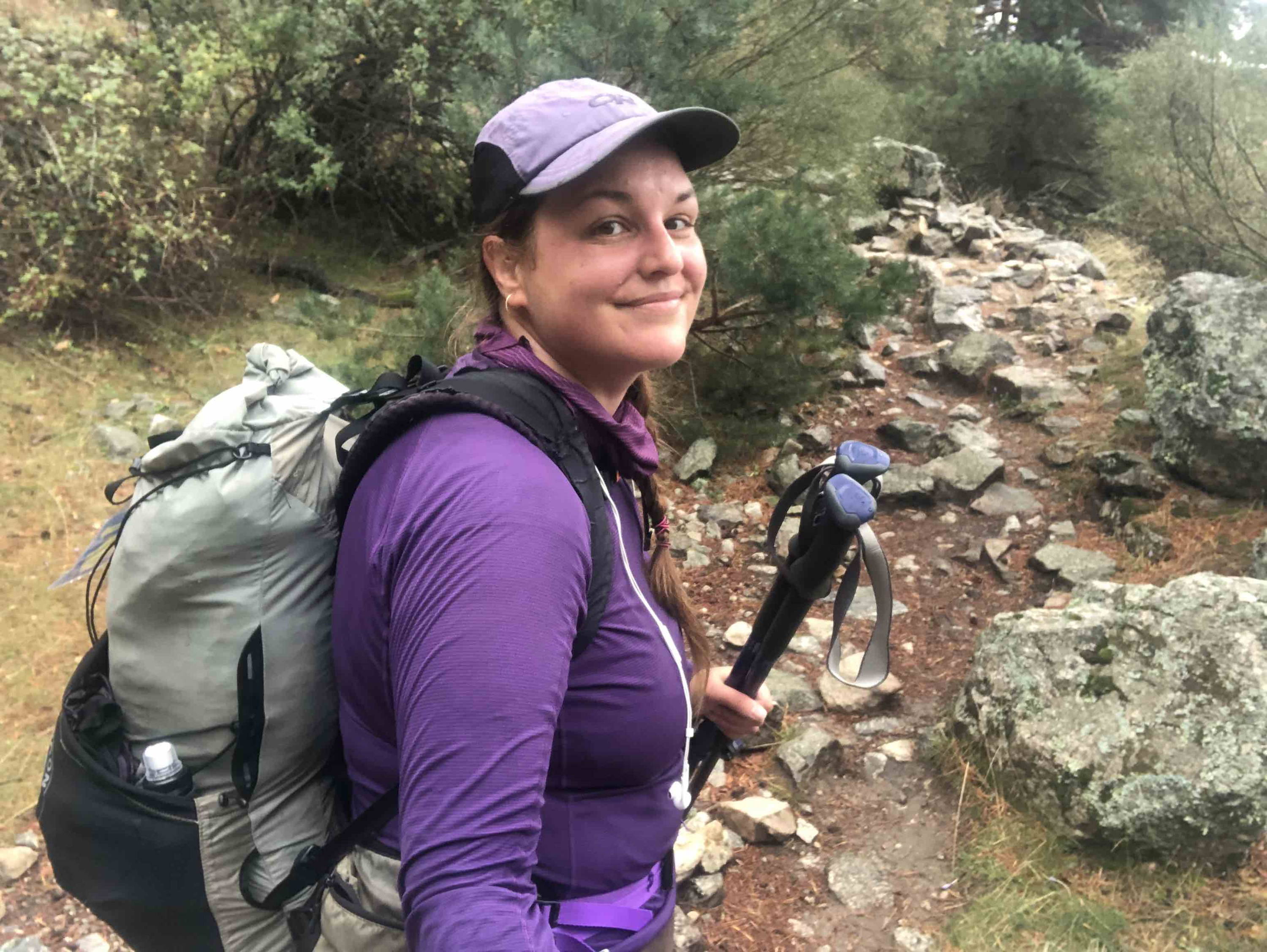 About the author:
Sara Dhooma became addicted to walking the Camino de Santiago after completing the "Camino Frances" in 2014. She has walked thousands of miles on 19 Camino routes including the Camino Portuguese, Camino de Madrid, and the Camino Primitivo. To learn more about Sara's Camino de Santiago adventures (including all the routes listed in the article) visit her YouTube channel: www.youtube.com/saradhooma .