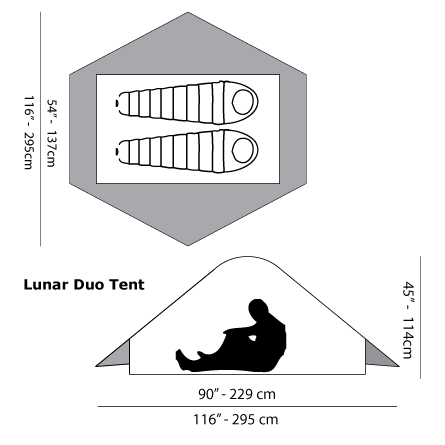 Lunar Duo Explorer Backpacking Tent
Save 20% with code: STAFFPICKS
This backcountry palace has ample space for 2 people plus gear.
2 Person Tent | Best for:
Couples
Hikers With Dogs
Rocky Terrain
---
Pickup available at 8250 Southwest Nimbus Avenue
Usually ready in 24 hours
Lunar Duo Explorer Backpacking Tent
8250 Southwest Nimbus Avenue
8250 Southwest Nimbus Avenue
Beaverton OR 97008
United States
5034302303
⭐⭐⭐⭐⭐ Light, big and cool.
"Used this shelter on an overnight through arid badland backcountry at Grasslands National Park East Block in southern Saskatchewan. I set up this shelter to wait out the hottest part of the day in around 10 minutes with little practice. Ventilation is excellent and the shelter performs well as a sun shade in arid summer conditions when you need to conserve water. The shelter is easy to see from kms away for away-hikes in open terrain and performs well in moderately high winds with good anchors." - Kyllo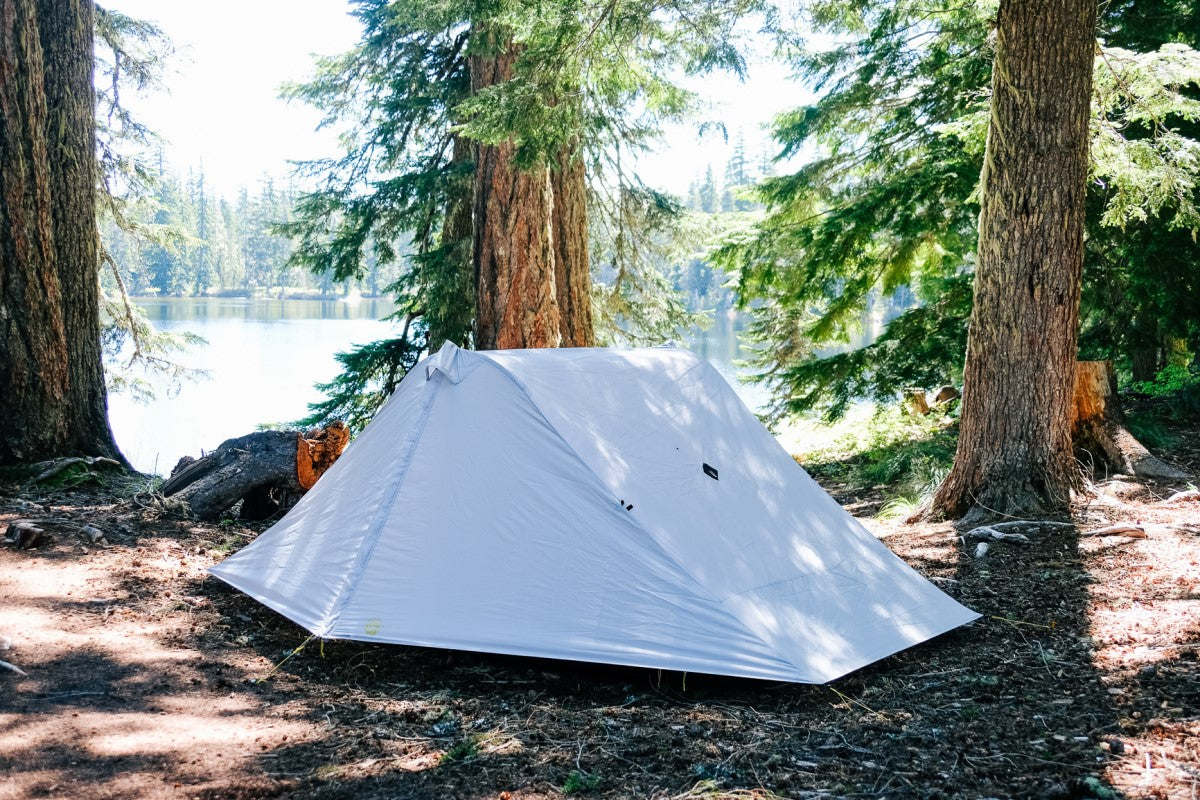 REQUIRES TWO POLES
Two Person Backpacking Tent
Spacious. Secure. Ultralight. The Lunar Duo – Explorer redefines what a single wall, ultralight tent can be.
With an unsurpassed space-to-weight ratio, it's no wonder the Lunar Duo - Explorer is affectionately referred to as The Backcountry Palace. The pitch design provides a lot of interior space, and that doesn't even include the two vestibules. It's the perfect tent for anyone looking for livability without greatly compromising weight.
*To completely repel water, shelters need to have sealer applied to the seams before use.
*Shelters including a seam sealing service may not ship immediately.
*Stakes and Support Poles Sold Separately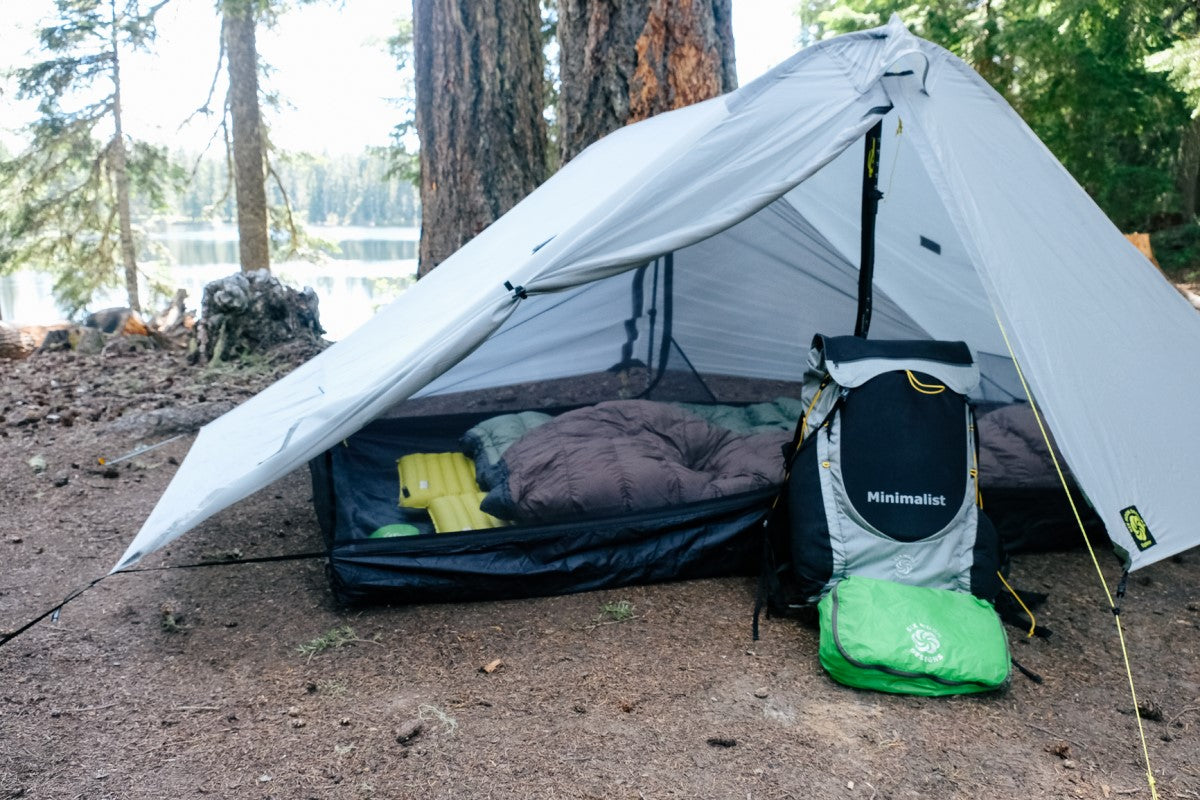 Design
Three Words Describe the Lunar Duo:
✓ Spacious
✓ Secure
✓ Ultralight
This tent is at home in a campground as much as a top a windswept ridge and large enough for four adults to sit and play a game of cards. No matter how bad the weather, you can batten down the hatches for a comfortable nights sleep. Lunar Duo offers no compromises despite the fact that it's less than half the weight of your traditional tent.
✓ 6-in mesh lining above the bathtub floor increases ventilation and keeps you further from the canopy walls, so you stay nice and dry.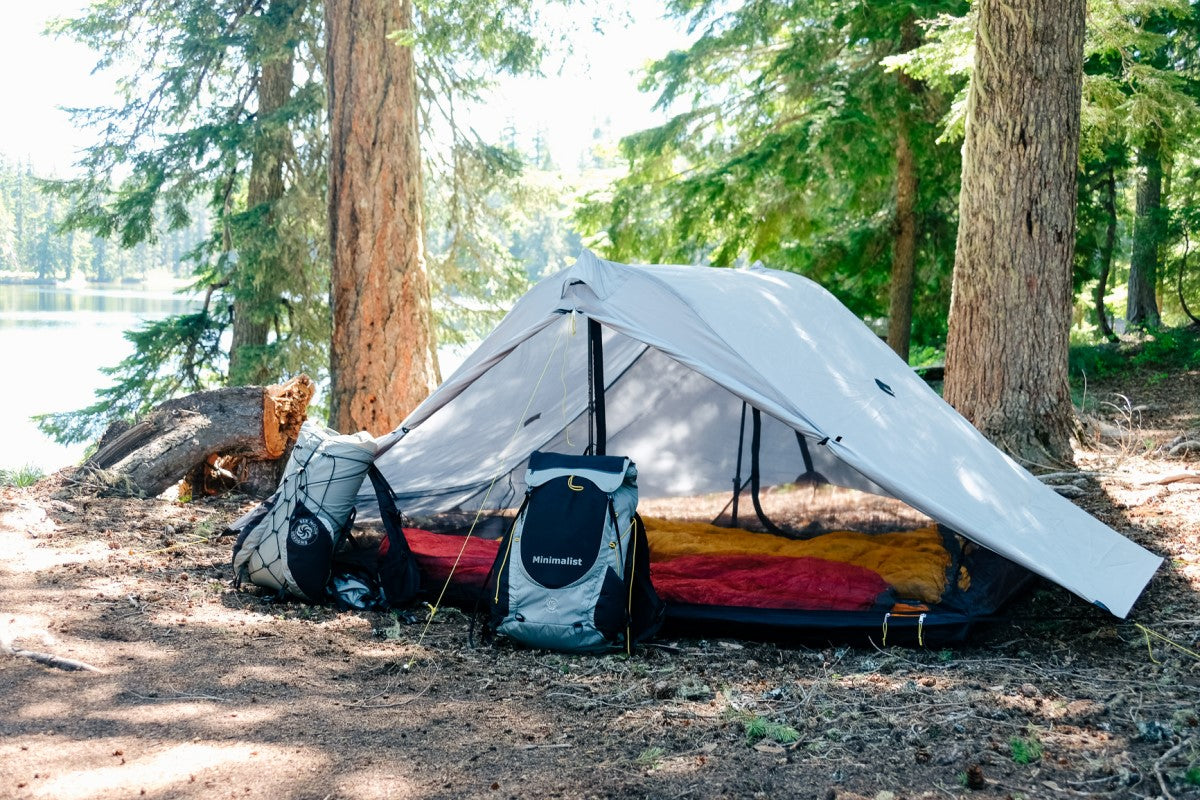 Construction
The Lunar Duo offers the most interior room of any tent in its class and weight range. Dual curved poles located on either side create a unique arched roof. Combined with a tent height of 45 inches and width of 54 inches leaves so much interior space you've got room to spare.
With dual oversize vestibules, each person has plenty of weatherproof storage for gear. The Lunar Duo's two vestibules can be deployed to multiple positions. When fully open, it provides maximum cross ventilation, keeping you cool and those pesky mosquitoes at bay. They can be raised or lowered, ensuring that you can achieve the optimum configuration for the weather you're likely to encounter. The Lunar Duo's vertical sidewalls prevent rain falling into the tent.
Like all our shelters it is designed to be pitched with adjustable trekking poles or with our fixed length aluminum or carbon fiber poles (sold separately).
Features
Dual Vestibules provides excellent gear protection.
High Vents minimize condensation formation.
Dual Entry ensures you have an available door.
Easy Tension Adjustment makes re-tension your tent easy.
Floating Canopy allows the canopy to be set to different heights.
Dual Hiking Pole Support
Dual Cargo Pockets.
Extremely Easy Setup in less than five minutes under any conditions.
Ships With
Tent, Stuff Sacks, Guy lines
Weight
45 oz | 1.27 kg (Does not include stakes or poles)
Canopy
30D Silicone Coated Nylon
Frame
Two 45" | 114 cm Poles (Not Included)
This product is rated 4.9 of 5.0 stars.
It has received 21 reviews.
Amazing shelter
Took this on a 40km backpacking trip with the fiancée through Algonquin. Held up great against the high (30-35km gusts) winds and rain. Everything inside and around the tent was kept dry! Set up is very easy and can be done solo. This tent is everything you want out of a backpacking tent. It's very light, durable, and sets up quickly and easy. Material seens very durable as well. Couldn't be more happy with it so far. I've only slept in it a few nights, but will going to Killarney for a long trip again soon to put it to the ultimate test. I hope to have this tent for long time and so far it has exceeded my expectations. Great work, to all of you over at six moons.
Lunar Duo is great (4.5*), with few exceptions
I purchased the Lunar Duo Explorer Backpacking Tent for a Sierra Nevada trip I just completed. The trip took me and my daughter up into the Ansel Adams Wilderness. The tent performed as advertised in terms of its compact, low weight design. This is my second Six Moons tent in the last 5 years or so. I also own a one person tent design that I use for solo backpacking or bikepacking trips.
Pros: This tent is great if weight is your primary concern. I opted for the 45" carbon fiber poles. I also purchased a Tyvek ground cloth. Because my daughter is a young teen, I was planning on carrying some extra weight around several shared items we would use on our trip, including the tent. I opted for this tent because of its weight to size ratio. The tent is quit roomy. It is rather easy to set up, although I noticed that each time I set it up it got a little easier and faster. It takes a little practice to get the tensioning across all tiedowns correct on the first try. This tent design allows for ample air movement when the side flies are unzipped. During our recent trip we experienced a couple of light downpours. The tent performed as promised keeping us and our stuff dry during the rain. I ended up sealing the tent myself, but am curious how different it would be it I had Six Moons do it before shipping. Either way sealing is important and strongly recommend doing so to ensure full performance.
Cons: This is not a self standing tent design. As a consequence, it can be a challenge to remove debris that ultimately finds its way into the tent. I'm not a big fan of turning a tent inside out, as I feel it puts undo pressure on the zippers. While the issue of debris in the tent isn't a big deal, it can be a slight annoyance. We also found that if you want to pack your tent, but find that it is wet, you can't easily move the tent to a sunny place to expedite it drying out before packing it if it isn't self-standing. While I mentioned in the Pros section that this tent performed well in a light rain event, one of the drawbacks of many ultralight tent designs is that it reduces weight by not having a separate fly. This tent is no different. We found in the cold night that significant condensation developed on this inside of the tent due to the humidity of our breathing. Touching any part of the interior tent roof resulted in drips directly onto us and our stuff. We slept with the vestibule flies closed most nights which reduced the interior air flow. This was mostly because we had a constant threat of rain most nights. Had it been dryer we would have slept with the vestibule flies open, as we did on one of our last nights where we car camped in the White Mountains near the Bristlecone Pine Forest. Being a much dryer environment we were able to sleep with the flies open and did not have the humidity build up on the inside of the tent. With respect to sealing this tent, I found the design of this tent to be a bit more difficult to seal myself than my single person Six Moons design. I might suggest paying Six Moons to seal this tent as opposed to doing it yourself. As noted earlier we also ordered a Tyvek ground sheet. I feel as though the size of the Tyvek cloth delivered was not sufficient to adequately cover the full ground footprint of this tent. I'd have to check, but I believe we ordered the largest ground sheet available online. So I am not sure if there is a larger option available. The Tyvek seemed to be short a few inches relative to the long axis of the tent. The last observation I would make is that the material of this tent tends to sag, particularly when wet. You may want to plan on buying some additional tent guy lines that can be attached to each end of the tent for additional tension. This adds additional weight to the tent due to the guy lines and additional tent pegs needed to secure them (all sold separately). I found the two additional guy lines to be helpful in addressing the sagginess of the tent and to help prevent water from pooling at the edges of the tent on each end. I suspect if wind was an issue the additional guy lines would also be useful.
Summary: Most of my Cons are minor in my view. The nature of selecting a lightweight design comes with some tradeoffs that should be obvious. None of the issues noted were super deal breakers for me. While I can't say how the tent would perform in a significant rain event, the tent performed as expected in a light rain. I would give this tent a 4.5 Star out of 5 based on what I was wanting which was a light weight tent that would keep me and my daughter dry. The other people in our group had a Big Agnes tent. In comparison, their tent was slightly heavier, self-standing, had a much smaller sleeping footprint, and took them much longer to put up and break down even with more experience. They were amazed at the size of the Six Moons design.
love it!! bottom of tent is made of stronger material than my lunar solo. easy set up with tons of room!!
Always performs great
Its been with us from Patagonia, Iceland, Hoh Rain Forest, Sequoia etc. including a once in a decade deluge coming down from Mount Whitney.. with rain so hard it clogged the road drains at Whitney Portal and we never had a drop on us.. super light, nice size for my wife and I and never had any condensation including a trip to the Canadian Rockies. Only wish is it came in DCF