22 oz - 624 g Solo Shelter (Weight includes Gatewood Cape + Serenity NetTent)
Since its introduction in 2006, the Gatewood Cape has been carried over 100's of thousands of trail miles. It's been used to provide shelter from everything including high mountain snow-choked ridges to lush forest trails. It's the ONLY Tarp / Rain Gear that provides complete 360-degree protection. 

The Gatewood Cape Bundle is an ultralight, ultra-versatile shelter system that can be worn as a poncho while also capable of being set up as a tent, a tarp, or a net tent. Highly compressible when packed, the Gatewood Cape canopy expands to cover an area of 35 ft2. The Gatewood Cape Bundle includes both the Gatewood Cape and the Serenity NetTent.
 *To completely repel water, shelters need to have sealer applied to the seams before use.
*Shelters including a seam sealing service may not ship immediately.
Construction
The Gatewood Cape Bundle is a modular shelter system that offers a variety of solutions for backcountry adventurers at only 22 ounces. The cape provides full coverage both when worn as a cape of used as a shelter. The Serenity NetTent can be used with the Gatewood Cape or as a standalone shelter from the bugs on clear, starry nights.
Unlike ponchos, capes don't have slits along the sides. While a poncho may allow for more ventilation, it does little to keep out windblown rain. The Gatewood Cape has dual zipper pulls on the front, allowing you to regulate ventilation while still providing full protection.
The pyramid-style design provides sturdy, all-around protection that keeps you warm and dry even in extreme weather conditions. No more miserable nights in shifting winds.
Gatewood Cape is made with 15D Silicone-coated nylon, making it light but durable.
Serenity NetTent is made with a 40D Silicone-coated nylon floor and ultralight 20D No-See-Um netting upper.
360° protection provides full coverage both when worn as a cape and when used as a shelter.
Sturdy pyramid design deflects wind and sheds snow and rain easily.
The Gatewood Cape is the perfect addition to the adventuresome day hiker's 10 essentials survival kit.
35 sq. ft. of coverage under the shelter's canopy provides plenty of space for you and your gear.
Paired together, the Gatewood Cape and Serenity NetTent keep both the rain and bugs at bay.
Easy to pitch with just one adjustable trekking pole and six stakes*.
After spending several years coming up with the design. The Gatewood Cape became my primary shelter for years. My good friend Billy Goat has racked up over 10,000 miles with his Gatewood Cape and Serenity NetTent.

Ron
*Support poles and stakes sold separately.
*Set-up instructions can be downloaded here.
Features
Micro Buckles connect the harness to cape for easy installation and removal.
Full 360-Degree both as a shelter and as rain gear
Full Zippered Entrancemakes entering and exiting the shelter easy.
Adjustable Vestibule Height gives you the option to increase ventilation while still having adequate rain protection.
Side Snaps so you can adjust the length of the sides when worn as a cape.
Floating Canopy allows the vestibule to be set at different heights depending on the weather.
Integrated Map / Night Stash Pocket with zipper closure to keep stuff contained. (Also doubles as the stuff sack.)
Center Pole Support creates a very sturdy shelter.
Ultralight Waterproof Canopymade from high strength Silicone Nylon.
Extremely Easy Setup
User Videos
Gatewood Cape & Serenity NetTent

By: André Östergård
Published: 6/22/15

Perfect Pitch: How to Pitch the Gatewood Cape Perfectly

By: Gygago
Published: 7/9/15

Gatewood Cape

By: ChuAdventureOnline
Published: 7/9/15
Awards
Backpackers.com Classic Pick 2019
Specifications
GENERAL
Seasons
Sleeps
Ships With
Pack Size
Weight1
Stakes
Colors

3
1
Tarp, Stuff Sacks, Guy lines
10" X 8 X 1.5"
11 oz - 310 g
6 (sold separately)
Gray, Forest Green

DESIGN
Type
Frame3
Entry
Coverage

Tarp
Single 49" or 45" Pole (sold separately)
Side Entry
35 ft2 - 3.2 m2

MATERIALS
Canopy
Zipper
15D Silicone Coated Nylon
#3 YKK
NOTES:
1Weight does not include stakes or pole and is the Gatewood Cape weight only.

Customer Reviews
Write a Review
Ask a Question
08/10/2020
MikeyMike
Canada
Excellent multi-function ul solution
Bought a Gatewood Cape a couple of weeks ago to replace my previous ul fastpacking/runpacking shelter - a hooped waterproof bivy. For 200 grams less than the bivy I now have a tent, raingear and pack cover. I've now used the Gatewood twice in the BC Coast Mountains at elevations around 1800m. On the second use we had heavy rain and wind from around 3am to 9am. In tent mode the leeward side of the Gatewood did billow inwards a little with wind gusts, but not enough to touch me as I lay in my bag. No wind driven rain came in through the windward side, and no rain splashed in under the leeward facing doors. I stayed dry and comfortable. In the morning I had enough space to eat, dress and pack. The Gatewood did just fine as a rain poncho for the 25km run back to the car. The ends clip up to shorten it, and with an improvised shock cord belt, running on techy mountain trails was not a problem. Great solution that helps keep my base weight super low with few compromises. Wish I'd bought one years ago.
05/26/2020
Michal
Czechia
The most versatile protection
I have been hiking with a poncho I could turn into a tarp for 25 years. Then I bought Gatewood Cape for the Carpathian thru-hike and it highly overcame my expectations. I have got rain on 39 days of the thru-hike so it was well-tested. The silnylon material is both light and durable, I tore it twice, once in a dense bush and once in a fight with sheep-dogs but could easily repair it to full functionality because the tears did not spread. I really like the pocket and the ease of packing and constructing a shelter. I wish there was a set for connecting two Gatewood Capes into one tent.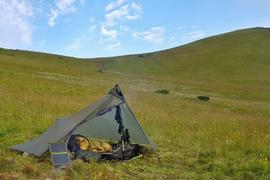 My favourite peace of gear
This is my precious. Love how ultralight and versatile it is. Pretty well made, every time I was protected from the rain. I don't need anything else, just my super gatewood cape!
Awesome!!!
I love it!!! Can't wait to get the NetTent to go with it! I posted a video of my first time set up... https://youtu.be/-4W4jb5t-gg
5 years and still loving it
I have hiked hundreds of PCT miles and thru hiked the Tahoe Rim Trail with this wonderful, flexible and reliable tarp. I have the 12 oz version and use it every time I hike. I have used it for rain on hike and during thunderstorms. It has no t failed me in wind and rain. I bought the inner net, but found I liked to sleep under the stars in an ultralite bivy, so only bring my grandma gatewood. The best part is that I know it replaces my 360 degree tent, my rain jacket and my backpack cover with one simple item. Honestly, in over a hundred days of hiking, I have only needed it a few times, but it has worked every time. If you like sleeping out, but knowing if anything happens you are 1000% percent safe, go with this option. If it is really 40% less volume now, buy it and love it!